Obituary Templates
32+ Microsoft Word Obituary Templates Download
When a loved one has passed away, it is the duty of the bereaved to prepare for their funeral program. While writing a religious eulogy or death funeral announcement might be hard when you are in the midst of grief, it is not hard to do if you have templates that you can use to quickly finish the task.
Table of Content
In this article, you will find different types of fill in the blank, in loving memory obituaries for mother, kid, father, grand father, grand mother, baby, for a devoted Catholic, or military personnel which you can edit and download in any file format, including Illustrator format.
When composing an obituary, all details must be mentioned. Even if certain arrangements are being left out or undone, it is a good idea to include text indicating the same so that attendees are not caught unaware. In the sample templates, there is additional space provided in case you need to simple list out information about the activities that are not going to happen in the course of the funeral. You can see also obituary cards.
Obituary Program Template
Obituary Bi-Fold Brochure Design
Funeral Obituary Invitation Card Template
Blank Funeral Obituary Bi-Fold Brochure Layout
Modern Floral Obituary Bi-fold Brochure
Creative Booklet Funeral Obituary Brochure
Elegant Funeral Obituary Tri-Fold Brochure Template
Minimalistic Funeral Obituary Bi-Fold Brochure Template
Blank Funeral Obituary Tri-Fold Brochure Template
Order Of Service Funeral Obituary Tri-Fold Brochure Template
Father/ Dad Funeral Obituary Bi-Fold Brochure Template
Obituary Card Template
Obituary Photo Card Template
Simple Obituary Card Template
Blank Loving Memory Funeral Tri-Fold Brochure
General Obituary Card with Photo Poster Template
Old Obituary Newspaper
Floral Obituary Card Template with Frame
Funeral Obituary Invitation Template
Funeral Obituary Invitation Card Template
Obituary Funeral Booklet Template
Free Funeral Program Obituary in Microsoft Word

mrhasley.weebly.com
Free Eulogy Obituary Download in DOC Format

creative-funeral-ideas.com
Microsoft Word Obituary Announcement Templates
Obituaries are the announcements Word for the demise of your loved ones. They are the first things you read in the newspaper and their last things to appear in newspaper design. When you are writing about an obituary of a deceased relative, you need to write about the life event(s) of the person in chronological order. If you are looking for ideas to write a Microsoft Word Obituary, you can check out Microsoft Word Obituary Templates to help you out in writing.
Free Fill in the Blank Obituary Template
obituaryhelp.net
You need not dig out the emotions and phrase them up. Try our free obituary templates online. Just download MS Word documents. That's it. You are done. Fill in the blank obituary template is ready. If at all you want to share your stories and/or add any memories to the eulogy, add them up. You can use our trifold obituary templates for newspapers in Word. At least this will make the process less daunting. You can see also blank funerals.
To Downloaded the Template:
Browse www.template.net.
Search for obituary templates in word format
Go through our extensive library of obituary templates
Select one Template
Click Downloaded Button.
You can have your desired basic template ready in your system in a fraction of seconds.
Free Catholic Death Obituary in MS Word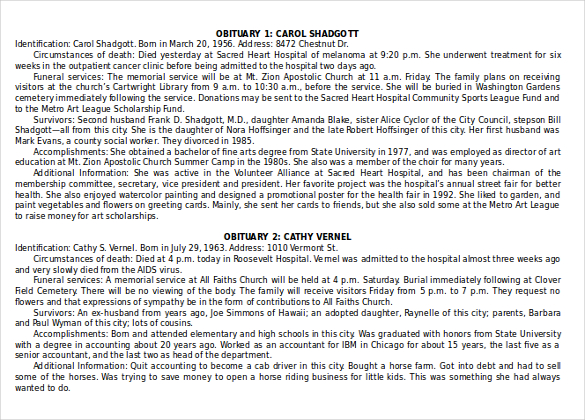 global.oup.com
Free Grand Father Obituary in Word Format

oliverandegglestonfuneralestablishment.com
Free Newspaper Obituary for Military in MS Word

resources.yourtribute.com
Free Printable Religious Obituary Download

obituaryhelp.net
If there will not be any order of services or should the arrangements be incomplete, these items should still be addressed in the obituary. This is particularly true if no services are planned. By giving this information, it helps eliminate people calling and asking when the funeral will be. Sometimes this simple phone call will trigger a flood of emotions and lengthy explanations of why no services are planned can be avoided. The sample obits are the printable templates in Word that give you a gist of obituary templates, delicate topics to consider, and pitfalls to avoid. Note: When it comes to content, we deliberately left a few areas with XXXXX. You can see also Obituary Brochure Templates. This indicates that the data is user-defined and hence be filled by them. Flexible to use and reuse We provide the most compassionate services at the most affordable prices. Our word documents give you an option of use and reuse multiple times. We are sure that first-time users will be excited about using it. Indeed, our flexibility is way beyond reusability. Excel documents are very comfy for translation.
Free Newspaper Grand Mothers Obituary in MS Word

dixonconegenwebproject.homestead.com
Free Baby / Kid Obituary Word Format Download

rootsweb.ancestry.com
That means they allow the annual calendar to translate into their native language. The customization of our word documents is so flexible. You can insert images of your loving ones as background images and also play around with the colors and other themes such as inserting religious artworks if the event is based on religious notes etc; Also if the expired one is having any favorite color, you can customize the template with the same radiant primarily. If you are not so dextrous at that, our customer service / support will help you in doing so, or we will do the modifications for you. We use commercial-free fonts and CMYK (Cyan, Magenta, Yellow, and Black) colors. We will even insert photo collages. We keep the word 2010 documents macro-free so that they will not raise any unnecessary surprises to your document. Also, one can use these for non-commercial use. These word files come with no expiry date. Hence, one can use them as and when they are needed. However, these are not for distribution or resale. All the content on our software websites is copyright. All rights reserved. Data provided is subject to change without sample notice. No hidden fee guaranteed. If that is not enough, we are ready to reduce or reimburse the charges. We are the only ones to offer this in the current market.
Free Father Cremation Obituary in Word Format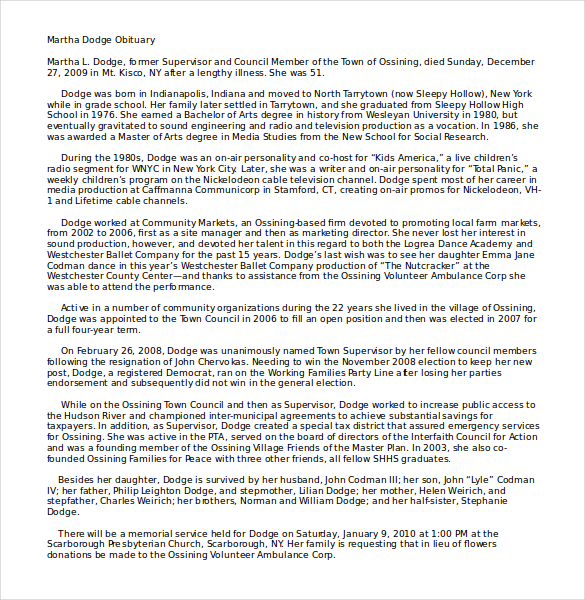 scarboroughchurch.com