CMS Templates
20+ Best Fullscreen Slider WordPress Themes & Templates 2023 [ Download Now ]
If you are looking for some eye-popping websites for your photographs, portfolio and image gallery, Fullscreen Slider WordPress themes are perfect for you. They allow you to use Fullscreen videos and background images and theme screens. The best fullscreen WordPress themes are highly responsive and are WooCommerce integrated and are best for photographers, videographers, portfolio, and creative agencies.
Try our Fullscreen slider WordPress themes. They are amazing, cost friendly, and a perfect fit for your business.
KingSize Fullscreen Photography Theme
KingSize – Customs Widgets WordPress Theme
KingSize is a Fullscreen professional photography WordPress theme for photography. It supports all kinds of images like MP4, YouTube, Vimeo, and many others. It is completely widgetized with page sidebars, separate gallery, Twitter and contact section. It is further integrated with WooCommerce plugin and comes with a Drag & Drop page builder with front and back-end editors.
Kinetika – iMaginem Plugin WordPress Theme
Kinetika is a wonderful fullscreen photography and photo studio WordPress theme that is supported by iMaginem Plugin that is SEO friendly and has a full-screen slideshow as well. The theme has built-in features and plugins like WooCommerce, WPML, event posts and gallery section for featuring your work. The custom page builder helps you to create eye-catchy posts within minutes.
Boss – Warp 7 Framework WordPress Theme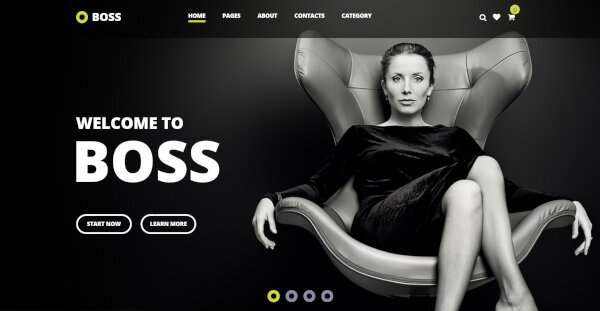 Boss is a simple and stylish WordPress theme for business owners, manufacturers, developers, and implement companies. The theme is versatile with stylish background colors and fonts to suit your style. Based on Warp 7 Framework, the theme includes Fullscreen slider and Real-time customizer with unlimited color schemes.
TennisStore – Product Categorization WordPress Theme
TennisStore is a wonderful fullscreen WordPress theme for sports stores, sportswear, and all kinds of tennis equipment. The product selling WordPress theme is cross-browser compatible as well as WooCommerce ready so you need not worry about selling your products online. More than that, it comes with the product categorization feature that will showcase all your store products neatly to help to browse easy for customers.
Odeon – Jetpack Scrolling WordPress Theme
Odeon is a beautiful portfolio WordPress theme for creative agencies, photography, and personal portfolios. The theme is Fullscreen and comes with a responsive slider that will show your work in the most impressive way. It is also loaded with features like Jetpack scrolling, social media icons, and image slider that makes the web page all the more attractive.
Jedkey – Fully Customizable WordPress Theme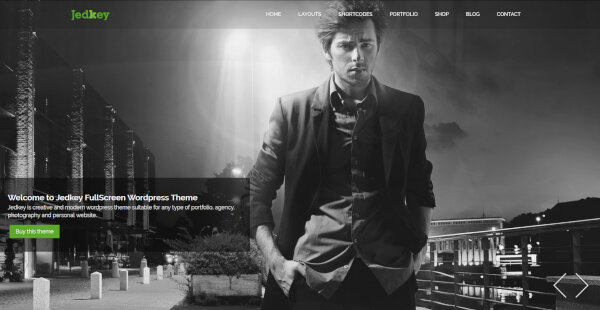 Jedkey is a beautiful and flexible Fullscreen personal portfolio WordPress theme for photography, portfolio, agency, and developers. The theme is fully customizable with design layouts, colors, and fonts that make it excellent for creative agencies. Besides that, the theme is 100% WooCommerce compatible and is ready with plugin features like a portfolio, pricing table, and contact pages.
Full Page Pro – Gutenberg Compatible WordPress Theme
Full Page Pro is a multipurpose WordPress theme for photographers, portfolio, and weddings. The theme is Gutenberg compatible and is HD ready. The Fullscreen theme is an excellent choice for photography and creative portfolios with its high-resolution images and widescreen layouts.
Kinetika – Retina Ready WordPress Theme
Kinetika is a powerful fullscreen premium WordPress theme for photography and portfolio websites. The theme comes with a beautiful gallery and event posts. It also supports video displays, blog posts, and image slideshows. There are multiple menu screens and all are Retina-ready and will look beautiful on any screen.
Kadpy – Video WordPress Theme
Kadpy is well-documented Fullscreen best videographer WordPress theme for portfolio, web designers, photographers, and videographers. The theme is fully integrated with WooCommerce plugin and will assist in selling products and services online. The one-minute demo import makes installing the website very easy as well.
Darkroom – Fullscreen Carousel WordPress Theme
Darkroom is a beautiful fullscreen responsive WordPress theme for photographers. The theme displays beautiful background slideshows with videos and images and has two header shifts-light and dark depending on the mood of your background image. The Fullscreen Carousel displays all images in its horizontal slider along with background color and image of your choice.
BeClinic – Elementor WordPress Theme
BeClinic is the ultimate fullscreen new WordPress theme for health and medical websites. The theme is built on the Elementor Page Builder plugin that will help you create your website without any prior coding language. The powerful JetElements plugin is a multifunctional feature with Brands, Carousels, and Post Sliders that will create extensive contents within no time.
ZugoTopia – Multi Merchant WordPress Theme
ZugoTopia is a multipurpose online marketplace WordPress theme for business vendors and multicultural business houses. The theme is enriched with Multi Merchant Plugin which features an administrator board where brokers and vendors can offer their products online to reach the global market. The theme is WooCommerce supported and comes with varied background images and colors.
PhotoReactive – WPML Ready WordPress Theme
PhotoReactive is a Fullscreen photography WordPress theme for photographers. The theme is WPML ready and supports multiple languages. Besides this, it is WooCommerce supported and will create a perfect platform for your online shop. The theme features two demo layouts-light skin and dark skin for your website.
Wedding – HTML & CSS WordPress Theme
Wedding is an incredibly refreshing parallax scrolling WordPress theme for wedding photography. The theme is fullscreen and comes with banners and sliders that are perfect for the festive occasion. Wedding besides being HTML & CSS coded also has parallax scrolling animation effect that will create an optical illusion which will create an intuitive atmosphere perfect for wedding photography.
NF Book Work is a professional fullscreen book publishers, authors WordPress theme for authors and publishers of books. The theme is based on the Redux Framework and features multicolor presets and themes. The Book Listing and the Preview Section will showcase your books and readers will find it easy to navigate and find their books of choice.
Full Screen Pro – Gutenberg Editor WordPress Theme
Full Screen Pro is a multipurpose creative WordPress theme designed especially for Fullscreen websites like photography, creative, and portfolios. The theme is compatible with the Gutenberg Editor helps in smooth running of the web pages. The Fullscreen webpages leave a great mark on the visitors by exhibiting the best work and portfolios and also is compatible with the WooCommerce plugin.
Toranj – Masterslider WordPress Theme
Toranj is a versatile and elegant Fullscreen interior design WordPress theme for portfolio, photography, interior design, magazines, and blogging. The theme is modern and responsive and comes with video tutorials for easy installation. Apart from this, there are numerous powerful plugins and features like the Masterslider, WPML, Responsive Carousel, and the WooCommerce plugin for an online store.
FoogoPro – SEO Friendly WordPress Theme
FoogoPro is a clean and responsive fullscreen blog WordPress theme. The theme is multipurpose and is suitable for blogs, business professionals, and other businesses. The theme is SEO optimized and exhibits amazing colors, layouts, and galleries. The interface is quite easy to navigate and is compatible with all popular browsers.
Royce – Masonry Layout WordPress Theme
Royce is a responsive Fullscreen video blog WordPress theme for photography and creative agencies. The Fullscreen layout with unlimited galleries and post format will showcase your works beautifully. Create modern contents with the Masonry Blog layout. The theme is also 100% responsive and Retina-ready with breathtaking images and displays that fit all screen types.
OnePage – Inbuilt Video WordPress Theme
OnePage is a multipurpose Fullscreen video WordPress theme designed for business professionals and bloggers. OnePage can be easily personalized and features several sections like pricing, blogs, services, portfolio, testimonials, and teams. The inbuilt video section will display videos related to your company events and achievements.
Perfect Rent – Live Search WordPress Theme
Perfect Rent is a sleek and elegant Fullscreen booking and rentals WordPress theme for property dealers and apartment rent websites. The built-in Live Search feature helps visitors to navigate and search the apartment of their choice with just a few clicks. The Grid-view offers a methodical and wider selection of choices and allows you to display images in a more systematical way.
Conclusion
Our collection of Fullscreen WordPress themes with sliders has been handpicked and beautifully designed exclusively for you. They provide outstanding quality and is supported by some of the most popular plugins and widgets of 2019. The themes are modern and stunning and are extremely resourceful. So, try them now and get started with some of the most amazing landing pages.
More in CMS Templates