Are you planning to open your own daycare business? Struggling to write a business plan for it? If so, then we proudly offer to you our high-quality Daycare Business Plan Templates printable in A4 and US letter sizes. Why do we offer them to you? It's because our professional business writers made sure that they're professionally written for your convenience. Hence, you no longer have to go over the hassle of writing a business plan from scratch. Plus they're also 100% customizable and easily editable using Google Docs, MS Word, and Apple Pages, which means you can personalize them further. Take the first steps towards your ultimate goal of opening you daycare business now by downloading our templates!
What Is a Daycare Business Plan?
A daycare business plan is a formal written legal document containing the goals of a daycare business (also known as home daycare business) and the strategic plans and marketing tactics on how it's going to achieve those goals. It's usually associated with a business proposal.
When we hear the word daycare, what it comes into mind is a daycare preschool or a child care facility. It's actually not a wrong thought. However, the real definition of daycare is that it's a business that looks after the needs of individuals who don't have the capabilities of being fully independent. That doesn't only include children. It also includes elderly people and individuals with disabilities.
Here, we have a variety of business plan templates and business plan examples that you can use for your plans to open your own daycare business. All of them are compatible with Google Docs, MS Word, and Pages. (e.g. Daycare Business Plan Template, Child Care Plan Template, Child Care Business Plan Template)
How to Create a Daycare Business Plan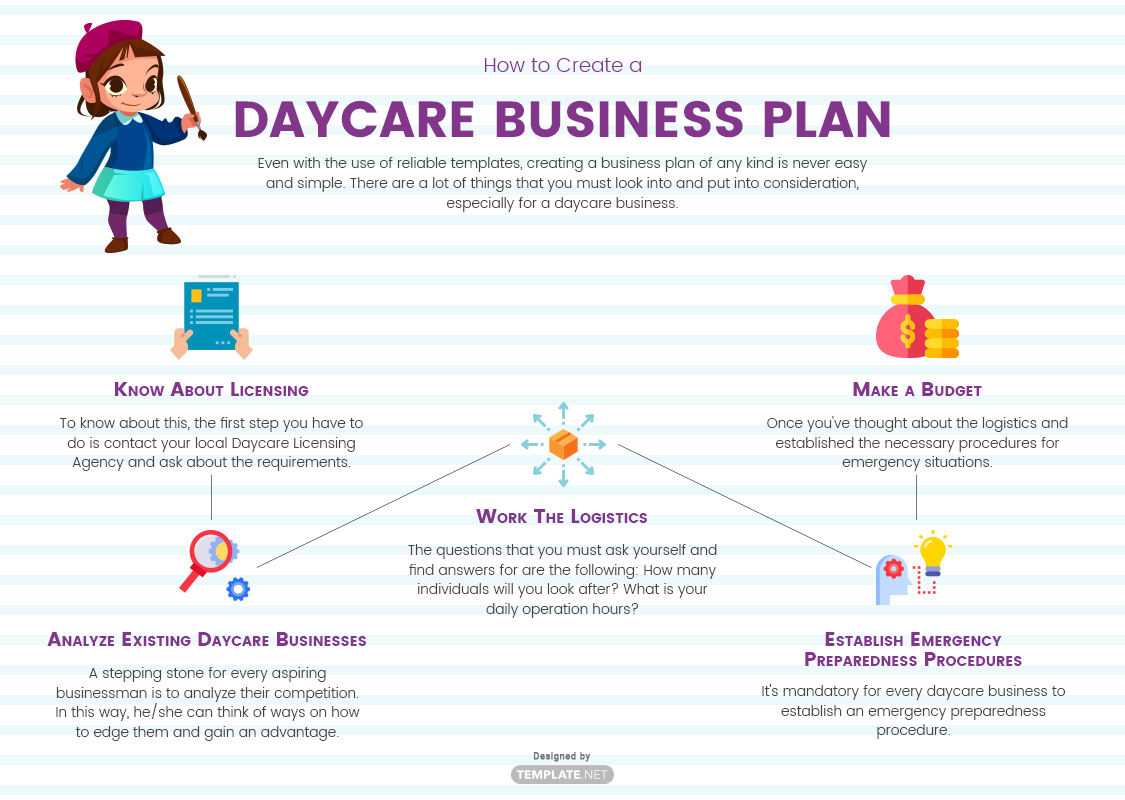 Even with the use of reliable templates, creating a business plan of any kind is never easy and simple. There are a lot of things that you must look into and put into consideration, especially for a daycare business. So for those reasons, we have gathered a few steps that you must take when creating a business plan for your daycare business.
1. Know About Licensing
Since a daycare offers care services, it's understood that licenses are required for it. To know about this, the first step you have to do is contact your local Daycare Licensing Agency and ask about the requirements for you to be issued a license. These requirements are likely the possible physical space of the facility, health care requirements for staff and patients, fire regulations, and training or education requirements. It varies from state to state and city to city.
2. Analyze Existing Daycare Businesses
A stepping stone for every aspiring businessman is to analyze their competition. In this way, he/she can think of ways on how to edge them and gain an advantage. The same principle also applies in the daycare business. What you must do is data analysis and info regarding their average number of patients in a day, ages of the patients, operating hours, and rates.
3. Work The Logistics
The questions that you must ask yourself and find answers for are the following: How many individuals will you look after? What is your daily operation hours? What are the foods and drinks to be fed? How many licensed staff will you need? Will you need the assistance of an accountant or bookkeeper? Some of these questions will be answered through complying the requirements for you to be given a license, and some will depend on your personal preferences and possible inevitable limitations.
4. Establish Emergency Preparedness Procedures
For the safety of your patients and staff, if ever emergency situations arise, it's mandatory for every daycare business to establish an emergency preparedness procedure. Without it, it's expected that you won't be granted a license by your local Daycare Licensing Agency. Most likely, they require you to establish an evacuation plan for fire incidents and earthquakes. Plus they also require you to conduct evacuation drills every now and then.
5. Make a Budget
Once you've thought about the logistics and established the necessary procedures for emergency situations, it's time for you to make a budget plan to start your daycare business. The most important thing that you must observe when creating a budget is not to sacrifice the overall quality of your daycare facility to save money. Think about the costs as investments.
Read More
Earn 20% commission on every sale from your Share
Bloggers: Publish/Mention Template.net products on your website, blog, Social Media or Via Email & Earn affiliate commission of 20% for every sale