Insurance
10+ Split Limits Templates in Google Docs | Word | Pages | PDF
Human beings have a nature of protecting their loved ones and properties. Despite being self-conscious and cautious about making decisions, people still stumble upon circumstances. Perhaps the most common form of dilemma that individuals meet are accidents. This traumatic event puts daggers in your pockets financially and physically. With that, people have chosen to take insurance policies. If you're an insurance agency or you're the owner of an insurance firm, you should utilize templates. This article features professionally written, well-rounded split limits policy templates for your insurance contracts.
Table of Content
10+ Split Limits Templates in Google Docs | Word | Pages | PDF
1. Insurance Contract Template
An insurance contract will not be complete without the provisions provided by the insurance agent. If you're looking for a template to place the split limit provision, this one is for you. The Insurance Contract Template has well-written content supplemented by provision samples for your convenience. Don't wait for anything else, and download this template now!
2. Insurance Proposal Template
Insurance agencies need to have proposal forms for their clients. However, creating one can be a demanding task. So, you should utilize proposal templates. The Insurance Proposal Template has a well-organized format that insurance companies can revise according to their preferences. Make haste and grab your copy of this file now!
3. Insurance Agency Marketing Plan Template
Even insurance agencies need to have marketing plans for their business. The Insurance Agency Marketing Plan Template has a compact and detailed layout complete with suggestive techniques and methods. If you have existing concepts for your company, you can include that in the document. Moreover, you can discuss in the marketing plan if you'll adopt auto insurance policies, split limit provisions, or combine single agreements. Don't let this template slip away and download this now!
5 Steps in Creating Split Limits
Step 1: Talk About Premium Payments
Applying for an insurance coverage entails payment. The protection that comes from getting insurance is incomparable to the amount paid to maintain an insurance policy or contract. When creating your split limit section, you have to discuss the premium payments that the policy handler will undertake. You can provide a chart to show the monetary value.
Step 2: Discuss the Coverage
The split limit is a provision or a section in the insurance policy that gives a particular dollar value for different claims. To avoid problems and misunderstandings with the policyholder, you have to define the coverage of the insurance contract clearly. For instance, property damage like a home fire or vehicle wreckage have various payouts depending on the agreement between insurer and insurance company. Therefore, you have to discuss the coverages that come with the agreement systematically.
Step 3: Be Clear About Restrictions/Limits
Avoid confusing your clients by providing a well-detailed account of the restrictions and/or limits of the provision. If the coverage does not include specific accidents, you have to state that in the provision. For instance, when the agreement sample does not cover some injuries, you have to write that down. Be clear about the contents to avert problems in the future.
Step 4: Provide Instructions on How to Get the Claim
Not all insurance companies provide instructions on how policyholders can get their claims. And sometimes it can be stressful for these people. To avoid hassling your clients, you need to state the processes to acquire the claim example. You don't have to go in detail; you only have to give enough information the form to sign, the proof, and other necessary documents.
Step 5: Add the Split Limits to the Insurance Policy Contract
Before adding the provision in the contract, make sure to double-check the content for errors and inconsistencies. The amounts should be specific and visible. When you've finalized the contents of the split limits, you can add the document.
4. Accident Policy Template
Cases of unfortunate events like accidental deaths and bodily injury (dismemberment) can happen to anyone, anywhere, and at any time of the day. To prevent problems, uninsured individuals should consider getting insurance even if it only covers specific cases—for instance, road accidents. The Accident Policy Template is a two-page document that includes the claims policyholders can get when involved in a mishap. Get this template for your insurance agency right now!
5. Policy Proposal Template
Are you searching for a policy proposal template to use for your company? If that's a yes, then you should utilize this sample. The Policy Proposal Template has a well-organized and easy-to-edit format for the benefit of insurance agents and companies. It's yours forever when you click that download button!
6. Maternity/Pregnancy Leave Policy Template
Maternity leave is necessary for soon-to-be mothers, especially when giving birth requires rest and healing. For businesses, providing this type of form for their employees is vital. The Maternity/Pregnancy Leave Policy Template has a professional layout accompanied by limits and benefits for the employee. Don't waste time and download this template for your business today!
7. Health and Disability Insurance Checklist Template
In general, insurance agencies need checklists to record insurance policies, policyholders, and claims. The Health and Disability Insurance Checklist Template has a well-detailed content structure that helps agents with tracking the status of policies and claims. Get a copy right away!
8. Free Claim Letter Sample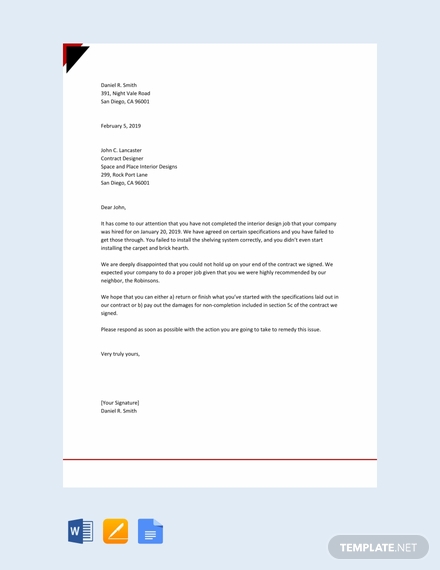 To get your insurance claim, you have to undergo different processes. One of the ways is sending a legal letter to the insurance company stating your intention of getting your benefits. If you need a letter template, this one is perfect for you. The Free Claim Letter Sample has a well-arranged format and simple font style. Grab a copy of this template this instant!
9. Free Claim Letter for Damaged Goods
When a disaster happens in your store especially food and pastry shops you have to prepare for some setbacks. When you're claiming the insurance for your damaged goods, you need to have a professional letter. The Free Claim Letter for Damaged Goods is a one-page document that states the problem and the desire for the party to claim the insurance. Make this sample your cover letter and download it right away!
10. Automobile Policy Sample
Make sure that your clients are aware of their benefits and conditions of their automobile policy by utilizing this high-quality template. The Automobile Policy Sample has professionally written content that's essential to vehicle owners. Don't wait for tomorrow and click that orange button right now!
11. Business Auto Coverage Form
Determine the rights and duties, including restrictions on coverage of a motorist with the use of this excellent form template. The Business Auto Coverage Form has more than five pages of well-written instructions for the convenience of business owners. It also features descriptions of the coverage of the automobile, as well as certain types of equipment and trailers. Get your hands on this file and download it now!
More in Insurance