Letters
15+ Legal Letter Templates
There are many legal letter template samples that you can download and customize for free. A formal letter template falls under the category of legal letter, because its content is true, professional and concise. Writing a legal letter on a sample word, PDF or excel custom template might take some time – most of the time it will; you have to gather tangible facts to prove that what you are trying to explain is true.
Editable Legal Letter Template for Money Owed Word Doc

sample-resignation-letters.com | Legal letters are mostly sent as a notification of certain default in agreement or any other contract signed by two or more parties. These letters are more of a reminder of the terms and conditions in the agreement and the casualties which could happen in case of noncompliance to the same.
Download Legal Letter Template Microsoft Word Format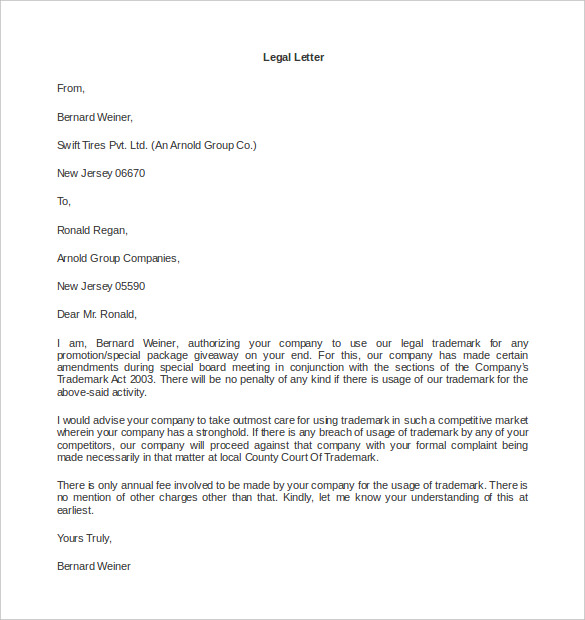 samplelettersfree.org | Letter of authorization to other companies or partners to use the trademarked or intellectual property of a business required a legal approval and binding. Such letters need to be extensively drafted mentioning the terms and conditions and more importantly, the period for which the trademark has been granted to the partnering company. You may also see Legal Letterhead Template.
Legal Letter Template for Breach of Contract

careerride.com | Breach of contract or any agreement does call for a legal letter warning and intimating the defaulter on the violation of the terms and conditions laid in the contract. Such formal letter should explicitly mention the clause which was violated along with the repercussion which the defaulter could face if not corrected within a stipulated period of time.
Formal Complaint Legal Letter Template

legalombudsman.org.uk Formal complaint letter could be used in a multitude of places – be it inappropriate or unsatisfactory service provided to a purchase which was initially promised, breach of a contract by a party and so on. In all such cases, the content more or less remains intact mentioning the clause and the breach, stating the consequences.
Debt Collection 7 Day Legal Letter Template

businessaccountingbasics.co.uk | Debt collection legal letters are mostly sent to companies from banks or other financial institutes or other debtors whose debt has still not being paid. These letters act as a warning signal or a reminder to the company to pay off the debt within the stipulated date (mentioned in the letter) without which legal proceedings would take place. You may also see Request Letter Samples
Response to Legal Letter Template

lawaccess.nsw.gov.au
Professional Legal Notice Letter Template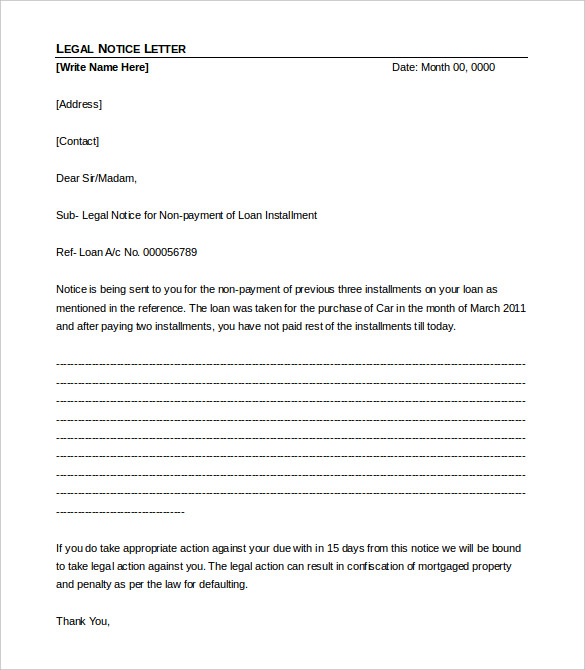 letterssample.org
Company Official Legal Letter Template

legalaid.nsw.gov.au
A legal letter without prejudice can be communicated to the employer in case of any grievance between the two parties, or any act of injustice on the part of the employer violating the employment conditions. In such cases, employees can intimate them on the necessary emoluments which need to be compensated along with a period of response. You may also see Promotion Letter Templates in PDF. Whoever is reading the letter templates needs to be convinced that the content of the letter is true, the truth and nothing but the truth. So help you God.