Bootstrap Templates
36+ Bootstrap Admin Themes & Templates
In the past, free admin themes used to focus mainly on functionality and little of design creativity. Probably the designers assumed that since audiences or the public does not have access to the admin section of the web application, there is no need to emphasize on creative designs. You May also Visit Best Bootstrap Website Templates. However, website elements whether those accessed by the audiences or the admin, they need to have some sense of design elements.The good thing is that this trend is changing and now functionality and design aspects are being incorporated by the developers when designing the admin sections of websites. You May also visit Best Premium Bootstrap Templates.
Dark Responsive Bootstrap Admin Template Download

As the name says, the design of the template is dark. This can be used for all type of applications. It is a unique template based on the Bootstrap 3. It provides a better dashboard experience.
Skydash
admin

template
Neon Bootstrap Simple Admin Template

Neon Bootstrap is a multipurpose template. It is very simple to use and user friendly too. There are many versions in it. It contains many HTML files and variety of Template designs. You should definitely give it a try.
Front End Admin with Bootstrap Framework Template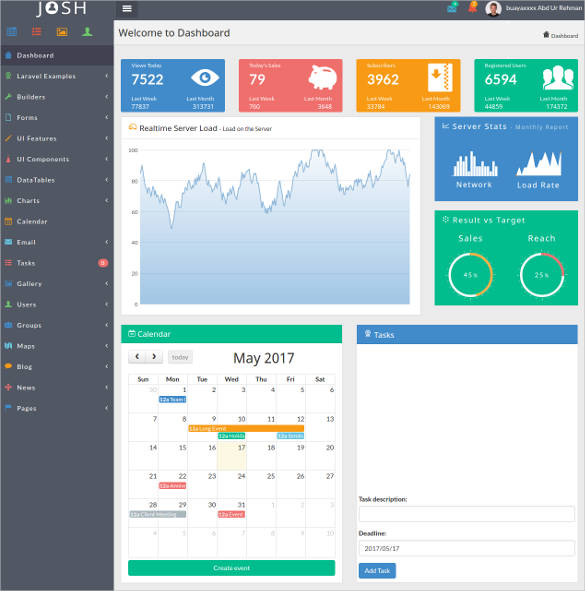 This free template works wonders for developing websites. The Bootstrap framework has personalized account and there are many features to add on. It can help and manage work for administrative purpose.
Skydash admin Template

Skydash is the latest Bootstrap admin template from BootstrapDash. It has been meticulously created to be easy to set up and modify, saving you hours of development time. The design is modern, and it is well coded too. You also get amazing customer support and easy to follow documentation with every template from BootstrapDash.
Best Bootstrap Admin AngularJS Template $25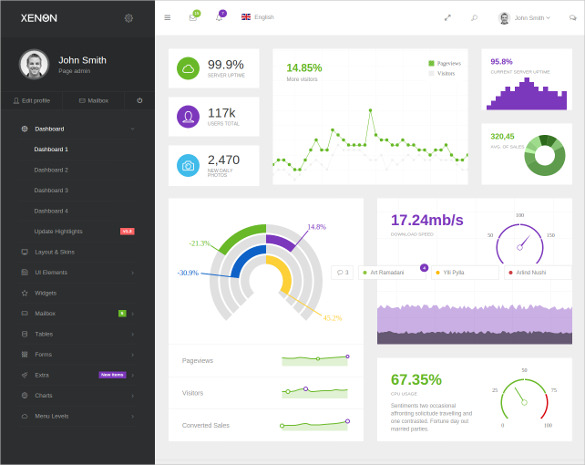 Angular JS templates are one of the most multitasking Bootstrap templates. There are many templates available online. Here is a best Bootstrap Admin Angular Js Templates choose the one suitable for your project.
Stack – Clean Responsive Bootstrap Admin Template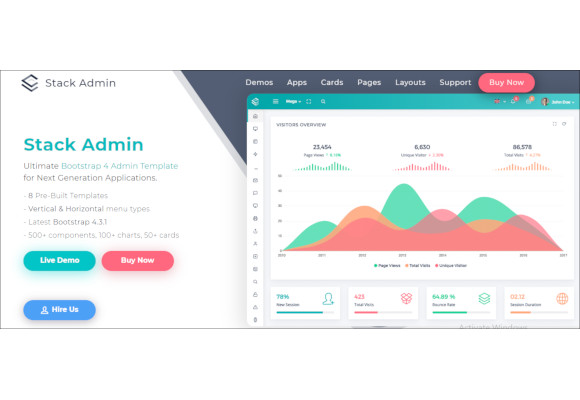 Glazzed HTML5 Bootstrap 3 Admin Template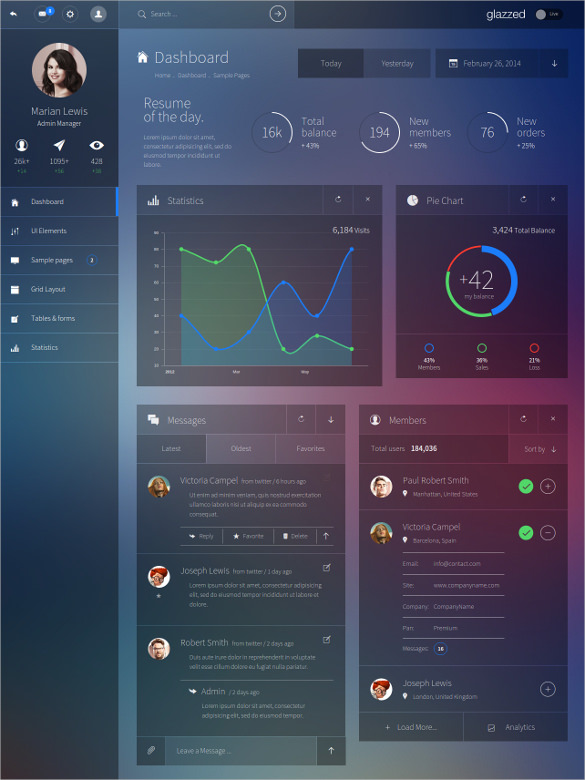 Glazzed HTML5 templates are one of the powerful Bootstrap templates available on the web. It is a Nulled admin based template. It has special features like drag and drop, pixel perfect elements and so on.
Free Responsive Bootstrap Admin Template

Responsive Bootstrap Admin Template is very compatible tool for designing your website and other works. There many plantillas bootstrap admin gratis as well as paid ones available.
Metis Bootstrap Responsive Admin Template $24

Metis Bootstrap responsive admin templates are very handy. It has many exciting features. You can check the current statistics of many projects and other projects. It is a must try for a multi-tasker.
Premium Bootstrap Admin Template $7

Premium Bootstrap admin templates have many benefits like dashboards, custom pages and add ons. There are standard and attractive themes in it. For a professional look these template is a must try.
Flato Bootstrap 3.0 Admin Template
Light Admin – Clean Bootstrap Template
Novus HTML5 Admin Bootstrap Template
Modern HTML5 Responsive Bootstrap Admin Template
Premium Bootstrap 3 Web Application Admin Template $24

This Bootstrap template is for developing a good web application. It can run on all the basic browsers. Anyone can create web applications that are attractive and pleasing to use for the customers.
Responsive Bootstrap Admin Panel Template $10

In the Responsive Bootstrap Admin panel template, all the code is freely available in an open GitHub source, and the design reflects the capabilities of the Bootstrap templates.
Free Bootstrap Admin Template
Liberator Bootstrap Admin HTML5 Theme
Square Responsive Admin Dashboard Template
Slim and CLean Bootstrap Admin Template
Amazing Bootstrap Admin Bundle Download Template
Admin Bootstrap 3 with AngularJS Template

It has the features like Nested routing & Nested view. It has less of CSS and more of HTML making it very user friendly. The speciality of this is that 70% of jQuery plugins can work without creating the directive.
Best HTML5 Bootstrap 3 Admin Template
Multiple Responsive Bootstrap Themes
Prime Bootstrap 4 Admin Template
Html5 & Bootstrap Admin Template
Perfect Admin Bootstrap Template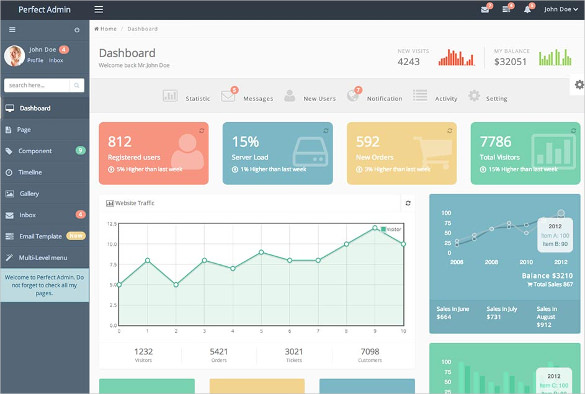 Awesome Admin Bootstrap 3 Theme $9
Simple Bootstrap Admin Template
Pro Admin Bootstrap Template Download
HTML5 Admin with Bootstrap Template
PHP Bootstrap Admin Template
Beyond – Responisve Bootstrap Admin Web App Template
The beyond – responsive Bootstrap admin web app template has 6 different versions. It supports all the backend frameworks and is very helpful. It has the features like forms, charts, tables, form wizards, etc.,
mAdmin – Multi Style AngularJS Bootstrap Admin Template $25
WordPress
Bootstrap Admin Template
WordPress Bootstrap Admin Template is a very simple and lightweight template. It has many themes and layouts in it. It is used for multiple purposes. It is also mobile friendly. The projects can be developed in the mobile itself.
Material Design Admin with AngularJS
SB Admin 2 Bootstrap Template
SB Admin 2 Bootstrap Template is a powerful template with jQuery Plugins for advanced functionalities. It has also has smooth built in User Interface Features. Its responsive and fast menus and activity bars make it very special.
As the popularity of Best Bootstrap framework increases, it is now possible to create beautiful yet functional admin panel templates for your web application. This makes the users of the admin section to have enhanced user interface when they work on the backend applications.
Bootstrap
is easy to customize and you know exactly what you get from the design. You can design your admin part using a customized mobile first framework with ready-to-use patterns and themes that are packaged with a huge number of widgets and components. Most importantly, the themes you build will be consistent when viewing on all screen resolutions as well as platforms including mobile devices. It makes sense to have a dashboard or admin panel, which you know it will work well.You May also Visit
Admin Panel Themes & Templates
With the front-end part of the
Bootstrap Dashboard
, you are able to include features such as file managers, calendars, charts and graphs, as well as other extra add-ons. Get an intuitive dashboard for your website application by downloading bootstrap templates that offer everything you need in for admin section.