If you have been tasked to create a photo gallery for a website, you will need to use a template that defines the right features for galleries. Amazing Bootstrap Templates With photo galleries, they are made to be offer interactivity with the user. The way in which the layout is designed will help determine the user experience. Having a responsive website with galleries that looks good on a phone, desktop, or tablet will require the use of a responsive design. Bootstrap is a good start to build a photo gallery, which has enhanced functionality and intuitive interface using thumbnails.
Different classes of the bootstrap's grid system are used to make the gallery. If you want a thumbnail link that is clickable and allows you to view the images, you can be able to get a design with such a feature. In addition, you may have a design with fixed top navigation bar. There are many Flash Photo Gallery templates for photo gallery applications that you can find on the internet.
Online Gallery & Artist Portfolio PrestaShop Theme
Creative HTML5 Bootstrap Gallery Template – $17
Tattoo Gallery Responsive Bootstrap Website Template
Responsive Gallery Bootstrap WordPress Theme – $49
Using Fotos photography theme you can display your creations and pictures in various formats, provide direct share options from your site and select various gallery options for your photos.
Kids Gallery Bootstrap Website Template
Multi Purpose One Page Bootstrap Gallery Template – $16
Climbing Responsive Gallery Bootstrap Template
Multipurpose WordPress Bootstrap 3 Gallery Template – $59
Most of the web developers look for multipurpose themes so that they can use it for different types of website designing. Multipurpose WordPress bootstrap 3 gallery templates are widely used which have creative galleries to show examples of service quality and product manufacturing process.
Design Gallery Bootstrap Template – $4
> Bootstrap Gallery Templates For Amazing Websites
If you are planning to develop an image gallery for website, it is necessary to use templates that would define the correct features for the galleria. The amazingly effective bootstrap gallery templates come with pre-loaded photo galleries while offering interactivity with users. The responsive designing style will allow the galleries to look great in any device, be it desktop, tablet, or smartphone.
> Important of Bootstrap Technology
Developing responsive websites has become an integral part of web development. It is necessary to ensure that the sites are perfectly adjusted according to screen size and image scaling. Keep in mind that several interface components like tabs, carousels and navigation bars need to be adapted to different screen sizes. However, you need not have to figure out anything from the scratch. Bootstrap was formed by Twitter. It was the result of contributions from numerous developers. In fact, Bootstrap is the perfect starting point for any modern website. Bootstrap product gallery template offers not only a fine responsive framework by also wide range of interface widgets like tabs and navigation bars, table layouts, excellent typography, and wide set of JavaScript widgets that can be used through simply providing the most suitable HTML without even forming a single line of the code.
Landscape Design Gallery Responsive Website Template
Bootstrap Wedding Gallery Template – $15
Photographer Gallery Bootstrap Template – $10
Art Gallery Responsive WordPress Theme
Unique Portfolio & Agency HTML Bootstrap Gallery Template – $17
Wrecker Sales Bootstrap Gallery Template – $75
Wrecker sales bootstrap gallery templates are quite popular as in a wrecker selling company, it is important to show the images of the wreckers beautifully to convince the potential customers to buy them at a good rate.
Responsive Minimal Blog Gallery Bootstrap Theme – $49
Elegant One Page Bootstrap Gallery Template – $14
Construction Bootstrap Gallery Template – $75
Flooring Business Bootstrap Gallery theme – $75
Creative Gallery Portfolio Bootstrap Template – $10
Bootstrap templates are in huge demand due to responsiveness and mobile-friendliness. There are awesome creative gallery portfolio bootstrap templates for designing tutorial sites, blogs and even professional business sites for service providing and product selling companies.
Business Bootstrap Gallery Template – $75
Personal Portfolio Bootstrap Gallery Template – $21
Free Agency Portfolio Bootstrap Gallery Template
Gallery Responsive Bootstrap Template – $4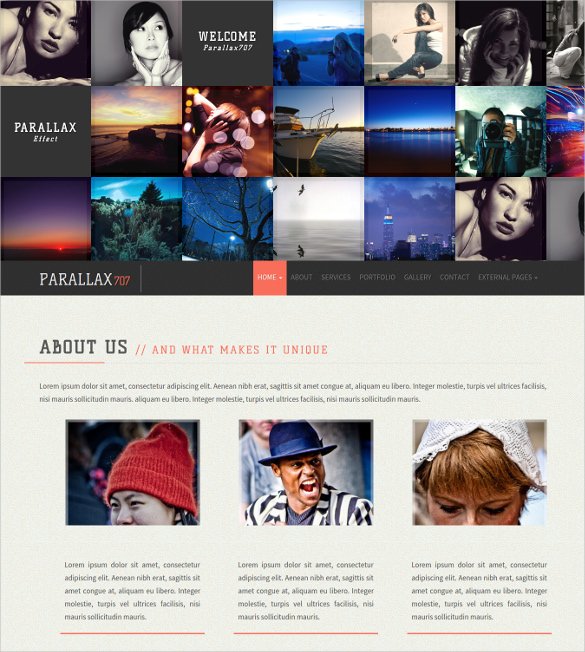 Parallax themes help you create responsive and rich business and portfolio websites from plenty of theme options, add unique features like options and include social share, maps and other features.
Some may be free and others might be paid templates. However, at times, it may not be easy to get something that exactly fits your feel, preferences, or dream, and this means you would want to explore some changes. The good thing with bootstrap is that creating a perfect template is not that difficult. The CSS classes can allow you to convert a plain looking and unordered list right into an amazing navigation tool or component of your photo gallery site. Download a simple bootstrap image gallery template and build your free photo gallery.
> Characteristics of responsive bootstrap gallery template
A quality bootstrap photo gallery template will always feature a very unique design along with several new features that makes them exceedingly popular among the digital world. It definitely supports the artists and photographers in portraying some of the best illustrations, designs, and artworks. It can be extremely challenging a task to develop and create websites. However, the introduction of HTML based bootstrap image gallery templates and layouts have definitely made the task a tad easier for internet users. With these bootstrap templates, web pages get organized in a clean and niche manner. They can be easily navigated. This feature makes them extremely user-friendly. There are options to include images, fonts, as well color effects during the upload on websites and pages according to the needs. Such a template is primarily developed using CSS3 and HTML5 in fancy stylization effect. It can also be used as per the requirement. The templates feature clean and simple flat image grid bootstrap template system. They are perfectly compatible with any browser and device. They come with decent colorization and cool animation effects. Simply download these templates and get your website developed as per the style.
Creative Bootstrap Themes
With creative customizable bootstrap gallery template, it becomes easy enough to design ecommerce portals that deal with photography, fashion, journalism, etc. These themes always come loaded with highly powerful and premium features to make it easy enough for bloggers, graphic designers, artists, and developers. Using these templates, it becomes easy enough to develop commercially successful websites. These templates are totally responsive and promises be absolutely compatible any and every web browser. Have a look at one of these templates:
Lucian WordPress Theme
Lucian is renowned for the flexibility it offers. This bootstrap gallery template free comes loaded with some very amazing features for portfolio and creative sites. Lucian combines the best of features; right from parallax animation effect to responsive designing it offers the most optimal viewing experience while ensuring that the website looks awesome and perfectly stable in any and every device, irrespective of screen resolution and size. With the most extensive featured admin panel, this theme comes loaded with different options that would easily get the styles, fonts, colors modified with every other aspect of the theme through REDUX framework.
Multi Purpose HTML5 Bootstrap Gallery Template – $16
Multipurpose HTML 5 bootstrap gallery templates are always used for designing quality websites that are mobile-friendly, load faster and provide awesome navigation and user experience. Most of them are translation ready and sure to give more exposure.
Fransisca Gallery Bootstrap Template – $14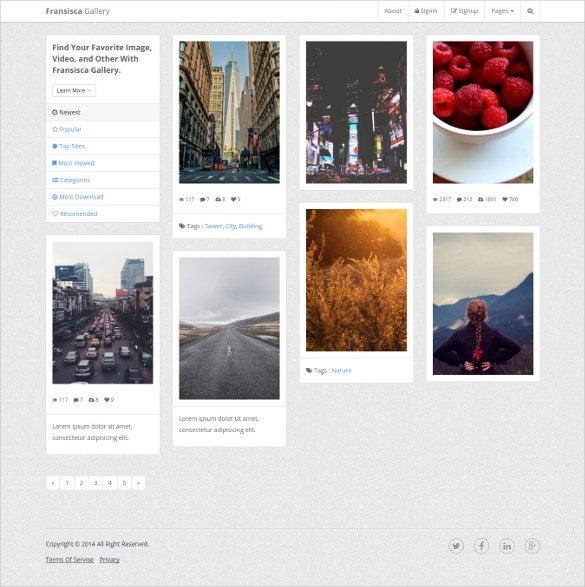 Free Professional Creative Bootstrap Gallery Template
Free Fully Navigated Bootstrap Gallery Template
Gallery templates are widely used by the photographers and even by companies who want to showcase their products innovatively to reach out to more targeted audiences. Most of these free fully navigated bootstrap gallery templates are having light box for showing the images in a better visually appealing way.
Free Responsive Bootstrap Portfolio Gallery Template
Elegant Gallery Bootstrap Template – $16
Create simple and responsive websites, use sliders, SEO options, fonts and other awesome features and create websites from a plethora of categories with readymade theme ideas using Serenity template.
Free Black & White Bootstrap Gallery Template
Photography Bootstrap Free & Premium Gallery Website Template
Free Responsive Flexible Bootstrap Gallery Template
> How Bootstrap Helps in Developing Websites
Over the last couple of years, bootstrap album gallery has become exceedingly popular. Presently, it is one of the most important front end development frameworks present. It is extremely feature rich and comes with wide range of benefits. Have a look at some of the major advantages of using bootstrap framework:
Speed of Development
Speed is what makes bootstrap a very popular front end framework. Get websites developed at lighting fast pace. In case you are planning to push some sort of a new application or website, considering bootstrap would definitely be the best option to avail. Bootstrap responsive gallery template comes with readymade coding blocks to offer quick start-up process. This can be best combined with CSS-less functionality and cross-browser compatibility. As a result, much of time gets saved carrying out the coding part. There are lots of ready-made themes available that can be modified as per the needs.
Responsive Nature
Popularity of mobile devices keeps growing every day. Creating mobile-friendly websites with the help of Bootstrap framework would definitely help in developing the most responsive fluid bootstrap gallery grid layouts. Automatic adjustment as per screen resolution become easier than one might think of. The presence of Ready-Made class concept allows the user to specify maximum number of spots in grid system to make every column occupy. This is followed by specification of columns in regards to horizontal stacking or vertical displaying on different mobile devices.
Consistency Definitely Matters
Bootstrap was basically developed by Twitter employees as a necessary framework that offers consistency in terms of performance for several internet tools. Bootstrap helps in pairing developers with designers. Doing such a thing made Bootstrap exceedingly popular among the web developers. To put it in simple words, bootstrap ensures highest level of consistency no matter who is working on those projects. Add to it the result factor that remains same across every platform no matter browser is being used.
Easy to Customize
Thumbnail gallery bootstrap template framework can be modified, customized, and tailor-made as per the project specifications. Developers find it easy enough to choose and pick the best of features that would be required while eliminating all the remaining ones. This can be effectively accomplished using bootstrap customization page.
Best Support Options Available
Bootstrap features extremely vast support community that allows instant help on any of the issues that would appear during the time of development. Also, bootstrap keeps getting updated on a regular basis. Presently, there are about 500 contributors and over 9000 commits that maintain and develop the framework while ensuring best of operative interface. The responsive bootstrap template free download options are widely available.