It has been four months since Équipe de France ( France National Football Team) won the World Cup in Russia. The players are back in the biggest European Football Clubs they professionally represent but the hype of winning and for others, the frustration of losing isn't quite gone yet. You may also see Certificate Templates.
From European to American Football, NBA, tennis, golf, baseball and many more, one cannot really explain the hero-worship of fans for their favorite players and the enduring loyalty they have for their favorite teams, local or not.
You only have to see 60,000-seater stadiums always filled on game day, with banners, flags and scores of cheering fans to know that sports create a massive impact on local, national, and personal pride.
Elements of a Good Sports Certificate
If you are put in charge of a sports event, especially a big one, it's understandable to feel the pressure of doing it right, from the program to the awarding of certificates for the winning team or players. Here are the necessary text elements to include:
1. Title/Heading: This is usually located at the top of the certificate, and may apply to different situations as long as the reason for the certificate is clearly indicated in the descriptive text that follows. The name of the organization giving the award can also be included as part of the title.
2. Presentation Line: Traditionally, the phrases to indicate can include the following:
is awarded to
is hereby awarded to
is presented to
is given to
is hereby bestowed upon
3. Recipient: It is customary to mention the name of the person to which the certificate is being awarded to. In some cases, the recipient would be the whole team, the club or organization but most of the time, the recipient is an individual or individual members of the team, depending on what they have achieved.
4. Description: This is an optional short, descriptive paragraph, explaining the purpose of the certificate and why the athlete or team is receiving it.
While there are no hard and fast rules in creating sports certificates for athletes, it is important to recognize those who exercised loyalty, participation, excellence, and contribution to name a few.
15+ Sports Certificate Templates
Certificate of Sports Day Design Template
Elegant Running Certificate Template
Baseball Certificate Design Template
Elegant Simple Baseball Certificate Template
Modern Baseball Certificate Template
Creative Baseball Certificate Template
Football Certificate Template
Free Basketball Certificate Template
Sports Appreciation Certificate
Running Award Certificate Template
Free Soccer Award Certificate Template
Free Baseball Certificate
Free Golf Club Membership Certificate
Softball Certificate Template
Free Sports and Games Certificate
Sports Certificate Template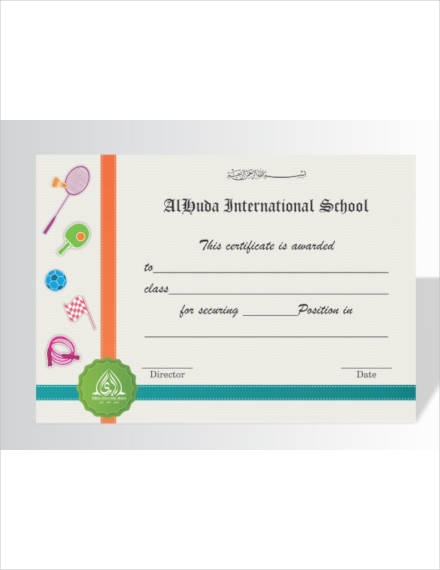 Steps in Designing a Sports Certificate
Certificates would always be special for anyone who takes sports seriously, because it is the reminder of your achievement and for a student, certificates in sports can especially be very helpful in applying for colleges, scholarships, and later on, a profession related to sports or in becoming a professional athlete. Designing a certificate would have to consider the following:
Make It Unique. Take a break from the dull, traditional, obsolete designs with Old English fonts online. You'll never run out of reasons to be creative in designing a simple sports certificate. Think of the particular sports event. Think of the participating teams or individuals and create something reflective of what they or the event represented.
Tailor It. It isn't hard to customize your design and end up with a certificate that the players and the team would easily identify with if you know who they are, the community or school that they play for. You can research the club or player's colors, or you may choose to customize it according to the specific sports event being held. Upload the images you need and if you're trying to customize a standard certificate template, do the necessary changes to the images, fonts, and colors.
Go With Quality Printing. Certificates usually get printed using parchment paper or border art paper, both of which are available at retail stores. Regardless of which one you choose for printing, remember to save the document in 300 dpi (dots per inch) since it is considered the professional quality. You just have to download the file using the Print-PDF option, or you can use the pre-made templates available here which are 100% editable.
Simple Tips for an Excellent Sports Certificate Layout
Sports or not, certificates are great for adding value to your career resume. Below are tips to end up with a standout layout for certificates on your next sports event:
1. Use Professional Tools. If you're used to the traditional certificate layout, a professional tool may be challenging at first. However, websites like template.net would help you turn it up a notch by providing you with more creativity with the range of available, topnotch designs which you can customize according to your personal style, theme, and needs.
2. Use Colors and Fonts Wisely. You can experiment with different color schemes, depending on the type of sports recognition or award. There are many themes to choose from on the internet but it's better to pick something closely related to the award. It's a sports certificate. It has to be authoritative, fun and simple. I don't have to be sophisticated. This would also apply to your choice of font. There's wide range of fonts available in Word, which would let you choose anything between classic, formal, fun and traditional.
3. Be Clear, Concise and Correct. A sports certificate is still a professional document. Therefore, the grammar needs to be correct and there should also be no errors with the spelling. Get the important names of key individuals or groups correctly, such as the name of the players, team or organization. Make sure the certificate makes for coherent reading without complicated backgrounds or illegible fonts.
Types of Sports Certificates
It's easy to forget individual or team contribution in any sports competition. With the awarding of certificates, players are more motivated to do better beyond the playing field. It encourages them to lead a healthy lifestyle as individuals and as sports enthusiasts who may just be good enough to compete professionally. Sports certificates awarded to individuals who made a significant contribution would often include:
Certificate of Participation. This is given to every member of the team who was there from day one until the end of the season, regardless of minutes played.
Most Valuable Player. A player who, in the opinion of both the coach and the team, makes the greatest contribution on and off the court or field, through a consistent, unselfish, outstanding performance, and loyalty.
Player Of The Month/Year/Season. A player whose great contribution is essential to the team by exercising excellent performance necessary to win games. Often awarded to the player who have been consistently giving a 9-10/10 performance every game, the team's best player.
Sports Certificate Sizes
Although it isn't necessary, a subtle laid or linen finish paper which would give your certificate a touch of authority and elegance. Most of these papers come in 8.5 x 11 inches, which is the standard size for certificates, but you can increase your options in certificate paper sizes if your printer can allow it.
Sports Certificate FAQs
What is the Impact of Sports In A Community?
Sports goes beyond competition. It creates a sense of togetherness and contributes to increased self-esteem and an individual's self-worth. It also helps in keeping an environmentally sustainable through the protection of open spaces as well as natural areas. Sports and recreation clubs are at the core of community life, especially in the regions, not to mention that it's also an excellent source of local and national pride.
How Do You Design A Sports Certificate?
While the internet won't run out of ideas, certificate design inspirations and templates you can use, at the end of the day, it's going to be up to you. An excellent sports certificate still needs to be as authentic to the person or team, as they are customary as far as "rules" in designing them goes.
How Important Is a Sports Award?
The value of a sports award, or any award for that matter, cannot be overemphasized. It doesn't only give credit to success or to a display of brilliant performance and sportsmanship, it also recognizes many other qualities that will be remembered by the individual for years on, something which he or she can use personally and professionally.
At Template.net, we make sure that our customers have multiple options in getting their resources for professional documents specific to your purpose. We have a variety of templates such as sports certificates designed and created with the best quality by our experts which you can also customize and print in multiple formats available.