If there are any reciprocal contract that needs to have a proof of consent then this memo of understanding can be used by any two or more parties involve in the deal. In the example format of the template you can use the policy memo template to make both parties signed and be in agreement with all of the subject matters of the terms and objectives of the deal.You can also see Credit Memo Template.
Like an agreement, this template is made in a formal layout where the essential terms or conditions of the agreement are laid out with seriousness in which all of the involve parties must abide in Memo Template. Its content must be in accordance with the deal and signed to make it an official document.
Sample Memorandum of Understanding Template in Google Docs
Download
Memorandum of Understanding between Two Individuals Party in Word

Download
Memorandum of Understanding Format for Business Template in iPages

Download
Memorandum of Understanding between Two Parties for Business in Word, Pages for Mac

Download
Army Memorandum of Understanding Sample Template
vfw.org | The military is all about adjustments and making compromises. There has to be an understanding within the army to maintain harmony. Now, if you're in charge of creating this official document, you could take the help of this wonderfully designed template.
Cover Letter for Memorandum of Understanding Example Document
improvingchroniccare.org | When a document like an understanding or a deal is to be drawn up, it is usually accompanied by a cover letter. For that, you could take the help of this template. One look at it will tell your recipient all about the memo.
Memorandum of Understanding Between Comany and University Example Template
missouristate.edu | Often companies and universities reach an understanding regarding various topics. If that's what you want, you could take the help of this amazing template. The places marked yellow are where you're supposed to insert your own details.
Example Template for Draft Memorandum of understanding
Creating a memo of understanding can be extremely complicated if you're not aware of the format. But don't worry, there's always a way out. For example, you could look up this particular template which has the accurate format for a memo.
Sample Memorandum of Understanding Template Free Download
in.gov | In this memo of understanding template, only the format has been drawn up for you. Blanks have been provided where you can start filling in the details. All you have to do is download the template. So what are you waiting for?
Cooperating Organization Memorandum of Understanding Example Template
rotary.org | When two or more organizations enter into a kind of understanding with each other, such a memo is circulated to those concerned. If you have to distribute such a memo, you cannot afford to miss out on this great template!
Memorandum Of Understanding Between Company and Individual Free Format Download
massgeneralcenterforglobalhealth.org | Companies often form memos regarding deals and agreements with other individuals. It could be an employee, or someone else as well. Whatever the case may be, you will need a splendid and well designed memo like this impressive template.
Memorandum of Understanding Between Agencies Example Format
dss.mil | Often, two or more agencies form a deal or agreement. In that case, a memo of understanding is to be issued. In order to do that, you can always take the help of this memo of understanding template. It also contains the areas where you're supposed to enter your own details.
Sample Document for Memorandum of Understanding Joint Venture
liuc.it
Memorandum of Understanding Template Between Provider and School Free Download
mchoralhealth.org
Sample MOU Agreement for Business
Standard MOU Contract Sample
twc.state.tx.us
Memorandum of Understanding Sample between Two Companies
leaplaw.com
MOU Student Registration Sample Form
icsi.edu
Memorandum of Understanding for Police
bwctta.com
Basic Memorandum of Understanding Non Profit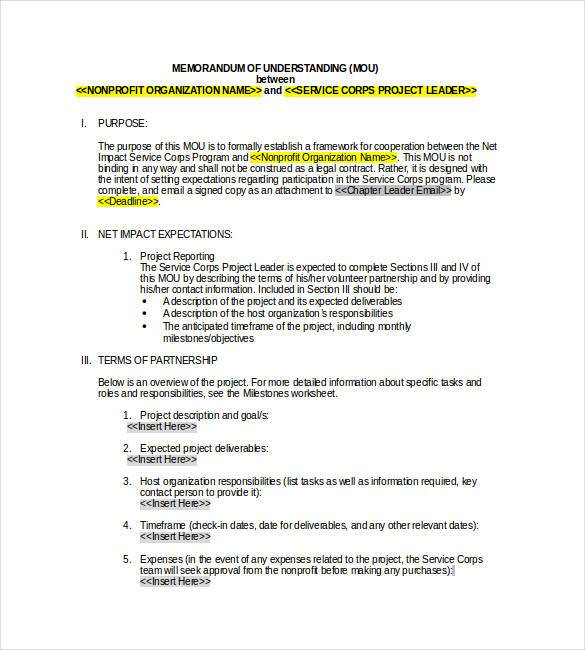 netimpact.org
Fire MOU Partnership Initiation Form
fire.ca.gov
Event Sponsorship Memorandum of Understanding
first5la.org
MOU Advice
rushcliffeccg.nhs.uk
Memorandum of Understanding for Service
healthiersf.org
Property of MOU
aamd.org
Construction for Memorandum of Understanding
ftc.gov
Loan Application with MOU
tcdc-pa.com
Memorandum of Understanding Architectural Service
idibc.org
Pengertian Memorandum of Understanding in PDF
laohamutuk.org
Memorandum of Understanding between Legal Service Board
legalservicesboard.org.uk
How to Write a Memorandum of Understanding Template?
A memorandum of understanding is usually signed by two parties that agree to work in tandem on a particular project. It comprises of the various clauses of the deal. However, when writing this document, it is important that the user follows the defined format. Using a Memorandum of Understanding Template can help in finding the format. As for the content, here is how this can be composed.
Start by introducing the two parties that are signing the MoU. Make sure to include their names and other important details.
Then specify the deal for which the document is being signed.
This should be followed by the various clauses and terms that should be adhered to by the two parties.
Then specify the repercussions in case of a breach.
At the end should be a section where the signature and the seals of the two parties would be included.
What is a Memorandum of Understanding a Legally Binding Contract?
Irrespective of whether a memorandum of understanding is drafted using Army Memorandum Templates or any other templates, these once signed become legally binding contracts with the parties who have signed it becoming liable to legal action in case of a breach. It has been seen that before signing a MoU, most parties sign a preliminary agreement. Though sometimes these agreements too are legally binding, the other times these are not. This majorly depends on the clauses specified in the agreement.
What is the Difference between an Agreement and a Memorandum of Understanding?
People usually confuse a Memorandum Format Template with an agreement format template. However, it should be noted that these documents are quite different from each other.
An agreement is a legal document where two parties agree to work in tandem to gain a particular objective. However a MoU is a document that describes the clauses and terms of the arrangement.
The elements that make up an agreement are offer and acceptance however when it comes to a MoU, the elements also include intention and consideration.
The law can enforce an agreement but not a MoU.
An agreement can be an oral one or a written one. However, a MoU is essentially a written one.
Purpose of Memorandum of Understanding
A memorandum of understanding can be easily designed by a used with the help of the various types of Memo Templates that are available online. A MoU is used for a wide range of purposes.
To give the parties a clear idea of what is expected of them
To specify the arrangements between the two parties along with their responsibilities
To list the various clauses and terms that bind the two parties
To list the repercussions that they may have to face in case of a breach
To elaborate on the various financial aspects
Wondering how to draft a Memorandum of understanding? Why not take a look at the different types of Simple Memo Templates that we have to offer. With a wide range to choose from, finding the one that is perfect for you would be easy. These can be quickly downloaded and customized to come up with a unique MoU. So, go ahead and check out our collection today.
If you have any DMCA issues on this post, please contact us!