A memorandum is a document drafted to inform people about certain issues such as events, meetings or any action that will take place within an organization. Memo templates are tools of communication used to pass vital messages among members within an organization. Memos are vital documents, which every organization requires for effective communication among its members. You can also see Simple Memo Templates.
Simple Business Memorandum Template
Sample Formal Memorandum Template
Private Placement Memorandum Template
Memorandum on Sales Seminar Template
Restaurant Memorandum on Sale Seminar Template
Offering Memorandum Limited Partnership Template
Formal Memorandum Template
Memo Template
Professional Memo Template
Memorandum of Understanding Template
Memorandum of Agreement Template
Sample Army Memorandum Template Download
armystudyguide.com
Example Information Memorandum Template Download
wisdomnetworks.im
Memorandum of Association Template Download
secp.gov.pk
Memorandum Template for Investment Free Download
admlip.ru
Business Memorandum Template PDF Download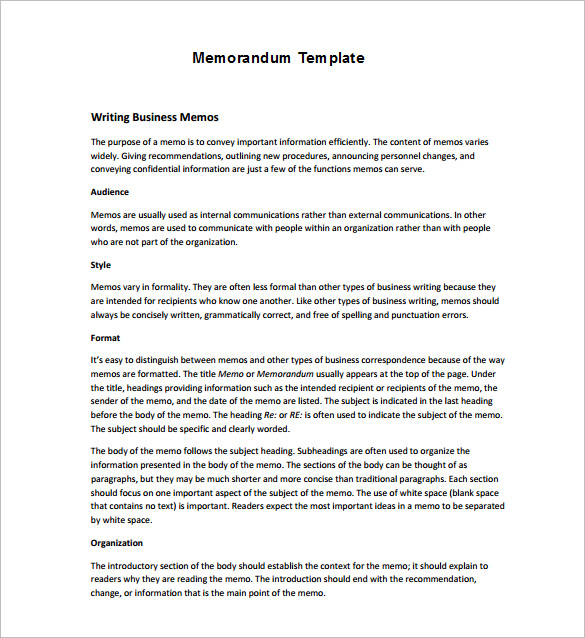 tippie.uiowa.edu
Explanatory Memorandum Template PDF Download
unified-patent-court.org
Free Official Memorandum Template Download
325fss.comc
The main goal of memo is to communicate your intention to the readers quickly.Templates have made work easier by saving time and money. This is because there are printable memorandum templates found free online today. These online templates sample will guide you draft your own template or download them and use them to write memos.
One advantage of these templates is that they are customizable and allows you to alter its color to suit your preferences. In addition, you can save them and reuse it repeatedly. You can also like Email Memo Templates  Important components a memorandum should entail:
The memo text should be short, simple and relevant; it should at least one page. • Its explanation should be direct to the point, concise and short. • Only discuss what the readers need to know. • To whom and from whom • Date • Subject heading • Body or message section • No signatures