Memo Templates
18+ Memorandum Templates – DOC, PDF
A memorandum is a document drafted to inform people about certain issues such as events, meetings or any action that will take place within an organization. Memo templates are tools of communication used to pass vital messages among members within an organization. If you're looking to make one for your organization, you can download or refer to any of our following templates and samples.
Simple Business Memorandum Template
Make use of our well-made "Business Memorandum" template that helps improve communications within your company. As this high-quality template comes with suggestive content and customizability, you won't find the need to prepare one from scratch. You can use it to inform your staff regarding meetings, important announcements, and other company-related things.
Sample Formal Memorandum Template
Do not miss out on this professionally drafted "Sample Formal Memorandum" template in case you're looking to make a formal memorandum to better communicate important matters for your organization. This ready-made sample memo file is editable and is sure to help your business develop professionally. This instantly downloadable high-quality template is print-ready and can be shared digitally.
Private Placement Memorandum Template
Check out this "Private Placement Memorandum" template that is perfect to use for private companies who wish to acquire a few select investors or by publicly traded companies as a means of secondary stock offering. This professionally designed internal memo template comes with impressive formatting and suggestive content so you can keep as is or make changes however you see fit.
Memorandum on Sales Seminar Template
Utilize our professionally drafted "Memorandum on the Sales Seminar" template to inform your personnel about any sales seminar. This template directs the personnel on the attendance of your chosen sales seminar or event. Download today to start your arrangements for the sales seminar. You can also view our management templates.
Restaurant Memorandum on Sale Seminar Template
Elements of a Memorandum
One advantage of these templates is that they are customizable and allows you to alter its color to suit your preferences. Also, you can save them and reuse them repeatedly. You can also like Email Memo Templates. Important components a memorandum should entail:
The memo text should be short, simple and relevant; it should at least one page.
Its explanation should be direct to the point, concise and short.
Only discuss what the readers need to know.
To whom and from whom
Date
Subject heading
Body or message section
No signatures
Offering Memorandum Limited Partnership Template
Formal Memorandum Template
Memo Template
Professional Memo Template
Memorandum of Understanding Template
Memorandum of Agreement Template
Sample Army Memorandum Template Download

armystudyguide.com
Example Information Memorandum Template Download

wisdomnetworks.im
Memorandum of Association Template Download

secp.gov.pk
Memorandum Template for Investment Free Download

admlip.ru
Business Memorandum Template PDF Download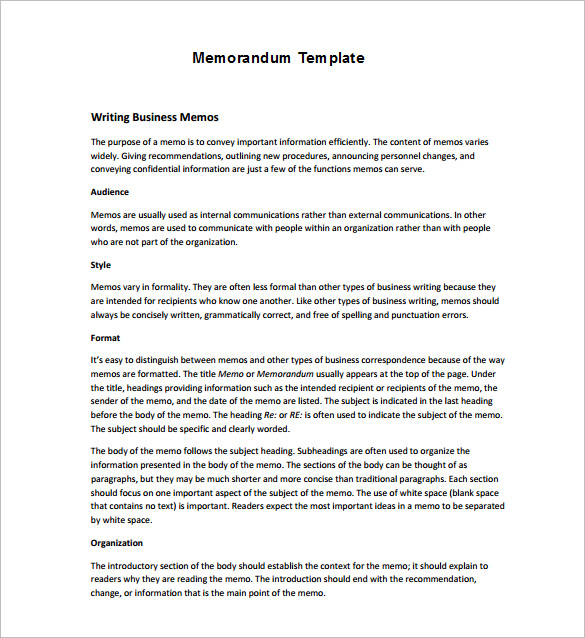 tippie.uiowa.edu
Explanatory Memorandum Template PDF Download

unified-patent-court.org
Free Official Memorandum Template Download

325fss.comc
Summing Up:
Being an important document that is circulated within an organization, memos are to be carefully drafted. Instead of making one from scratch, you can readily download any of our above-shown memorandum templates. They are designed by professionals and are instantly printable and editable.