Memo Templates
23+ Interoffice Memo Templates – Sample, Example, Format Download
For an employee of a company, the professional memo template can tell them the necessary information about what is happening within their company or group. Downloadable in Microsoft word, excel or pdf file, any vital figures or information can be elaborated in a short form so all the members of that company or group can get a grasp of its message.
Emphasize that its message should be only within the company and should not go out by using our memo template so the contents of the memo can be secured. It can also be sent via email and also adjust any designs to be able to fit the company details.
Simple Interoffice Memo Template
Effectively communicate with other departments or offices to bring about any situation or topic to notice by downloading our interoffice memo template in MS Word. It follows a proper format so that the context, discussions, and conclusion are entered in a systematic way. Use any file formats such as Pages, MS Word, or Google Docs to edit the contents of this document.
Interoffice Memo Template
Why burden yourself in creating a new interoffice memo document when you can easily download and use our ready-made memo template in Google Docs? Easy and convenient to use, the content present in this document can be easily customized by opening it on any of the various file formats. Just replace the highlighted text with the necessary details, and you're all set.
Sample Business Memo Template to Edit
If you're just starting out with a small business, then you will need this sample business memo template in order bring attention to a particular situation. By instantly downloading this file, you can make changes to its content by opening it any of the versions of MS Word or Apple Pages.
How to Properly Compose an Effective Interoffice Memo?
An effective interoffice memo facilitates communication among the employees and higher officials, thus ensuring the smooth functioning of the organization. An interoffice memo template can be of great help when it comes to creating such a memo. However, if you are thinking of composing a memo without any help, here is how you can do it.
Start by listing the name of all the recipients along with the email ids.
This should be followed by a section where the names of the people who are responsible for creating the memos and sending them across should be included.
Below this, write the date on which the memo is sent.
This should be followed by the subject that would give the recipients an idea of what the memo entails.
Then go on to introduce the memo and list all the details.
Put in a conclusion requesting for suggestions and feedback.
Remember that a memo is a lot like the letter and can be sent as an invitation to an event or a meeting.
Editable Professional Memo Template
Check out this professional memo template that lets you distribute formal memos to those concerned. It is a template that is ready-made with content so that you can simply edit its details in the highlighted regions. Make work easier, just hurry up, and download this template now! You can also see the formal memorandum template.
Faculty Interoffice Leave Memo Example Template

college.lattc.edu
If you've got an important announcement to make about the leave policies of the faculty, then you could do so with the help of this well designed, efficient and practical office memo template. So what are you waiting for? Go ahead and give it a try!
Study Support Help Interoffice Memo Template Example Format

paralegalstudy247.com
If you've been looking for specialized kinds of internal office memo templates, then look no further. You've found the perfect template for you. You can rest assured, this template adheres by the accurate format and has been crafted by experts.
Example Format Faculty Evaluation System Interoffice Memo Template

facultysenate.nmsu.edu
It is important to evaluate your employees' work from time to time. But before you do, you need to make a formal announcement. In order to do that, you really cannot afford to miss out on this amazing template! It would perfectly suit your needs!
Interoffice Legal Memo Example Template Download

users.clas.ufl.edu
All companies have specific rules and regulations. If you want to spread the word within your office about certain legal aspects, then the best way to do that would be through a memo. Take advantage of that by making use of this amazing template.
Electronic Submission Interoffice Memo Template Free Format

temple.edu
The best part about this electronic interoffice memo template is that the format has already been crafted for you. That means the blanks have been provided for you already. All you have to do is download the template, and start entering your own details into it.
Procurement Interoffice Memo Free Format Download

utmb.edu
Do you see the portions marked in blue? Those are the portions you can start editing once you download. The rest has already been done for you. See how half your work is completed even before it starts? What more could you ask for really?
Interoffice Memo Geo-Technical Sample Template Download

ftp.odot.state.or.us
The only thing that worries most when it comes to highly technical memos like this is the format. If you're not aware of the format, that could potentially ruin the whole document. That is why you need to take the help of this template since it already contains the accurate format.
Legal Writing Interoffice Memo Free Format Download

hofstra.edu
Writing a legal memo is no joke as it can be pretty darn complicated! So what do you do? You certainly cannot give up! Well, this particular legal interoffice memo template explains how exactly you can go about it! So go ahead, hit the download button!
Sample Initial Disclosure of Interoffice Memo Download

pldt.com
See how the template has been kept simple, short and precise? Well, that is exactly what a formal memo should look like. It should be devoid of any kind of excessive design and be to the point. That is exactly what the template demonstrates! It follows the accurate format down to the last detail!
Example of a Professional Inter Memo
bisefsd.edu.pk
Official Business Interoffice Memo
acl.com
Student Counsellor Interoffice Memo
ncuindia.edu
Faculty and Staff Interoffice Memo
dscweb.daltonstate.edu
Interoffice Meeting Memo
ncuindia.edu
Interoffice Memo Request
caicap.weebly.com
Interoffice Memo Attachment Sample
documents.dgs.ca.gov
What is the Main Purpose of a Memo?
Memos are used by the business organization in order to enhance the communication between the various departments and the employees within it. However, this is not the sole purpose of a memo. It is also used for
Sharing news
Addressing a problem
Making a request
Providing feedback
Welcoming ideas
Interoffice Attendance Memorandum
static1.squarespace.com
Interoffice Memorandum of Law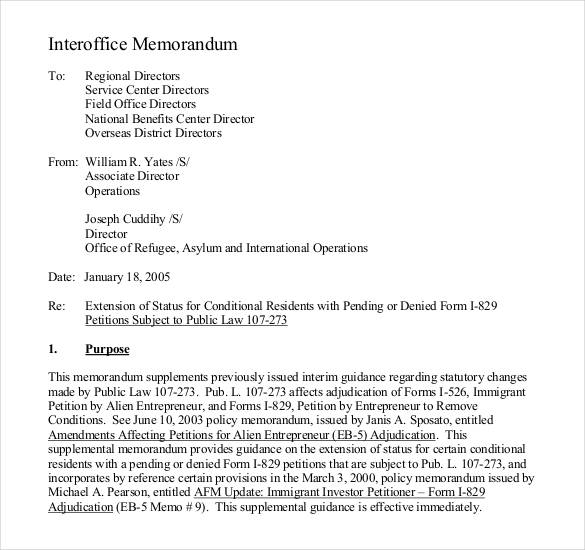 uscis.gov
Interoffice Memorandum Form
bexar.org
Tips
If you expect that all the recipients read the memo properly, you need to make sure that you design a memo that is indeed impressive and effective. Given below are a few tips that will help you to do this.
Before writing the interoffice memo, check out the style and format that is used by your organization.
The body of the text should be concise and clear while also being free of any grammatical mistakes.
Try to keep the content simple. Complicated words are not appreciated by all.
There is no need to add a salutation to a memo.
Breaking the content into bullet points and subsections is a good idea.
Try to conclude the memo with statements that call for action.
Not sure how to draft a memo for your organization? Don't worry. We have a huge collection of these team presentation templates. Browse through these to find the one that would be perfect for you. Easy to download and customize, using these templates surely helps in simplifying your memo designing task.