Surveys are very important tools for businesses, companies, and research institutions to get the data that they need for a certain purpose or study. A survey is a method in applied statistics that deals with the sampling of either a population or its members to gather data and analyze outputs based on the information that has been collected.
There are different methods and techniques when doing a survey. It varies on the items that are in the survey, the process of surveying, the methodology used to collate and interpret data, and the output that the entity who made the survey wanted to achieve.
Our website has a collection of Blank Survey Templates,which you can customize to base on your needs.
Basic Survey Template to Edit

Get it Now
Survey Report Template in iPages for Mac

Get it Now
Business Market Survey Template in Word

Get it Now
Printable Restaurant Survey Template

Get it Now
Sample Product Survey Template

Get it Now
Simple Customer Satisfaction Survey in MS Word

Get it Now
Site Survey Form Template

Get it Now
Employee Compliance Survey Design Template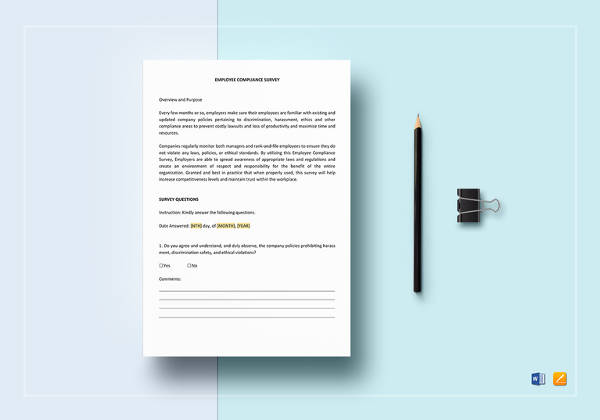 Get it Now
Editable Training Survey Template

Get it Now
New Employee Survey Template

Get it Now
Easy to Edit Student Survey Template

Get it Now
Patient Satisfaction Survey Template

Get it Now
Church Member Survey Template

Get it Now
Easy to Edit Motivation Survey Template

Get it Now
Printable Customer Survey Template
Printable Blank Survey Template
Printable Employee Survey Template
Printable Customer Satisfaction Survey Template
Printable Activity Survey Template
Printable Product Survey Template
A basic survey form must include the following:
The instruction on how the survey should be answered.The group or population that is to answer the survey must clearly know how they are going to answer it. Instructions must be clearly written above the survey form. This is to avoid misleading data interpretation.
Limits on the answering method. Some surveys need their sample to write. There should be limits on this process as well to get precise and accurate information. It may be limits on the number of words that they are to write or the limits on the number of items that they can enumerate.
The reason or purpose of the survey.People should know why they are answering something and how it is going to be used.
The company or institution who will use the survey.Though there are some surveys that do not necessarily allow the people to know who made the survey, it is of most importance for people to know who will use the data that they are providing.
Basic information of the person who will answer the survey.
Proper survey questionnaire. A survey must be understandable and easy to use so that people will not have a hard time answering it. It should always be on a document's simplest form.
Other instructions and reminders
There are different kinds of surveys used for their respective purposes. You may take a look at our sample Product Survey Templateand Customer Survey Template if they are the type of surveys that you need.
Printable Event Survey Template
Printable Restaurant Survey Template
Printable Recruitment Survey Template
Printable Office Survey Template
Printable Staff Survey Template
Surveys are of most importance to these institutions and organizations:
Research and learning institutions. Survey is very important to research laboratories and other research institutions. It allows them to gather data for a certain study or any scientific purposes. It helps a certain study to advance its process or help them understand different movement cycles.
Businesses. Surveys are usually done by businesses to know current market trends and have an idea on how their products and/or services are being perceived and consumed by their target market. You may take a look at our Restaurant Survey Template to have an example of surveys used for this purpose.
Companies. Either to get competitive advantages or to know the thoughts of their employees and other stakeholders, companies usually use the survey method to get statistically correct information.
There are a lot of possible great things that a survey can do, should you use it based on its functionality. Our templates provide you with different options that can very useful to your next surveying.