g banners to display latest products and there is even section for featured products & manufacturIt is an open-source system which allows businessmen to open up shop online, and manage all the contents of their business. Here are some of the most sought after fashion VirtueMart templates.You may also check Fashion Magento Themes.
77+ Fashion Templates in Word, Excel, PSD, Google Docs, PowerPoint, InDesign, Apple Pages, HTML5, WordPress, Publisher, Illustrator, Apple Numbers, Apple Keynote, Google slides - START DOWNLOADING
Online Clothes Fashion Store VirtueMart Theme $139
You are getting a truly elegant fashion store theme here which opens up with big banner to advertise the best products from the store. The homepage also include sections on discount offers, major product categories etc.
Fully Responsive Fashion virtueMart Theme $49
This fully responsive fashion theme comes up with an elegant appeal and would be really fitting for your happening fashion store. The homepage would enable you to showcase your latest products.
Pretty Fashion Store VirtueMart Template $69
You are getting a peppy and colorful fashion store template here that opens up with huge banners flaunting special discounts. The homepage also includes sections for new arrivals. It would be good for fashion stores with both men & women collections.
T-Shirt Fashion Store VirtueMart Template $139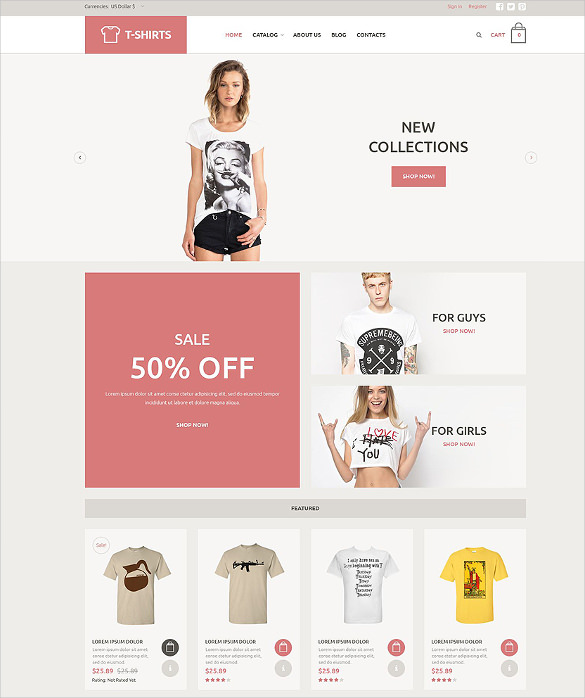 The coral accents against a white backdrop have created a classy outlook. It's a neat and clean site with banners for latest collections, discount offers and featured products. The homepage comes with popular social media buttons.
Responsive Multipurpose VirtueMart Theme
This svelte fashion template would be great for your handbag store online. The homepage features big banners to display latest products and there is even section for featured products & manufacturers.
Luxurious Fashion Store VirtueMart Theme $39
It is a luxury responsive template. It is designed using bright and shiny background. The template can be modified to draw the customers attention. This template can be used for various companies like for products of shoes, clothes, watches, etc. Photos and videos can also be imposed in the template.
Kids Fashion Virtuemart Joomla Template $39
Curvy Fashion Boutique VirtueMart Theme $139
It is often said that plus-size women are not beautiful. This is totally void. Designing the template with black and white and the fields with pink will attract female shoppers. The users will be amazed to see how easy it is to find clothes by its navigation bar. Each part of the theme is made exclusively keep in mind of the user.
Modern eCommerce VirtueMart Joomla Template
The VirtueMart Theme can be used for cosmetics, fashion stores. This theme is designed using various colors. It has a clean ad sharp look.
Beautiful Fashion VirtueMart template $39
This template is useful for websites that promote young models with modern clothes and fashionable glasses. This template is incorporated with numerous features, it can also be used for various uses. This template can also customize to grab customers attention.
Eye Glasses Store Fashion VirtueMart Template $139
This template is designed in such a way that looks bright and pleasant as a sunny day. It is designed according to the latest web standards. The template is designed using red color. The Add to cart key is red in color which evokes buying activity. In the header and footer sections, navigation is fixed.
Multi Purpose Fashion VirtueMart Template $58
This theme can be used for digital store, gift store, fashion store or the kids clothes store. We have incorporated 4 Home Layouts in this template to give the best selections in customization. You can fuse between all home page layouts to get the different layout for your own website.
Fashion Apparel Store VirtueMart Theme $139
This is an active clothing store VirtueMart Template which upgraded for desktops, mobile phones, tablets. It is designed especially for fashion and beauty e-commerce projects. It can also be used for other purposes as well. The theme can be personalized to beautify your business.
Clean, Simple VirtueMart Joomla Template
The minimal VirtueMart Template can be used by fashion designer, electronics store as the multipurpose store. It is designed with the great blend of colors. The template has a clean and sharp look. All the pages are customized.
Leather Handbags Fashion VirtueMart Template $139
For the creation of the finished image, handbags are very important accessories. They should look classy and must mix with your dress. Females wish to have many handbags because one handbag will not match all the outfits. This template is designed with the neutral color so that it does not disturb the buyers from the displayed products.
Responsive Joomla fashion VirtueMart Template $59
This template is designed in black and white. It can be used for online fashion store as well as it can help you to develop your clothing business. This template is also set up with the real Joomla custom blog. There is no need to set up 3rd party solution.
Multipurpose VirtueMart Joomla Template
Fancy Shop VirtueMart Theme can be used for jewelry, apparel, and clothes store. This theme can be customized according to one's needs and requirement.
Premium Cloth Fashion Store VirtueMart Template $139
This template displays the latest collection and has a unique feature i.e., image based navigation. The banners have floated over effect and work as the visual navigation. Products are displayed in 5 columns. The template is designed in a way to attract customers' attention.
Winter Clothes Fashion Store Joomla VirtueMart Theme
This VirtueMart template is designed exclusively for winter fashion clothes store. Its home page is different from other templates. The position, banners are designed and organized exclusively by the experts.
> Conclusion
VirtueMart templates are designed especially for e-commerce projects. It is a free open source e-commerce extension of content management system. The templates are designed by experts to grab customers' attention. It is personalized in a way which enables the customers to view products easily.