Not all people have the financial capability of going or being sent to college, others prefer to start earning already and get themselves a job. To be honest, college graduates actually have a brighter future with more and better job opportunities for them. People need to realize this and we've got brochure templates below for conveying that message.
6 Steps to Make a College Brochure
Step 1: Decide on a type of brochure
There are gatefold brochures and there are also bi-fold, tri-fold, and roll fold brochures, just to name a few. Because of the many brochure types, you will need to decide on which type works best for you. Of course, there are other factors behind the decision and this includes the amount of text and images used on the brochure.
Step 2: Prepare the content
Brochures commonly contain information regarding the establishment and in this case, the college institution. This information includes a brief background of the college, the courses offered, the learning system, and the facilities. To avoid missing out on these relevant details, it's best to prepare them beforehand.
Step 3: Gather reviews or testimonials
The thing about brochures is that they have a section dedicated to reviews and actual statements from past clients or customers. In the case of college brochures, the testimonials may either come from accrediting agencies or alumni, you might even want to use this section to showcase top-notchers.
Step 4: Use a brochure template
To save you a lot of time, you might as well get your hands on a college brochure template and we've got a collection of them below. These templates are not only easy to download but they are easy to edit as well. After downloading a template, simply make the necessary changes to the design and add the content.
Step 5: Proofread the content
After adding the brochure's content, it's very important to proofread it for any grammatical error or misspellings. Not only can proofreading avoid misleading readers but the presence of errors can greatly affect the reputation of the college. To really entice people into enrolling in your institution, your credibility should really be superior.
Step 6: Print and fold
The final step in the process of making brochures involves printing copies of them which you can do either by yourself or by printing companies. And since you're making brochures which have folds, you will then need to start folding the printed output according to its type.
9+ College Brochure Templates
1. Minimal Educational College Brochure Layout
For individuals to get the best education they deserve, they need to be enrolled in a college institution that's equally as great as the future ahead of them. While brochures seem to be enticing enough, you may also want to place a scholarship application letter between the folds in case people might want to avail of it.
2. College Prospectus Bi-Fold Brochure Example
Here's a college brochure template that's mainly focused on describing the school and the system of learning that it's following. Of course, this information is relevant for a person who's going to college since it informs them of what to expect when they get themselves enrolled in the institution.
3. College Educational Bi-Fold Brochure Sample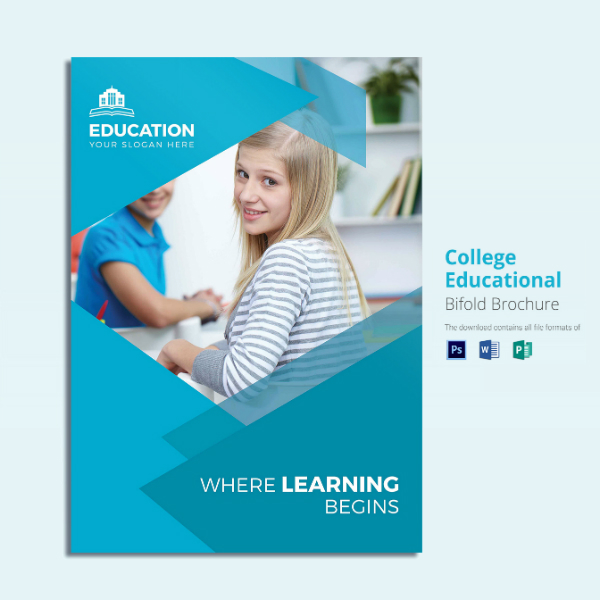 If you prefer that your brochures resemble booklets just like the one shown above, the bi-fold type may be what you're looking for. Also referred to as half-fold brochures, these simply divide the entire paper into halves by folding it in the middle. This type is ideal for basic presentations and if you need more space for your content.
4. Metro Tiles College Brochure Template
One design theme that was made famous by Microsoft Windows was the Metro UI in their Windows 8 operating system. This theme involved tiles of different colors to organize the content and make each button distinguishable. The brochure template above is heavily inspired by that theme and you can see it on the cover panels.
5. Simple College Tri-Fold Brochure Sample
By using a simple design for your education tri-fold brochure, you won't create a distraction between the reader and your brochure's content. Aside from that, here are a lot more advantages of using a simple design which is why most businesses and organizations choose to go with this theme instead of going fancy.
6. Creative College Tri-Fold Brochure Example
Many colleges require their aspirants to submit an application letter before they are being allowed to actually enroll in the institution. For the convenience of the aspirant, you can also include a blank application form on the brochure and for uniformity, you may use our college application letter template.
7. College Event Tri-Fold Brochure Format
For the information of those outside the institution, you may be allowed to make announcements regarding events using a brochure, and these events may or may not be related to academics. However, if you intend on addressing the message directly to individuals, you may want to use a formal event invitation instead.
8. Modern Colorful College Brochure Layout
Although tri-fold brochures such as the one shown above don't work well with large images because of their narrow panels, they are actually perfect for easy organization of content while keeping the look impressive enough. Speaking of impressive, the college education brochure template above has colorful elements that help in making the design look lively and encouraging.
9. Modern College Bi-Fold Brochure Design
Download
Here's another bi-fold or half-fold brochure template that might be able to capture your interests due to its simple and clean layout. As demonstrated on the image above, it would be best to keep all content within the inner pages and just use the front and back cover pages for creating an impression on the readers.
10. Simple University College Brochure Template
Download
To direct the attention of people towards your brochure, you don't actually need to use a lot of elements, you only need to arrange them properly on the layout. For reference only, see the mock-up provided above, this education brochure template will enable you to keep your content centrally-aligned to put emphasis on it.