A Brochure is the most commonly used marketing tool for every business. It can be made to reach a comparatively larger audience either manually or digitally. Distributing brochures is less expensive as compared to other advertising methods. It contains limited text and relevant images. A construction brochure template is made with the idea of targeting people who might be interested in real estate.
131+ Construction Business Templates in PDF, Word, Excel, PSD, HTML5, WordPress, Google Docs, PowerPoint, InDesign, Apple Pages, Google Sheets, Publisher, Apple Numbers, Illustrator, Apple Keynote, Google Slides - START DOWNLOADING
18+ Construction Brochure Templates
1. Construction Inspector Bi-Fold Brochure Template
A building inspection is part of the process in construction. Get your clients to check out your services with this Construction Inspector Bi-Fold Brochure Template. The template is made for businesses like yours. Download this document now, and you can have full access to customizing it in any device that you have.
2. Construction Marketing Tri-Fold Brochure Template
This Construction Marketing Tri-Fold Brochure Template is a tri-fold version of the previous template. It also has the content, graphics, and images you need that are easy to personalize. Just download the document, and you can start making your brochures.
 3. Construction Firm Bi-Fold Brochure Template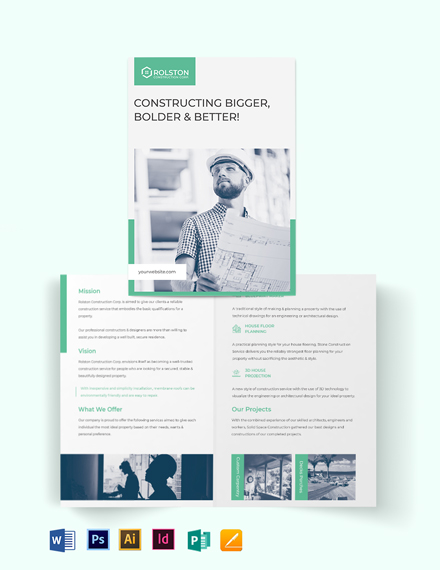 4. Construction Firm Tri-Fold Brochure Template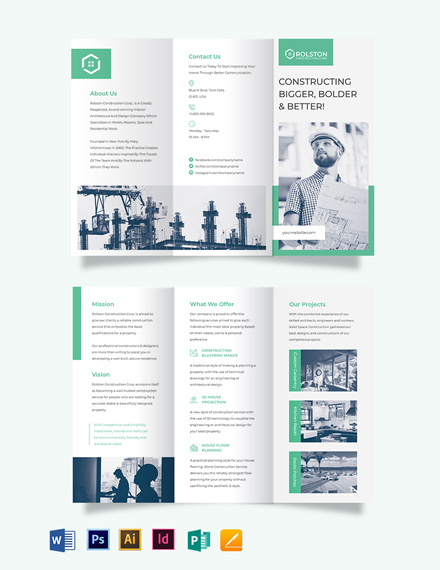 5 Steps to Create a Construction Brochure
Step 1: Start With a Catchy Heading
The heading is the most important part of a brochure, therefore it should be attractive, bold and eye-catching. Use a slogan or phrase that will get your readers interested. Highlight the main points of your construction project. Thereafter mention briefly about the other services your company has to offer.
Step 2: Use Limited Textual Matter
A construction brochure should have the less printed text and more of graphics and pictures. People generally will not read the text completely, but they will surely look at pictures. Use images on every page with relative text. Make use of positive language in your textual matter as well as bold text in different colors to highlight price, offers and discounts.
Step 3: Give Details About Completed Projects
People generally like being associated with a person having a history of successful projects. Providing few but relevant details about the owner of the company and his other business ventures, as well as the projects which have been successfully completed so far will definitely add weight to your brochure and increase the chances of getting more attention from the reader.
Step 4: Add Customer Quotes or Testimonials
Adding messages or quotes by existing clients in your brochure is a great way to add to its value and credibility. People will generally prefer a company whose service record has well-known names on board. It also emphasizes the point that you have many years of experience and a good number of satisfied customers.
Step 5: Provide Complete Contact Details
Be sure to print the complete address and contact details of your company at the back of the brochure. Customers would like to call and enquire first before they decide on anything. Provide 2-3 phone numbers on your construction brochure so that interested clients can immediately reach out to you.
5. Professional Construction Company Brochure Template
It's a perfect layout and color scheme make this brochure template the perfect tool to advertise for a construction company. The color scheme can be easily customized after downloading, and the dummy text will assist you in filling in the right details in appropriate placeholders.
6. Construction Brochure Sample Template
A truly elegant and attractive brochure template, this one is sure to attract the right clients for your business with its bright color scheme, high-quality images and innovative ready to print layout. You can customize everything in the template, download and edit in all file formats.
7. Construction Bi-Fold Brochure Template
This is a professional free brochure template with glossy print and images. It comes in a double fold design and high-quality layouts with original suggestive headings and dummy text. The Brochure is fully customizable, easy to download and use in all file formats completely free of charge.
8. Building Construction Brochure Template
Here we have a perfect construction brochure template for those in the construction business, which has fully editable content and color schemes. It has a standard size, landscape layout and well-organized layer groups. It also has headings for each group, high-quality images and fonts. You can instantly download edit and print it in all formats free of charge.
9. Construction Company Brochure Template
This construction company brochure has a simple sober but trendy layout. The cover is very well designed with a catchy heading. It also has good quality customizable layouts with original content which can be edited with ease. The color scheme can also be altered as per your requirements. This is a free template.
10. Construction Company Bi-Fold Brochure Template
This bi-fold brochure template is a good promotional tool for construction companies. Its design and layout allow all necessary information about the company, it's services and the work it has completed so far. Again it has a fully editable content with suggestive headings and customizable colors. The Template is completely free to download and use.
11. Brochure Construction Company Example
Download
This construction company brochure template consisting of 18 pages available in A4 and US letter size. The content and color is fully editable and customizable. You just have to drop your images and text in the place holders. The licenced template can be purchased and downloaded instantly. Help files are available for your assistance.
12. Kreatype Architecture Brochure
Download
This is a simple construction company brochure template consisting of 24 pages. It can be used for any other industry as well. The design is classic in A4 and US letter size. It is easy to edit and print, multi-layered document; so you can use the dummy content as a guideline. The colors can be edited as well. This catalogue template can be purchased downloaded and used easily
13. Company Brochure Template Sample
Download
This construction brochure company template is perfectly developed and well organised with master pages, paragraph styles, page numbering and named layers. It has a very classic design and style. You can purchase the product template and edit the text as per your requirements to create a lasting impression for your business.
14. Construction Brochure Templates
Download
Here is the best brochure template that is easy to edit and ready to print. It consists of 16 pages with layered text. The text can be fully edited as per your business needs and priorities. Images can be dropped in appropriate placeholders. You can purchase and download this licensed template for a reasonable price online.
15. Architecture Brochure Example
Download
This Architecture brochure template is concise and attractive to provide brief information to the reader but with maximum effect. It has 4 pages which can be edited and customised in Adobe Photoshop and Microsoft Word. It is a paid product which is easy to download and it has links to help files to handle any issues related to its use.
16. Architecture Brochure Example
Download
This is an attractive multipurpose company brochure template designed for a variety of industries. It has 16 editable high-quality pages in A4 and letter sizes. You can download this licenced catalogue at a reasonable price and add pages, edit the text, fonts and colors as per your choice.
17. Corporate Brochure Design Sample
Download
This is a simple and trendy looking corporate business brochure which can be used for corporate marketing. It has 16 pages with sample text and headings. You can insert your text and images according to your business needs. This is not a free template so you will have to pay and purchase a licenced copy.
18. Corporate Brochure Template
This is a fully fledged business brochure template consists of 32 pages showcasing the various residential and commercial projects of the company over the years. It starts with a table of contents, introduction and goes on step by step to describe the company portfolio. The images are high quality and the page design is classic and elegant.
19. Company Profile Brochure
Here we have a company brochures templates which delivers a variety of services like cleaning, plumbing, electrical fitting etc, other than construction as well. The text is highly engaging and the catalogue speaks a lot in just 7 pages. It has a sober background color, while the thumbnail images and text are positioned very well in minimum space.