As it is only a document and not a portfolio, the photographer must carefully select the images that he or she should put in the brochure to make the most out of it. We have available brochure templates that you may use should you want to create a brochure and put a few of your works in display for better marketing.
Modern Photography Brochure Template
Creative Photography Brochure Template
Photography Portfolio Brochure Template
A photography brochure helps a photographer get more clients by showcasing his or her past works in a professional manner. The creation of such documents may vary on the personal style of the photographer and on how he wanted his works to be perceived.
Photography Brochure Bi Fold Template
Bi Fold Wedding Photography Brochure Template
Simple and Clean Photography Brochure Template
Wanderer Photography Brochure Template
Fashion Photography Brochure
Photography Tri-Fold Brochure Template
Photography Tri-Fold Square Brochure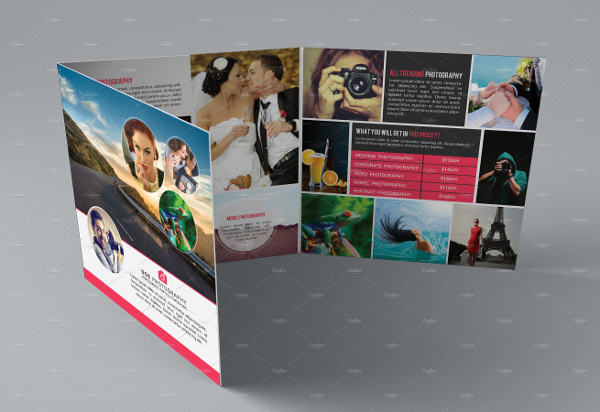 Wildlife Photography Brochure
In the creation of photography brochures, a photographer must consider the following:
The best photos that he or she has taken. As a photographer, there are a lot of subject matters that can be taken with a photograph. A photographer must be able to show his or her best works so that prospective clients can see how good his or her eyes are in terms of photography.
The nature of his photography. There are different subjects that different photographers may be good at capturing. We suggest that a photography brochure shall contain just one theme and be subject specific. Though photos are of the same theme, you can actually put that you are open to other photography services as well and not just what is being highlighted. This will help you book more jobs on the area of photography where you are good at.
His or her target clients. Make sure that the brochure is appealing to your target market. If you want class-A clients, you need to be able to show prestige and elegance in every photo that you are to put in your photography brochure. Also, taglines, and the texts that you are to put must also be appropriate to the market that you want to penetrate.
How he wanted to be perceived as a photographer. Photographers can specialize in one aspect or event that needs to be photographer. Whether be it a wedding, a debut, or dramatic photography, people must know that you are the photographer who can provide their needed services.
Professional Wedding Photography Brochure
Newborn Photography Marketing Brochure
Multipurpose Brochure Template for Photographers
Minimal Photography Brochure
Wedding Photography Brochure
Photography Portfolio Brochure
An effective photography brochure must include the following:
The name of the photographer
The contact details of the photographer
The location of the photography shop either owned by the photographer or where he/she works
The services that the photographer can provide
The photography packages and services that are available
A link of the photographer's portfolio (If there's any)
A few samples of the photographer's work
As a photographer, your main work is to capture moments that are very special and worth keeping. Make sure that your brochure can reflect that. You may use photographs of different styles, compositions, and angles to provide the clients the impression of your technical skills and how they can affect the final product that you can give them.
Aside from photography brochures, you may also browse our collection of studio brochures.
If you have any DMCA issues on this post, please contact us!