One way that different members of the healthcare team coordinate a patient's treatment plan is through the use of a written prescription. This is why hospital administrators, clinic managers, and private practice clinicians need to standardize the tools they use to issue such written recommendations. Read the rest of this guide for more information on how to craft effective and comprehensive blank prescription templates for whatever kind of medical subspecialty you or your physicians are practicing in.
5 Steps to Make a Blank Prescription
A good prescription format should be easy to fill out and should have ample space for writing the actual medication or treatment plans. Shared below is a step-by-step guide on how to do just that.
Step 1: Take note of the essential patient and prescriber information.
The first step in making a blank prescription is to write down all the basic patient identifiers and prescriber information needed to make the document legal. Different states, countries, and institutions will have different rules on what specific information and parts a blank prescription should have. The most common of these identifiers are the patient name, age, gender, diagnosis, the hospital or healthcare clinic's name, the doctor/prescriber's name, license number, and contact number.
Step 2: Choose a layout design.
Next, decide on the layout design for your blank prescription form. Most follow a layout that resembles a blank letterhead since most of the prescriber's information are written on the top of the page while the rest of the form is left blank for the physician to write his/her recommendations later on.
Step 3: Download a pre-made prescription template.
Alternatively, you may also download a printable blank prescription template. These document templates come with pre-formatted layout styles, font styles, headers, and text files all needed to make a prescription form. A few sample blank prescription templates are embedded below so check them out later.
Step 4: Replace placeholders with the prescriber information and identifiers.
After downloading your preferred prescription template design, it's time to edit the template using a compatible graphic design software tool. If you have downloaded a prescription template in MS Word file format, you will need to open and edit the file in Microsoft Word. It is also during the template editing process that you need to add your hospital letterhead, business logo, and other business branding elements.
Step 5: Save the final template design and begin printing.
Save the final prescription template file on your computer or you email it directly to your local print shop. Choose high-quality paper to give your printed prescriptions are more professional look.
It's relatively easy to create a blank prescription. With the aid of blank prescription templates and the simplified how-to guide above, you can have a highly customized doctor's prescription form in no time.
10+ Blank Prescription Templates
Take a look at all the blank prescription templates embedded below. Feel free to download the blank template design that best suits your professional image and treatment style.
1. Medication Prescription Sheet Template
Download
The Prescription Medication Sheet Template shown above best suits physicians who focus on the use of medications for treatment or palliative care. This editable sheet template follows a tabular format that allows the physician to list down each prescribed medication and also lets nurses and caregivers record each time the medication is given.
2. Blank Prescription Template
Download
Use the Blank Prescription Template (embedded above) if you want a minimalist prescription form design. It is available as DOC, Pages, and PDF template download files. And to spice up this template design, you may add your own doctor or clinic letterhead design.
3. Cardiologist Doctor's Prescription Template
Download
Ease your patient's heart with the organized Cardiologist Doctor's Prescription Template Design shown above. When using this template, make sure that it is printed on high-quality and durable paper. Also, don't forget to add a section at the bottom of the note for the prescriber to affix his or her signature and make the prescription a legal document.
4. Gynecologist Doctor's Prescription Template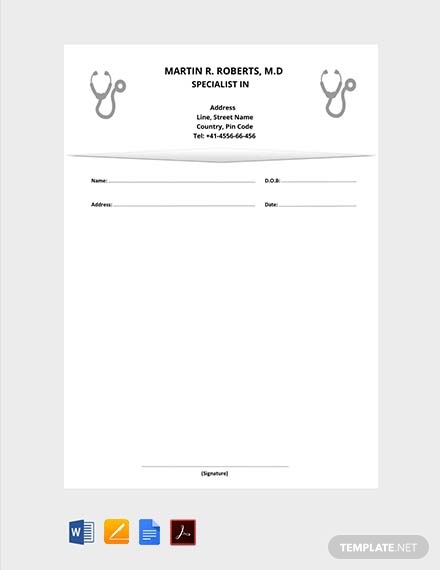 Download
For physicians specializing in gynecology and obstetrics, you may use Gynecologist Doctor's Prescription Template (featured above) as it is specifically designed for your field's prescription needs. This template follows the standard medical prescription format but you can still edit it to add/modify some design elements if you prefer.
5. Medical Prescription Format
Download
The Medical Prescription Format shown above is perfect for physicians who are affiliated with a hospital or medical institution. This is because the template includes a pre-formatted header showing a hospital letterhead design. But if you dislike the letterhead design, you may easily edit it just by opening the template file on MS Word, PDF, or Apple Pages.
6. Nephrologist Prescription Template
Download
Prescriptions do not always have to be about medications. A good example is the Nephrologist Prescription Template embedded above. This prescription note template allows the prescriber to fill out the patient's medical summary on the form while also providing an optimal discharge and out-patient care plan.
7. Ophthalmologist Doctor's Prescription Template
Download
If you are looking for a doctor's note and prescription template design that is not only pleasing to the eye but also provides ample free-writing space, then choose the Ophthalmologist Doctor's Prescription Template shown above. This template includes only the most basic patient and physician identifiers needed for a prescription form. Doing so then gives you more space to write down your doctor recommendations.
8. Orthopedic Doctor's Prescription Template
Download
Looking for a prescription template design in a landscape or horizontal page orientation format? The Orthopedic Doctor's Prescription Template (featured above) may be what you need. This template sports a clean format and can be further edited to match you and your medical institution's brand identity.
9. RMP Doctor's Prescription Template
Download
If you are a registered medical practitioner, then the RMP Doctor's Prescription Template (shown above) will suit you. Feel free to add your own doctor's office letterhead or logo design at the top of the page printing it out.
10. Veterinary Doctor's Prescription Template
Download
Prescription form templates do not always have to follow an all-white color scheme and a too-formal layout design. Feel free to experiment for more fun template designs like the Veterinary Doctor's Prescription Template shown above. Consult a color chart if you wish to choose other color combinations aside from the usual blank and white color palette.
11. Sample Blank Prescription Template
The Sample Blank Prescription Template shown above is another free doctor's prescription template that anyone may use. This template is best printed on smaller pieces of paper or on A4 paper that is folded into four parts. If you wish to create a bigger prescription, you may resize the template before printing it on your desired paper size. And as an editable template, it can be edited and used as a urologist prescription or for whatever medical specialty field you have in mind.
A prescription will not be valid if it does not contain a superscription. This is the ℞ or Rx symbol found in most of the prescription templates we've shown earlier. By using any of the free templates above, you do not have to worry about formatting this into your templates. And for more business and design tips, check out the rest of our website.