When a person is no more, darkness befalls upon you. You make every possible effort to show how much that person meant to you which is quite obvious. Writing an obituary is one of the mandatory things that need to be performed. So instead of writing an obit in the customary way, you can produce a card for the very purpose. These psd obituary templates are in the form of cards.
Obituary Program Templates in Word
Obituary Program Card Design
Obituary Event Card Brochure Design
Memorial Obituary Card Brochure Design
Dog Memorial Announcement Card Template
Essence Large Prayer Card Template
Essence of Love Funeral Program Card
Funeral Program Bi-Fold Card Design for Dad
Memorial Service Bookmark Card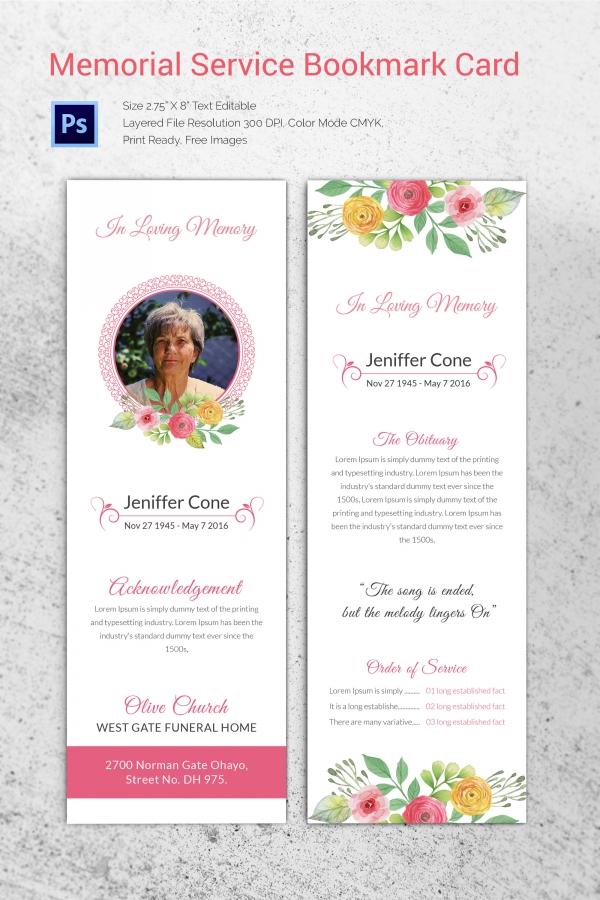 Memorial Card Template Printable
Essence Large Card Template
Teen Funeral Program Card PSD
Remembrance Memorial Card Template
Pastel Blue Ombre Memorial Card
Beautiful Funeral Program Card Template
Blue Colour Memorial Card Template
Cherub Large Prayer Card Template
Modern Funeral Program Card
Modern Funeral Program Card Template
Bouquet Thank You Card Template With Preprinted Title
Beautiful Butterfly Funeral Card Template
These Obituary Cards are personalized ones and you can make it look the way you want. Attach a picture in memory of the departed soul and write your lovely thoughts about that person.