Program proposals are essential business documents that are designed for providing aspects of the program that are to be completed. Comprehensive program proposal samples include a list of the key participants in every undertaking of a biographical program data. They are essential on every platform where program scope is relevant.
Program Sponsorship Proposal Template
Education Program Proposal Template
Training Program Proposal Template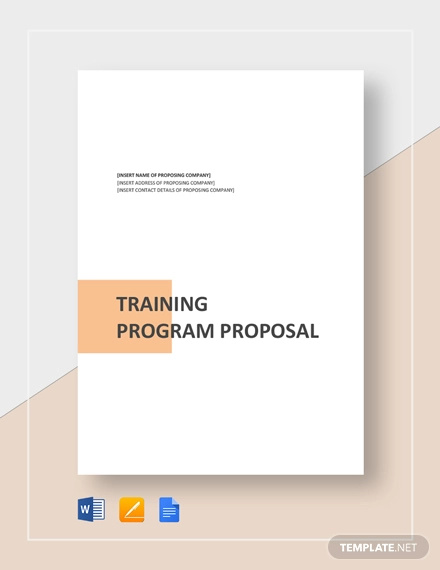 A program proposal also has a detailed and precise details that includes a summation of different programs such as training, school programs, TV programs, and other related aspects. If you're planning on making a well-detailed program proposal, we suggest downloading our program proposal templates. These are pre-created and pre-formatted templates for easier program proposal crafting.
Sample Education Program Proposal
Program Sponsorship Proposal Template
Training Program
TV Program
Wellness Proposal
School Program
Educational Program
Components of a Program Proposal
These are the following section that explains the general and standard components of a program proposal, everyone should keep this in mind when writing one.
Summary – This detail gives a succinct overview of the overall proposal. This section should be on a different sheet of paper and created prior to the the actual proposal.
Introduction – This is a brief information of the organization submitting the proposal. This should indicate the organization's background, purpose, and competencies for conducting the proposed program.
Issue Statement – This explains the issue which the proposed program intends to address. This shows the need for the program and should add demographics another realistic evidences or documentation.
Program Goals – This is the part where the expected outcomes are stated in a program proposal. The goals or objectives are potential solutions towards the issue stated. They should be quantitative and realistic.
Procedures – This are the program plans that describes how the organization designs to achieve the goals.
Expenses – An area where essential components of the proposed program are stated. The budget samples should be a practical evaluation of overall costs that are involved in implementing the program cost estimate.
Our proposal template samples are great when it comes to obtaining a well-made program proposal that outlines all of these essential details.
Program Evaluation
Development Proposal
Program Budget
Project Proposal
Program Sponsorship
Our Different Program Proposal Templates
To help you conserve time and effort in making your program proposal, we've prepared ready-made templates that you can make use of. Check them out!
Training Program Proposal – This is the template you'll need if you're making a proposal that focuses on training programs. This is a well-written proposal for training made by professionals. This is surely helpful in your training endeavors.
TV Program Proposal Template – If you are making a proposal that is designated for TV programs, then this template is exactly what you need. A complete template that contains all essential components of a tv program proposal.
Wellness Program Proposal Template – If you're into wellness program that helps in improving health and productivity, this template is the best option. Containing details that are needed in a wellness proposal.
School Program Proposal Template – A proposal that is intended for school programs such as workshops, sports sessions, academic discussions, and other related terms. If you're making one, why not download this template instead.
Another helpful template that you can make use of is our simple business proposal template. This is ideal if you're making a business proposal that helps in accomplishing business goals or objectives.