Traditionally, applications are run using personal computers and laptops. With the increasing developments in the field of Information Technology, applications or apps are now available for mobile use such as in the case of smartphones.
A mobile apps offer a variety of functions to the users. They can offer academic, business, or any recreational activities and relevant tools. With that, programmers around the world are doing their best to come up with dashing mobile app templates for the perusal of users. In terms of design, originality and creativity is a must. To stir your visual interest, try out our series of mobile app template designs.
Bootstrap Mobile App Template
Download
Html5 Mobile App Template
Download
E-commerce Mobile App Template
Download
Mobile Web App Template
Download
Mobile App Template PSD
Download
Mobile App Flyer Template
Download
What are Mobile App Templates?
As defined by Techopedia, a mobile application is a type of software created for mobile or table use. They offer assistance, entertainment, and knowledge building tools to the users. They are very sophisticated and modernized because the user can utilize them in a way involves the holistic mobile environment.
Mobile App Design Templates for You
Building and designing a mobile app is as technical as designing a web app template . There are a lot of aspects to take into account, you can learn from our templates.
Bootstrap mobile app template – Bootstrap is developed to attain consistency and efficiency in managing internal tools. As an application, it provides support to famous web browsers such as Google Chrome, Safari, and the like. As you may observe from the template, it offers a variety of features and design elements.
E-commerce mobile app template – When you're into mobile commerce, this app template is for you. This app can help users discover innovative products that they may purchase or download. You can come up with software that give latest trends on marketing, inventory management, and etc.
These are some of our templates that you use. There are still more app templates in store for you to bring life to your innovative and technological ideas.
Mobile App Landing Page Template
Download
Mobile App Website Template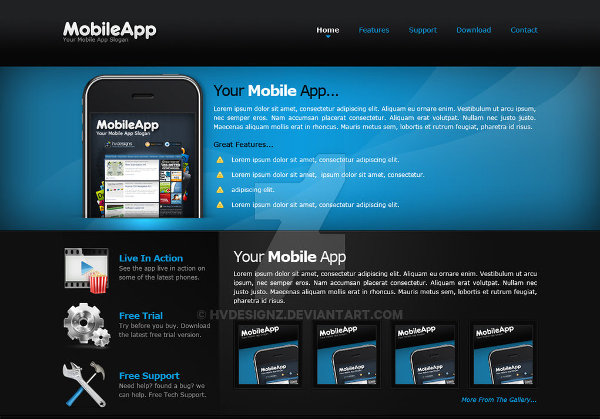 Download
Free Mobile App Template
Download
Mobile App PortfolioTemplate
Download
How to Make an Engaging Mobile App Design
Nowadays, we can access tools and technologies that can help us create and build mobile apps. We can become programmers in our simple ways. However, building a engaging and market-friendly app is not that easy. There are technicalities to take into account. Here are some fundamentals in designing mobile apps.
Do extensive research. In creating and designing an app, research is very critical. It can expose to different apps designs and latest trends. You can also know and feel the market and assess what the virtual users are in need of. After all, applications are created to meet human needs and uphold convenience on their ends.
Know your competition. In designing an app, working hard is not enough. You should work smartly and consider all factors such as your competitors. If you want to make your app so irresistible and engaging, you can check out how the other apps are reviewed and assess by the users and build your own idea from there. You can use your competitors' weaknesses in your advantage.
Look for an inspiration. This is where our templates will work their magic. There are an array of  mobile app designs  templates available for you. You can use them as your reference and inspiration.Indeed, building and creating a mobile app is not that easy. Just remember to work hard and invest all your dedication into it.