Graphic Design
Badge Sizes
Badges were already utilized since the very start of civilization when people were creating groups and institutions for improving their lifestyle. A lot of badges we see today are one inch in size, but there are also other badge sizes being used by businesses, organizations, and families around the world.
Table of Content
Badges Sizes Standard
Standard Size – 1 inch Size
The standard size that is typically used by most institutions, most especially in businesses, is the 1 Inch sized (25 mm) button badge. This size will need to have a diameter of 1 inch (2.54 cm or 25 mm) with a circumference of 3.14 inches. This size is typically applied to designing regular button pins, enamel pins, lapel pins, and pinback buttons.
1 3/10 Inches Size
This 1 3/10 inches size is still popularly used by schools, institutions, as well as offices that are into displaying their logos for the public to be aware of their establishments. Unlike the standard size, this could make your design or logo a bit larger and more eye-catching considering the size.
1 1/2 Inches Size
The 1 1/2 inches sized button badge is commonly used by employees of fast-food restaurants or street food stalls for customers to know their name as well as see the logo of the establishment itself on the badge. Smiley badges, Mcdonald's Badges, and other kinds of memorabilia pins are of this size.
1 7/10 Inches Size
A button badge having 1 7/10 inches in diameter is commonly used as badges designed for memorabilia or any other custom-made badges that are not for formal use. This type of badge can come in different shapes and variations of a circle as well although having the same diameter.
2 Inches Size
The 2 inches sized button badge is perfect to use as a political badge or other types of printed promotional badges. Considering the size, you can now put a larger image or photo as the front design and pair it up with a series of text. Moreover, commercially available badges for printing are usually of this size.
2 3/10 Inches Size
This 2 3/10 inches sized button is typically used as badge souvenirs. You can easily find these kinds of badges in your local souvenir shops and stationery centers. Either a landscape or portrait image would best fit this badge considering that this is one of the largest sizes available on the market.
3 Inches Size
3-inch buttons can have a circumference of 9.42 with a diameter of 3 Inches is the most typical badge used in the US. This type of badge is compatible with USA-made machines such as Tecre and Neil.
Badge Sizes for Digital – Social Media
Facebook Badge Size
On Facebook, the maximum image size for uploading badges is 1200 x 630 pixels while the minimum size is 600 x 315. If you're opting for an advertisement, it is recommended to upload a 1080 x 1080 pixel badge with a ratio of 1.91:1 to 1:1.
Instagram Badge Size
On Instagram, a circle shape is not applicable, you will need to follow the maximum and minimum pixel requirements, which are 1200 x 630 pixels and 600 x 315, respectively. For badges placed in a square form, upload at least an image with 1080 x 1080 pixels, while for portraits, you can go for 1080 x 1350 pixels.
Twitter Badge Size
You will be following the minimum dimensions for uploading a Twitter image and that should always be 120 x 120 pixels. However, for an app card image, you must have at least 800 x 800 pixels for a 1:1 aspect ratio. Moreover, you can also opt for 800 x 418 pixels for a 1.9:1 aspect ratio.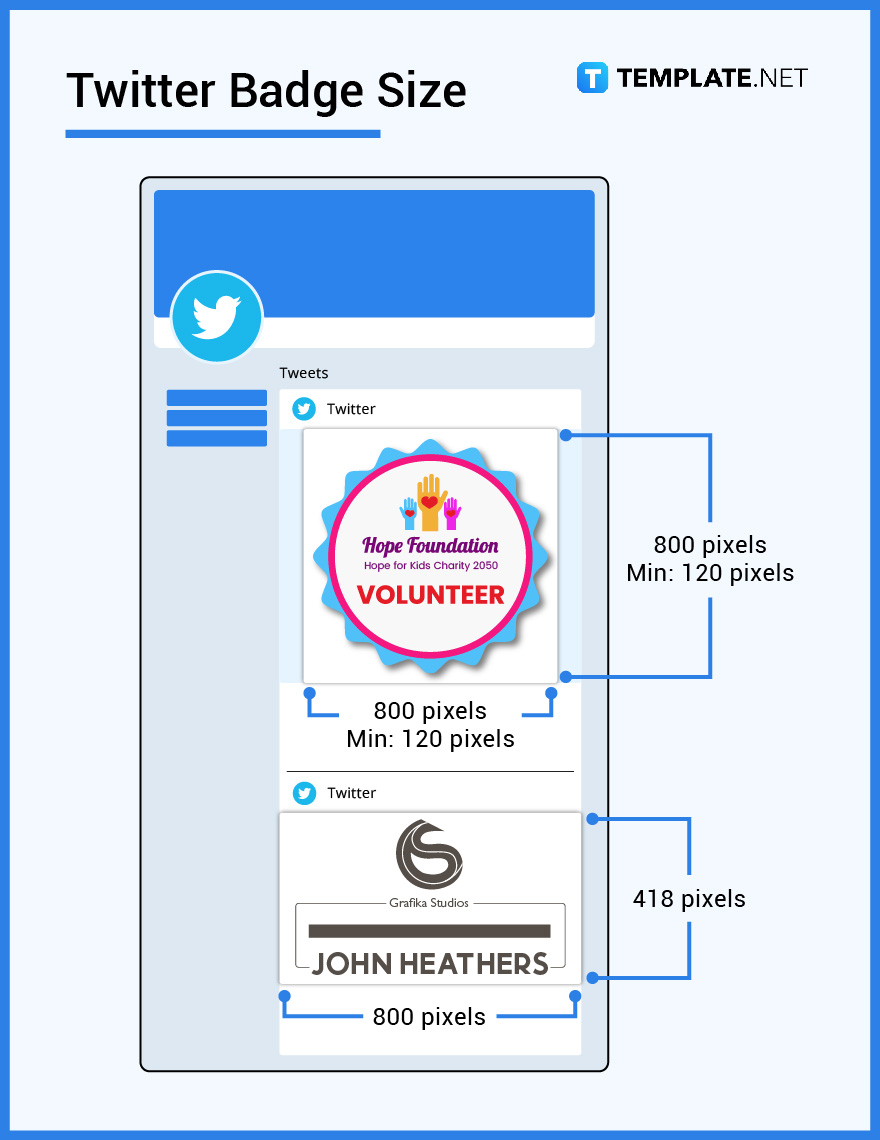 Pinterest Badge Size
On Pinterest, a badge would require you to apply it in a vector or a PNG file. Features such as story pins will need you to upload an image with 1080 x 1090 pixels. Moreover, for the ads and carousels, it is highly recommended to upload at least 1000 x 1500 pixels with a 2:3 aspect ratio.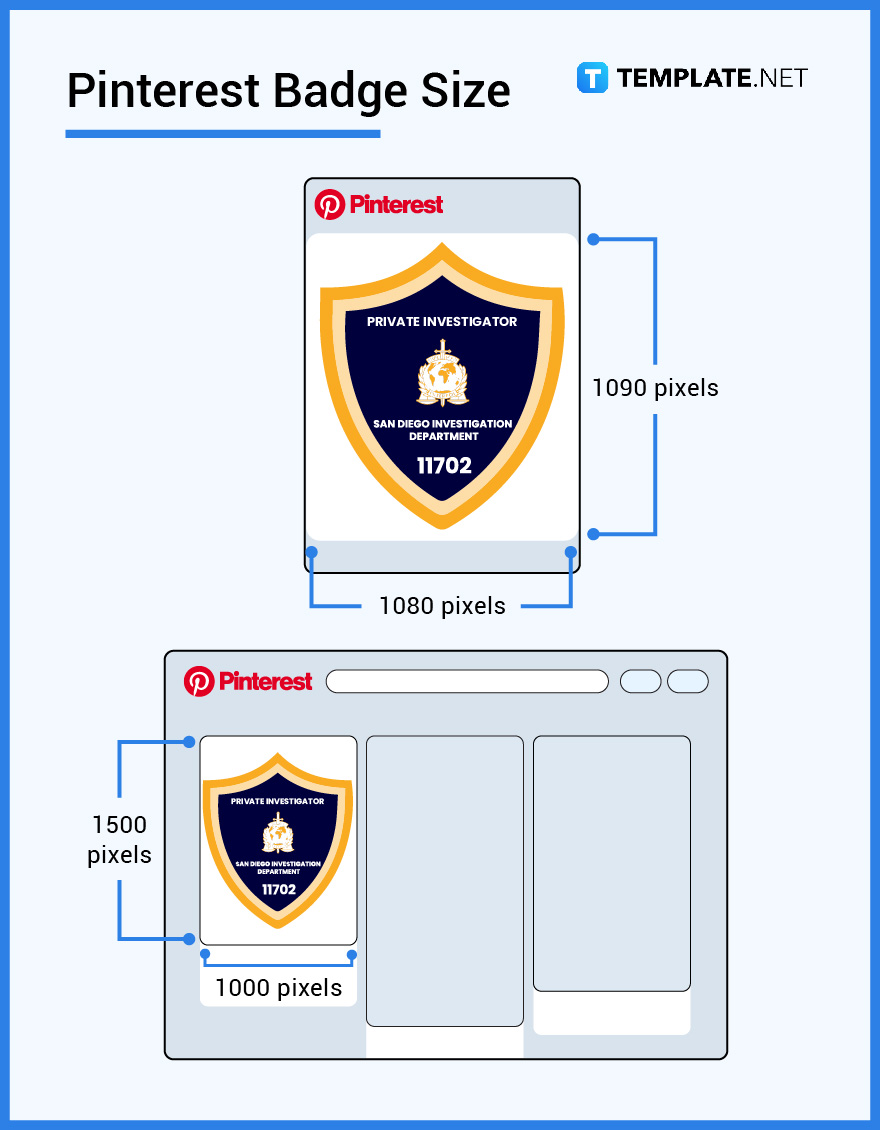 Badge Sizes for Print
1-inch diameter
These dimensions are popularly used as pins or button badges in institutions and offices that require formal business attire and etiquette. This is also considered the smallest type of badge which is perfect for layering or being worn with other small badges as well.
1 3/10 inches diameter
These types of badges are used by institutions to display their logos. Although quite tiny, there is enough space to print on at least a word or a phrase on its front.
1 1/2 inches diameter
These badges are perfect for employees of fast-food restaurants or street food stalls so customers will know their names as well as see the logo of the establishment itself on the front. Although, this type should have a circumference of 4.71 inches to cover the safe area.
1 7/10 inches diameter
The dimensions of this type of card just fit in making badge memorabilia or any other badges that are worn casually.
2 inches diameter
These types of badges are commonly used during political campaigns or any other social events wherein a name on the front is necessary. This size should also have 6.28 inches as its circumference.
2 3/10 inches diameter
These badges are also used as souvenirs although, considering their large size, a much larger image either in a portrait or landscape form could be added on its front. Moreover, you can decorate this badge in any way you want especially if you want to make your very own homemade badge.
3 inches diameter
These badges are compatible with USA-made printing machines like Tecre and Neil. Large photos accompanied with lots of details are perfect to put in this type of badge considering its size.
Badge Sizes for Business
The standard size of 1 inch or 25 mm in diameter is the best option for making badges in a business setting. Before printing the badge design, consider which shape best fits the badge you're going for. Considering its tiny size, remember to keep the logo or emblem large while the font can be subtle by choosing small font sizes from 1-8.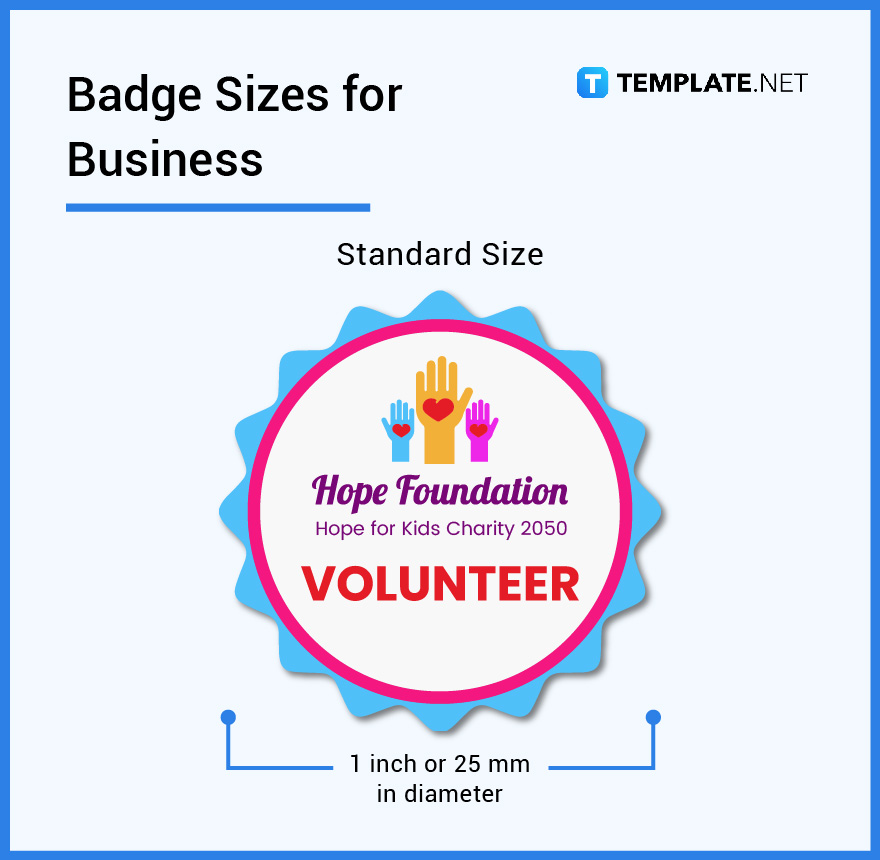 Badge Sizes for Adobe Photoshop
You can use Adobe Photoshop to edit the front of a badge. After choosing the design, remember that your canvas size should have a minimum of 2000 x 1200 pixels. Don't forget to set its resolution to 72 PPI for online screens. Meanwhile, you can have 3300 x 2500 with 300 DPI when it comes to prints.
Badge Sizes for Adobe Illustrator
When it comes to using Adobe Illustrator, you will have to choose which shape would fit the design you want your badge to have. It is best that you choose 2500 x 1600 (16:10) as your dimensions, but you can have 1280 x 720 or 1366 x 768.
FAQs
What Is the Size of a Company ID Badge?
The typical size of a company ID Badge could either be 1 3/10 inches or 33 mm in diameter if the company is opting for a button badge.
Which Badge Size Is Right for You?
It would depend on what kind of institution you belong to or what kind of occasion you are going to when it comes to choosing the right badge size.
What Is the Ideal Image Size for a Badge?
The ideal image size for a badge would be at least 1 inch or 25 mm in diameter.
What Is the Size of an ID Badge?
An ID badge will follow the same dimensions as the aforementioned Company ID Badge which l could either be the button-sized 1 3/10 inches or 33 mm in diameter or following the rectangular CR80 size which is 3.375 x 2.125 inches.
How Do You Scale a Badge?
You can scale a badge by using the measurements of a circle. First, you will be using the "ligne" measurement which is equal to the button diameter of 0.635 mm.
What Is the Thickness of a PVC ID Badge?
A typical PVC ID Badge which is having a CR80 size should have at least 30 mils.
What Are the Recommended Specifications for Badge Images?
When it comes to specifications, it is recommended to preview your image using a device that could display at least a 90 x 90 inches image, and save it in either SVG or PNG.
How Do You Increase Badge Size?
You can increase your badge size in Adobe Photoshop or Adobe Illustrator by going to "Dimensions" and inputting the values for the Width and Height.
How Big Are Your Badges?
Your badges can be 2 inches or up for casually worn badges like memorabilia and tin button badges, or 1 inch or 1 1/2 inches for formal ones.