Holidays
National Beer Day
National Beer Day is, some would say, just an excuse to drink beer—and that it is exactly what it is but there's more to this holiday. Beer is one of the most common beverages or drinks in the entire world and it is only right to dedicate a day to celebrate its existence. Why is it so popular and how do we celebrate it? These and more will be discussed in this article.
Table of Content
National Beer Day Definition & Meaning
National Beer Day is a holiday that celebrates the third most famous drink, ranking just below water and tea, around the world, beer.
National Beer Day is celebrated under the legalization of beer and other alcoholic beverages in the United States back in 1933.
When Is National Beer Day?
National Beer Day is celebrated annually every 7th of April. It is celebrated on this day since it accords to the rescindment of the 18h Amendment in the United States which ended the thirteen-year prohibition of alcoholic drinks such as beer.
National Beer Day History
Beer has been known to be consumed by people since 7,000 B.C. and has been written in poems by ancient Mesopotamians, according to Nationa Today; Monks in medieval Europe also elevated the craft of brewing to an art form by making beer in their monasteries. On the other hand, the origin of Nationa Beer Day dates back to 2009 when Justin Smith, a Virginian man, commemorated the day in 1933 when the Cullen-Harrison became law and reversed the prohibition of selling beer in the USA. Smith created his unofficial National Beer Day which has been followed by people in Virginia and eventually by other brewers nationwide.
National Beer Day Purpose, Importance
Despite the shallow impression that other people might get after hearing about National Beer Day, the holiday holds more depth than its namesake.
Celebrate Diversity
Because beer is widely known around the world, a huge number of people enjoy the beverage on special occasions and ordinary days alike. It becomes an instrument to commune over matters about life, in general, and everything in between and thus creates a place where diversity is appreciated and celebrated. National Beer Day makes it coming together over beer extra special.
Preserve the Art of Crafting Beer
Besides the holiday's power to make different people come together, it also preserves the art of making craft beer and all the other types of beer. It recognizes the beverage's culinary value – how it accentuates the flavors and taste of various food or dishes that are paired with it. Moreover, National Beer Day gives an appreciation for the brewer, the brands, and the artisans who continue to produce and master beer.
Provide Relief
National Beer Day provides relief in a way that it gives the people drinking beer a day to look forward to and enjoy it a little more than usual. People are social beings – a day to get together over a fizzy drink satisfies that aspect and some even get a sense of freedom from a tiring job or work. And the beauty of this holiday is anon can celebrate it anywhere: some crack opens a cold one at a park or at a museum or wherever they want to.
What's in a National Beer Day?
There are various ways to celebrate National Beer Day but you will see a lot of people raising a beer mug to the air or smashing them onto a table to the beat of the music. Pubs, bars, and restaurants are packed with people who just got out of work, people who are going to work, and just anybody who loves to enjoy the day with a glass or a can of beer. Others who prefer the outdoors go to the beach and share a six-pack with friends.
How to Create a National Beer Day Social Media Post
You can let other people know you are down to hang out over packs of beer on National Beer Day by posting on your social media. These guides will help you make your friends want to come for sure.
Facebook
1. Select a National Beer Day Facebook Post Template.
Choose among a selection of templates for National Beer Day designed for Facebook posts. Click the template design that perfectly suits your style. After that, you can proceed to edit the template using our editor tool.
2. Click Fill to edit the main text.
You can find the Fill tool among the row of editing tools on the left-hand side of the screen. To edit the main text, click the text on the rectangular box and add words of greeting. You can also highlight the whole greeting to make a new and original one.
3. Add text to the template.
Besides editing the main greeting, you can also add other texts to the template. Click the Text tool below Graphics. You can choose whether to add a heading or a sub-heading text and adjust where you want to place it.
4. Place additional graphic design.
The template design you chose can be posted as itself. But if you prefer a more creative and original design, you can do so by clicking the Graphics option. Here, you will be able to select a variety of images, stickers, or audio that you can place on your Facebook template.
5. Save the edited Facebook post template.
Once you're done making your edits, you can save your template to your computer and upload it anytime. Just click the three dots on the upper right corner of the screen beside the Download button. You can also print the template if you prefer to have a physical copy of it.
Instagram
1. Select National Beer Day Instagram Post Template.
There are different options and designs of templates you can choose for your Instagram post on National Beer Day. Select one that matches your style. Then, click the Edit Template beside the design that you chose.
2. Upload the business logo.
Since the templates are customizable, you can upload a logo of your business so it can have a more personal touch. Click the Logo button above Upload and browse for your logo design on your computer. You can adjust the size of your logo to fit the template design.
3. Fill in the text.
You can also change the message on the template and type in the promo your business is offering for National Beer Day. This includes the name of your company or restaurant and the schedule of the promo. You can also adjust the size and placement of the texts.
4. Change the background of the template.
There are a few color options that you can choose from for your template design. Available colors are black, gray, and white. This is optional in case you prefer to retain the default color background.
5. Save the edited Instagram post template.
After you customize your template, you can save it to your computer or your device. Click the ellipses beside the Download button and two options will appear. You can either save it or print the template directly from the site.
LinkedIn
1. Select National Beer Day LinkedIn Post Template.
After LinkedIn transformed into a social media platform instead of just being an employment-oriented online service, users can now post photos, videos, and statuses on the site. Similar to the previous platforms, the first step is to select a template for your LinkedIn post. Afterward, you can customize the template through our Editor tool.
2. Fill text.
Next is to fill in the text or revise the main greeting. Click the Fill option and add words to the rectangular text box. You can also delete the default greeting and add your original greeting.
3. Add a background.
Another thing you can change or add to the editor tool is the background of the template. When you click the Background option, you will see options to add a photo as the background of the post template or to change the color background. Just choose the media you want to add and adjust the size to fit the original size of the template.
4. Upload logo.
If you have a business owner, adding a logo to the template will be beneficial. It will add originality and ownership to the template you will be posting. Just click the logo options and upload your logo design to the website.
5. Save or print the edited template.
After making all the customizations, you can now download or save the template to your device. Click the three dots on the upper right side of the screen. You can choose if you want to save it or print it.
National Beer Day Facts
The fear of an empty glass of beer is called Cenosillicaphobia.
Vermont is the beer capital or the best state for craft beer according to C+R research.
D.G. Yuengling & Son is the oldest brewing company in the United States of America.
Anheuser-Busch InBev. is the largest brewery in the world and is the maker of popular beers such as Budweiser and Corona.
In ancient Egypt, women did the majority of beer brewing.
National Beer Day vs. National Vaccination Day
National Beer Day is a day when the world's third most known beverage is celebrated by people nationwide.
National Vaccination Day is an entirely different celebration where the importance of vaccines and vaccination itself is emphasized to all people.
National Beer Day Ideas & Examples
Plan your celebration ahead of time and plot out the activities you want to do on National Beer Day, we listed down some ideas and examples you may want to consider.
National Beer Day Ideas
If you want to make your National Beer Day extra fun, try out these 10 activities you can pair with your fizzy glass of beer.
1. Try out a new kind of beer.
2. Visit a brewery.
3. Bake some beer bread.
4. Reserve a table at a local pub.
5. Enjoy a six-pack at the park.
6. Host an all-beer-drink party at your place.
7. Tour the breweries in different states.
8. Create a unique six-pack with a variety of beer flavors.
9. Make an original beer and cheese combo with friends.
10. Make a beer float at home.
National Beer Day Examples
Let your friends or followers know you are celebrating National Beer Day with creative beer-themed photos or invitations with these examples that you may want to try.
1. Beer Festival Flyer
2. Sunset Special Happy Hour Facebook Post Template
3. Beer Label
4. Beer Menu
5. Beer Tasting Table Tent Template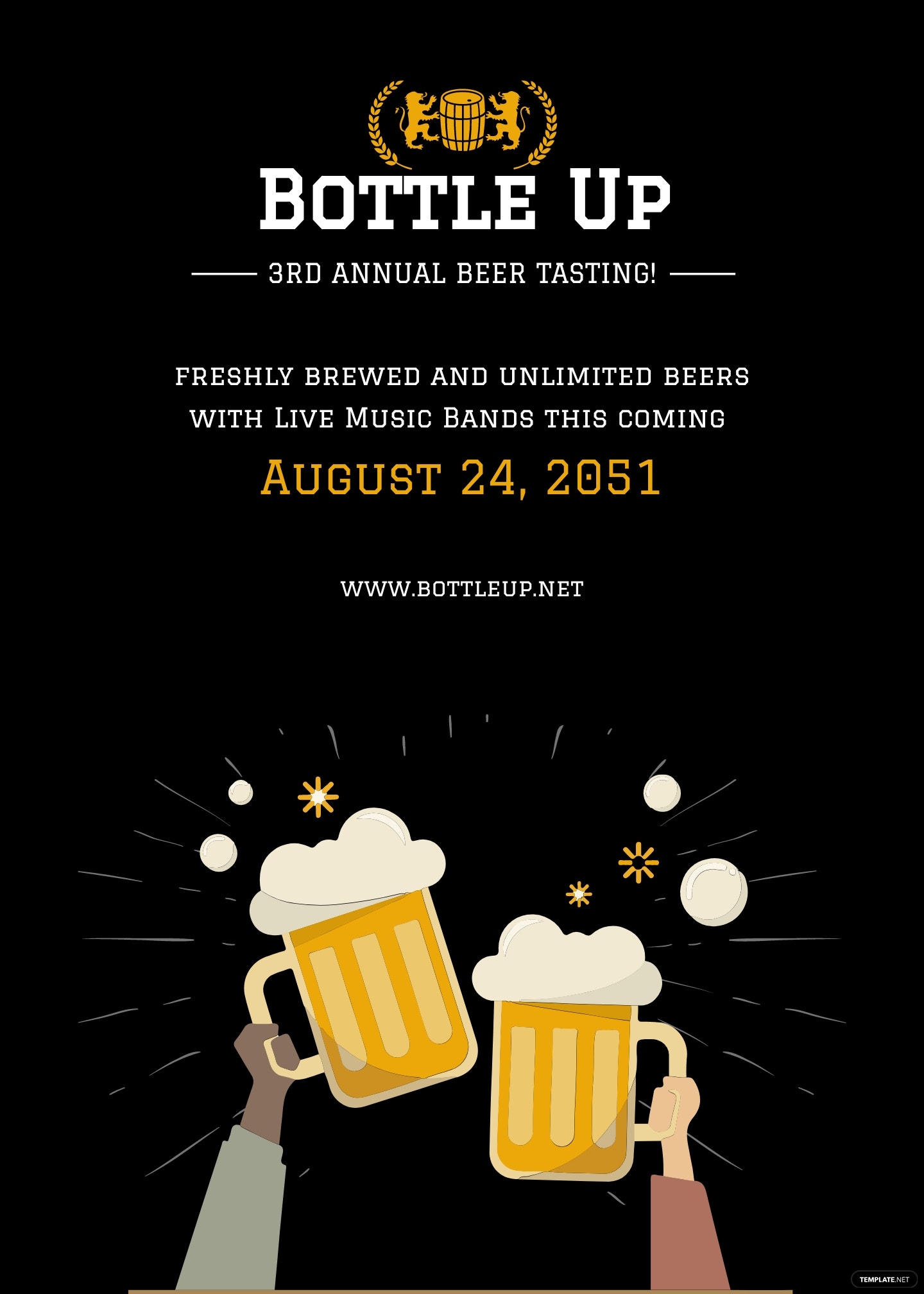 6. Happy Birthday Beer Meme
7. Happy Hour Beer Promotion Facebook Post Template
8. National Beer Day Facebook Cover Template
9. National Beer Day Vector
10. Vintage Happy Hour Facebook Post Template
FAQs
Why is National Beer Day celebrated?
National Beer Day is celebrated to commemorate the legalization of beer in the US.
Who invented National Beer Day?
Justin Smith invented National Beer Day.
Where did National Beer Day come from?
National Beer Day came from Richmond, Virginia where the inventor of the holiday is from.
Why is April 7th Beer Day?
April 7 is Beer Day because that is the same day the prohibition on alcoholic beverages including beer was removed in 1933.
What are the benefits of beer?
Some benefits of a moderate intake of beer include a lower risk of heart disease, improved blood sugar control, and stronger bones.
How do people celebrate National Beer Day?
Some people celebrate National Beer Day by doing tours of breweries, hanging out t parks over beers, or chugging beer at a local pub.
Why is it National Beer Day?
It's National Beer Day because beer lovers across the entire country celebrate the legalization of beer and the art of crafting it.
What do you do on National Beer Day?
On National Beer Day, you can get a six-pack and enjoy it with friends or hang out at a restaurant that brews its beer.
What country celebrates national beer day?
Besides America, countries like Germany, Japan, the Philippines, and Iceland celebrate National Beer Day.
Why was beer so important?
Beer Institute writes on its website that beer is so important to man centuries ago because it was a source of nutrition while some people honored the beverage and made it part of religious rites.
How did National Beer Day start?
Justin Smith decided to commemorate April 7 as National Beer Day and was later on followed by other breweries and eventually the whole country.
What are the facts about national beer day?
Here are a few facts about National Beer Day: International Beer Day is celebrated on August 7; National Beer Day marks the day that President Roosevelt signed the Cullen-Harrison Act into law in 1933; lastly, Justin Smith made a Facebook Page about the National Beer Day celebration spread the word.