Every person deserves not only a good but the best education from the finest schools. Proper education is what prepares people for their future in the hopes of being able to handle obstacles effectively and independently. If you're running a school that offers these services, promote it using any of our brochure templates below.
5 Steps to Make a School Brochure
Step 1: Choose a type of brochure
Brochures have different types such as the bi-fold, tri-fold, z-fold, and the gate-fold brochure type, just to name a few. It would be best to familiarize these types first before proceeding to the next step and make sure that you have already chosen a brochure type by that time.
Step 2: Download a school brochure template
As mentioned in the introduction, we've got brochure templates below that you can download and you can choose from over ten different designs. Whether you're looking for bi-fold or tri-fold education brochure templates, we've got it below, all you need to do is look for one that works for you.
Step 3: Make the brochure's cover page
Regardless of the type of brochure, it will always come with a cover page where the readers are able to gather initial information about the school. Here, readers can find the name and logo of the school and a brief introductory statement. You may also include a photo to enhance the look of the cover page.
Step 4: Edit the brochure's inner panels
After editing the cover page, you can start adding the brochure's actual content which includes the services or subjects offered, the school's teaching system, and the facilities available. And just like the cover page, you may also add photos to the layout to enhance the look and make the information easier to comprehend.
Step 5: Proofread before printing
To ensure that the content of your professional brochure is worth reading, you should proofread it for any errors either in spelling or grammar. A single error on a marketing material can greatly affect the credibility of the business or organization. And of course, you can then proceed to print your brochures after proofreading it.
12+ School Brochure Templates
High School Bi-Fold Brochure Template
Details
File Format
&nbsp
&nbsp
&nbsp
&nbsp
&nbsp
&nbsp
Size: US, A4
High School Tri-Fold Brochure Template
Details
File Format
&nbsp
&nbsp
&nbsp
&nbsp
&nbsp
&nbsp
Size: A4, US
Preschool Learning Center Brochure
Preschool, otherwise known as nursery school or kindergarten, is an establishment which offers basic childhood education to children before they are exposed to primary schools. If you believe that your facility is capable of leading children to the right track, feel free to use the preschool tri-fold brochure template above.
Secondary School Brochure Template
Some countries consider high school to be similar to secondary school although others refer to it as the "after elementary" school. The ISCED 2011 divides this into the lower and upper secondary education, and the post-secondary non-tertiary education. If you're promoting a secondary education facility, use the brochure design template above.
High School Brochure Layout
Details
File Format
&nbsp
&nbsp
&nbsp
&nbsp
&nbsp
&nbsp
Size: (US) 8.5×11 inches + Bleed
Between junior high and middle school, the former is described as the education that falls between elementary and high school. The latter, on the other hand, offers a wider range of education including sixth, seventh and eighth grades. Here's a fitting brochure template to promote not only your school but junior high school in general.
Elementary School Bi-Fold Brochure
Details
File Format
&nbsp
&nbsp
&nbsp
&nbsp
&nbsp
&nbsp
Size: (US) 8.5×11 inches + Bleed
The half-fold brochure type, otherwise known as the bi-fold type, is ideal for basic presentations for conveying general information to the reader. Businesses and organizations prefer this type because it is the most inexpensive and the easiest to make among the types of brochures.
Tri-Fold School Brochure Format
Details
File Format
&nbsp
&nbsp
&nbsp
&nbsp
&nbsp
Size: (US) 8.5×11 inches + Bleed
Just like the bi-fold brochures, the tri-fold is also very common among businesses and organizations because of its inexpensive and simple nature. However, the tri-fold contains more panels and folds than the half-fold allowing you to add lists and a lot of content that you may arrange into sections.
Future School Tri-Fold Brochure Example
Download
A person's future, most especially their career life, relies on their educational background. If they are brought up well or are taught how to deal with different situations, they'll be able to easily handle and overcome any obstacle. To ensure people of a bright future, feel free to use the education brochure template above.
Children's School Tri-Fold Brochure
Download
Here's a simple yet effective tri-fold brochure template that you can use for promoting and welcoming school-aged individuals to your school. Since this is a brochure template in PSD, be sure to use Adobe Photoshop to edit this. However, if you don't have Photoshop, you may use GIMP or Paint.NET with the PSD plugin.
School Tri-Fold Brochure Format
Download
A chalkboard-themed brochure template for promoting a school, could it get even more appropriate than that? Although schools nowadays prefer the whiteboard, the legacy of the chalkboard lives on as a design theme. For more templates in the same theme, you may check out our multipurpose chalkboard flyer template.
Bright Future School Brochure Template
Download
Don't wait until the graduating season to start promoting your school, you should do it as early as now in order for students (or parents) to already make up their mind. Here's a fitting bi-fold brochure template that you can use for sharing information regarding your facility and your teaching system.
School Admission Tri-Fold Brochure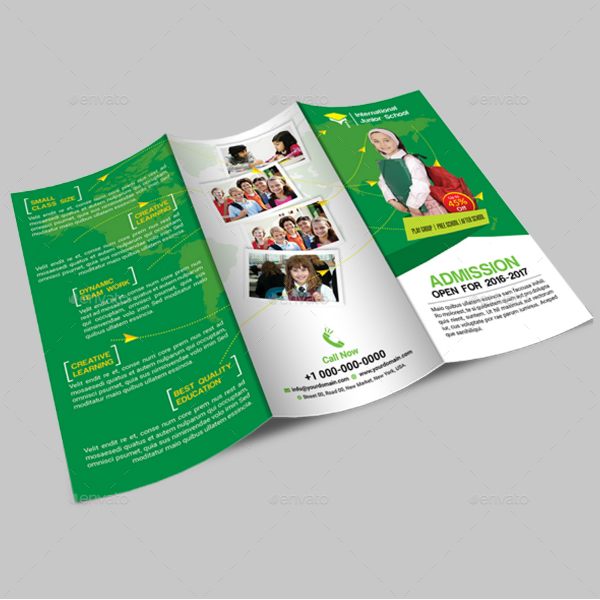 Download
If you prefer the tri-fold type for conveying information about your school, then the template above would be a good choice. This template comes with two different color variations and free fonts. And be sure to have Adobe InDesign installed on your system, it'll make your job easier since this is a brochure template in InDesign.
School Summer Program Brochure Design
Download
There are school-aged people who enjoy the summer season de-stressing and maximizing their time for themselves. However, there are also people who prefer to be more productive by enrolling in summer schools. If you are offering this kind of program, the one-page brochure template above would be an ideal choice for you.