Brochures are promotional pamphlets passed out to the public informing them about your business. Being in the photography business, it is crucial that you invest and indulge in marketing tactics such as handing out brochures. Brochures will not only inform potential customers of your venture but will also give them an idea of your procedures and the benefits provided by you. So, it is important that you chose the correct detailing for your photography brochure.You may also see Brochure Templates.
108+ Photography Business Templates in PDF, Word, Excel, PSD, Google Docs, InDesign, Apple Pages, HTML5, Google Sheets, Publisher, Apple Numbers, Illustrator - START DOWNLOADING
5 Steps to Write a Photography Brochure
Step 1: Mention the Name of Your Venture or Studio
Brochures are normally handed out by third parties, so, make sure that the brochure you circulate around has your name on the front page, at the very top. This will make sure that potential customers know that the brochure belongs to your venture.
Step 2: Use Attractive Design
Passing out brochures is a way of marketing your venture, make sure that you use attractive designing to make your brochure look approachable. You can use pictures you have personally clicked to portray your photography skills. Using gorgeous design helps bring in more people because they are drawn to your venture.
Step 3: Talk About Your Program
Since a brochure is more detailed than a flyer, being multifold, you can talk a little more in detail about your rates and packages. You can briefly talk about your venture as well. However, make sure that you don't drag the descriptions out. If you make it too elaborate, people might lose interest.
Step 4: Mention Your Contact Details
Like mentioned before, brochures are usually circulated by third parties and since they might not be able to clear confusions of potential customers, you should be available by mentioning your contact details in the brochure. This ensures that people can reach you directly and clear their doubts.
Step 5: Mention Your Address
Since you are trying to promote your venture, make sure that you mention your studio's/venture's address on the brochure. This will ensure that people can reach your studio with little confusion.
12+ Photography Brochure Templates
1. Photography Studio Bi-Fold Brochure Template
2. Photography Studio Tri-Fold Brochure Template
3. Premium Photography Brochure Template
Elaborate and generalized in its styling, this photography brochure template can be used for any event or to just promote your studio via third parties. The brochure can perfectly showcase pictures shot by you alongside meaningful information. The primary colors on the brochure are navy blue and black. The best brochure template is worth the price.
4. Landscape Photography Brochure Template
As a photographer, some of your best work happens with still objects and natural lighting. The best subject that suits the above criteria are landscapes. If landscapes portray your best work, this template is designed for you. This photography brochure template comes in the base color of black and is a premium.
5. Elegant Photography Brochure Template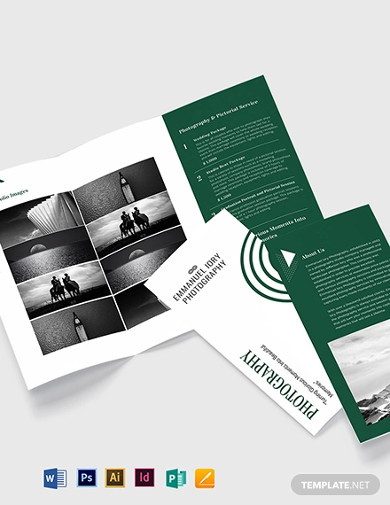 A little bit unique and still efficient and gorgeous, this photography brochure template is made for you if you want something a little out of the box. The pictures used here are monochrome and they fit well with the theme of the template. The primary colors here are green and white. The printable photography brochure is premium and is easily customizable.
6. Modern Photography Brochure Trifold Template
Using multiple dimensions and fold for its purpose, this photography brochure template promises a lot of useful information in only a bit of paper. This photography brochure template is for you if you want to give out information and still hold your venture's charisma. The base color for this template is black and it is a premium option.
7. Free Wedding Photography Bi-fold Brochure Template
If you are trying to promote your studio or venture in a particular sphere, in this case, this sample wedding brochure is the best option for you. Free to download and easily customizable, this template uses white as its base color and more color is added through the addition of pictures. The template can be downloaded in every file format.
8. Creative Newborn Photography Brochure Template
Download
Specific to newborn photography specialists, this photography brochure template is made for studios that have expertise and confidence in shooting pictures of newborn babies. If the description sounds like your venture, this template is the best move for you. The template comes at a premium and is available in ZIP format.
9. Photography Trifold Brochure Example
Download
If you want to use your brochure for several things and don't want many specialized brochures, this photography brochure template is the best to use. It is sophisticated and generalized, coming in the primary color of white. The blank trifold brochure comes at a premium and is available in ZIP, PSD and TTF formats.
10. Tri-Fold Brochure Template For Photographers
Download
Looking to class up your photography brochure by using minimal colors, designs and tones? This is the right brochure template you are looking for. The template has pictures that cover most events, therefore making it a generalized template for your venture. The template comes at a premium and is available in the base color of white.
11. Printable Photography Marketing Brochure
Download
Simple yet elegant, this photography brochure template is straightforward and uses basic colors to prove and portray its points. The wedding brochure template has several folds, giving you the perfect opportunity to add as much information as you want. The template comes at a premium and is available in a PSD file.
12. Real Estate Photography Tri-Fold Brochure Template
Download
If shooting and covering houses and properties is a your strong suit, real estate photography might be your favourite project to work on. In that case, this photography brochure template will be of the best use for you. The base color on this tri-fold brochure is dark blue and the template is free to use.
13. Free Portrait Photography Brochure Sample
This photography brochure is detailed in the sense that it not only flaunts the photographer's but also gives meaningful information regarding how the photographer or his studio work. The bi-fold brochure is detailed and almost all information regarding the venture is provided.