Detailed and well-formatted business quotations do not just seal the deal. They are also your ticket in gaining more loyal clients and customers for your business. Generally, a business quote emphasizes your approaches, costs, and terms of business, specifically in the sale and delivery of your goods or services. Quotation templates uses pre-formatted quote structures that are subject to changes depending on the context of the business.
Business Quotation Template
Business Quotation Format Template
Small Business Quotation Template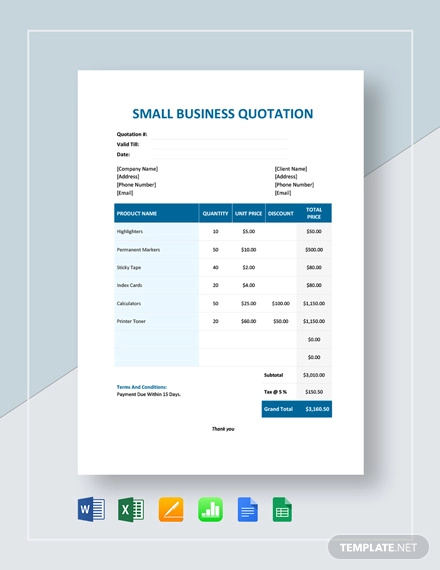 Learning the art of excelling in the field of business quotation samples is not that easy. You should have the dedicated and committed mindset to learn the basics and ultimately elevate your quoting format and style into something that can be considered an extension of your business brand.
Business Proposal Quotation Template
Free Business Quotation Template
New Business Quotation Template
Sample Business Quotation
Request for Quotation
Catering Quotation Template
What Are the Major Components of a Business Quotation?
A business quotation serves as a document that the vendor has to send to a customer that provides a breakdown of offered goods or services with the corresponding price breakdown. There are a variety of quotation formats. The major components of such quotation are the following: You may also check out Quotation Templates in DOC.
Quotation letterhead – Like most formal documents, the business quotation must include a letterhead that reflects the business name, contact numbers and addressees and professional email address.
Quotation header – For this section, you need to include the quotation number which is also referred to as the serial number, the date of the quotation, the name of the customer or client, and the terms of payment.
Main body – In this section, you need to provide a brief description of the offered goods and services. A price quote template provides a clear outline on how prices are strategically positioned in a quotation. You also need to include the scope of work and a summary of the total amount for the selected individual items.
Closing section – For the bottom part of the quotation, you may include a reiteration of the total amount for the items, the taxes and other relevant fees, the validity period for the quote, the signatures for validity and legal purposes, and a customer sign-up stamp.
Standard Business Quotation Format
Sample Quotation Format
Key Points to Consider in Managing Business Quotations
Business quotations are not just there for profit-driven purposes. They are also used as a security measure to protect your business from losses and risks. As you may observed in quote sheet templates, there are certain terms of payment and stipulations that protects the overall usage of the quote. Consider the following points:
Be detailed and specific. A well-written quote is specific and detailed. Missing pertinent information in your quote could be detrimental to your business transactions. As much as possible, check first the contents of quote before sending them to your clients and customers.
Clear and straightforward terms and conditions. All business quotes have terms and conditions. They are important in ensuring that upon the acceptance of the customer of the said quote, the latter willingly agrees to the stipulated terms and conditions. You should excel in this point because some business quotes are the foundations of business agreements and contracts.
Adopt a professional and positive approach. Proofread and check the contents and structure of your quote from time to time.
Indeed, business quotes are significant legal and commercial documents. If you want to gain more clients, then they are avenues for you to showcase what you can offer. You may also see Sample Formal Quotation Templates.