Getting a job is the first step of entering into the complicated web of adulthood. However, it's the experience in it that makes the job worth keeping. The lessons you learn from the job you have are the ones our teachers never taught us in the classroom. The whole experience is something we would always look back on as we head to another job. You may also see letter templates. You may also see Certificate Templates.
Simple Job Experience Certificate Template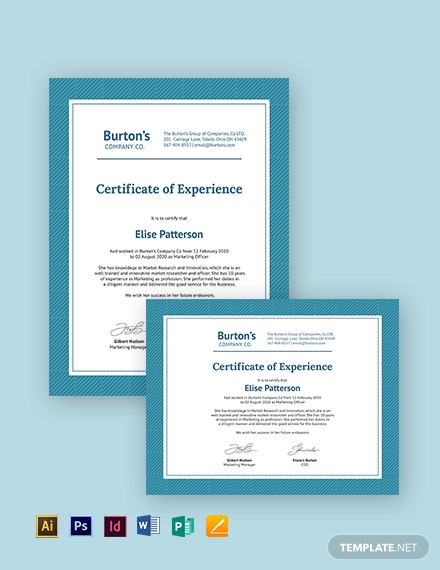 With this, there is a need for employers to hand out job experience certificates. This is written when an employee is relieved of his duties in the company. This proves that we have experienced the ropes of the job. It also informs our next employer that we have satisfactorily done what was asked of the job and wish us well in our next journey.
Free Job Experience Certificate Template
Free Certificate of Job Experience Template
Experience Certificate

kiec.edu.np
Work Experience Letter Template

theacademycarlton.org.uk
Work Experience Certificate

aydiner.com.tr
How to Write a Job Experience Certificate
It is the employer's task to write a job experience certificate when an employee decides to leave the company. It should be written in simple language, and it should not belong.
1. Put the Letterhead of the Organization
The letterhead of the organization serves its purpose as its an indication of where the employee worked before. It should be put on top at the center or on the upper left corner. This is the first thing a person sees when he reads these kinds of a letter. You may also see free job experience certificate template.
2. Provide Details About the Employee
The employee's name, address, and position in the company must be written as some sort of introduction to its new employer. Never take out any of these important details about the employee. The joining date and the date of resignation of the employee must also be included.
3. State His/Her Job Description, Skills, and Conduct of the Employee
The next paragraph should state what his/her job was, his/her skills, and his/her behavior as an employee. You have to tell the next employer about what he/she is best at and what he/she used to do at his/her position. This informs the next employer on what he/she has to expect from the employee. You may also see work certificate templates.
4. Avoid Being Negative
Anything negative on the letter can mar the reputation of the employee for his/her next employer. This person is seeking for another job to expand his/her horizons and capabilities. As the employer, it is still a part of your job to highlight his/her best qualities. The employee should look appealing and ready to work in the prospective employer's eyes. Focus on his/her skills and abilities more than anything else. You may also see certificate letter templates.
5. Keep the Tone Professional
Do not forget to always keep the tone professional while writing the letter. This is still a business transaction between two people. Most of the time, "to whom so ever it may concern" is used for addressing the person who reads the letter of the name is undisclosed. You may also include any reference and contact number of the employee if more information is needed in the letter.
6. Edit and Proofread
This is a must-have finale for every kind of writing. Read your simple letter again to see if there are misspelled words, wrong grammar, and poor sentence construction. Your letter should be well-written to convey the message well and reduce the headache of the reader.
Letter of Work Experience Requirement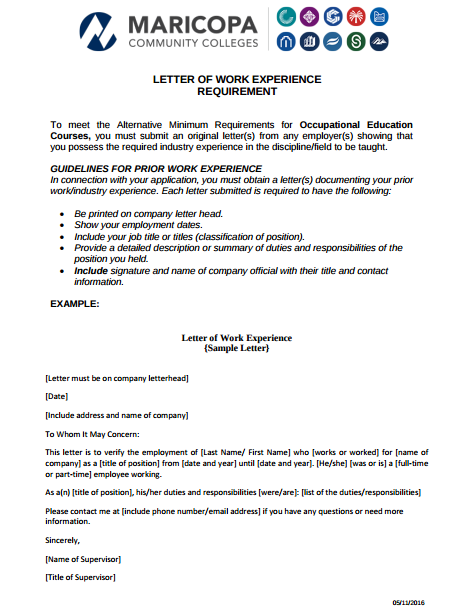 estrellamountain.edu
Sample Job Experience Certificate

keralapsc.gov.in
Where to Get a Job Experience?
Getting a job experience can be done in various ways. If you are a student, you can apply for an internship in a company. This work experience can help you in learning more about your chosen degree program. You get to apply all the learning you had in school. Students have their internship hours credited by their instructors. It includes the amount of time they go to work every day. An internship can be paid or unpaid, depending on the company and the school.
If you have just graduated from college, it is now time to apply for your first job. You can state all the achievements you had in school to give employers a reason to hire you. Having your first job experience is fun while it lasts. You can also contact your friends if ever you need a job, or a job opening is happening in the place he's working in.
You can also do volunteer work in outreach programs to add some points to your job experience. Some companies are looking for volunteers for an event or an outreach program. This only happens for a short period of time, so grab the opportunity. You may also see internship certificate templates.
Another way of gaining work experience is through doing freelance work. In freelance work, you manage your own time and do work for multiple clients. The pay is good, depending on the negotiation you had, and it pays more to do some before you get hired in a company. This enhances your dependability skills, which is what employers look for in an employee.
Whatever way you plan to get your job experience, just remember to enjoy doing the job and do your best every single day. Take every learning experience and criticism constructively and always go with the flow. You may also see company experience certificates.
Sample of Experience Letter

kangarooedu.com
Why Job Experience is Important
The real world is more than what you think it is. In this case, the real world concept most people have is getting a job. Sometimes, it is equated into something that can be added to the resume. Yes, it is true but in reality, job experience is important for a number of reasons. You may also see free employee experience certificate.
1. Real Immersion
Having job experience immerses you in your chosen industry. You get to know how it works on a daily basis and makes you aware of the reality that it is not an easy job. No job is easy and nothing comes on a platter in life. You get to ask employees how the job is done and eventually you need to do it yourself. As the saying goes, you never know unless you try. You may also see professional certificate templates.
2. Coming up with a Clear Career Path
Getting a job gives you ideas on what career you should pursue. The first job you get into may not be in line with the degree program that you pursued. And that is entirely okay. Just as long as you can do the job well, it does not matter. While working in your current job, you will have an idea of what career to pursue in the coming years. You can now start making your career path. You may also see no objection certificate templates.
3. Higher Rates of Success
Having worked for a number of companies increases the chances of your success in the future. You feel motivated to work hard and plan ways on how to do the job better. People who have worked in several industries have gained knowledge which they can use for their own purposes. You may also see PSD certificate templates.
4. Identifying Skills
While working, you get to identify the skills that you possess. These skills are useful when you want to work for another organization in the future. Sharpen every skill you can. It will boost your confidence and prepare you for taking more complicated jobs. Sure, the work will put you through tough times, but it will enable you to identify and understand your strengths and weaknesses. You may also see salary certificate templates.
5. Learning Experience.
Every job offers a new learning experience for its employees. Different things are being learned all at once and there's nothing to be afraid of when it comes to learning. Every day is an opportunity to be better in the workplace. You get to learn things that are not taught in school while you can learn valuable life lessons when you go through tough situations. You may also see certificate samples.
Work Experience Certificate Template

njconsumeraffairs.gov
Application for Job Experience Certificate

rcert.ac.in
Working Experience Certificate

kea.kar.nic.in
6. Build up Contacts
Working in several industries will build up your contacts from different sources. These contacts can help you a lot in the future when something comes up. May it be a personal or professional help, there will be people who can surely help you out and save you from your current situation. They can also give you job recommendations if ever you need one in the future. You may also see certificate format templates.
7. The Do's and Don'ts.
Getting a job allows you to know the do's and don'ts of an office setting. This gives you an idea on how to navigate the daily office life without hurting anyone. You may also see employment certificates.
8. Learn the Office Politics
In every workplace, office politics is an inevitable occurrence. There will be people throwing shade at each other, kissing up to those with more power than them, and those unmotivated ones who drag themselves to work each day. News about who's dating who and who did a terrible crime is always the center of every conversation. It is bothersome to hear these kinds of stuff, but better listen on the sidelines and not intervene. It is fun to watch and hear people do crazy things to save themselves. You may also see certificate templates.
9. Finding a Passion
Working on a job allows you to find something that you can be passionate about. From there, you can start working on it and practice that craft. When you have so much passion in you, it will definitely take you to better places. You may also see stock certificate templates.
Conclusion
There's nothing wrong with hopping from one job to another. There are several factors to it. What's important is the experience and lessons every job gives you. You may also see employee certificate of appreciation templates.