Roofing is a separate task apart from the construction of buildings and houses in its entirety. To evenly distribute construction expenses and labor, there are workers assigned to work on the composition and specification of work on roofs. Invoice writing for best roofing completion is just as important as as any other. You may also see invoice samples.
45+ Accounting Services Templates in PDF, Word, Excel, PSD, Google Docs, InDesign, Apple Pages, Google Sheets, Publisher, Apple Numbers, Illustrator - START DOWNLOADING
Roofing Invoice Template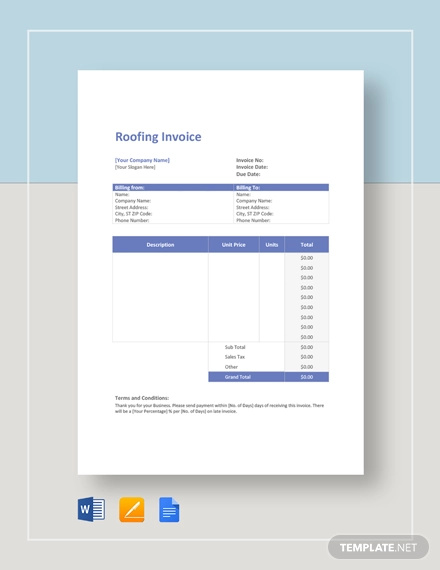 Roofing Estimate Invoice Template
Roofing Invoice Sample
There are a lot of specifications for every roof constructed hence roof materials vary. A proforma invoice could be the best invoice to utilize when it comes to estimating roof material sizes and costs. A rough estimate for an entire roof construction could help workers see results as they work on a certain roof project.
Example Roofing
Roofing Estimate Invoice Template
Roofing Contractor Invoice Template
Roofing Service Invoice Template
Company Invoice
How to Make a Roofing Invoice
A roofing invoice varies from one roofing project to another. A separate roof may have special specifications compared to ordinary ones. All types of roofing projects definitely need a roofing invoice to make things easier towards completion.
Find out how to create a roofing invoice by learning what to include in one:
Identification of Roofing Company – As a certain company is expected to provide roofing services, the very first part of the invoice should initially provide an identification of a company set to render roofing services. All roofing contractors should abide all the information found in contractor receipt templates.
Developer or Owner Information – The roofing invoice itself should also contain for whom the invoice is for. Ideally, it is the owner or the developer of a certain property that needs roofing invoices.
Cost of Specified Roofing Materials – An enumeration of roofing materials intended for a specific roofing project should be written in a roofing invoice. Basic invoice templates always provide tables in even rows and columns for the list and corresponding prices of roofing materials.
Total or Amount Due – No matter how long or short the enumeration of roofing materials are, a total or amount due should always be written towards the end of any roofing invoice. As reflected in all invoice templates, a total amount should help contractors and developers track on the exact costs for roofing projects.
Invoice Sample
Common Roofing Construction Projects
Whether it's a project dedicated to building an entirely new roof or just fixing some parts of it, one needs to know the differences between these roofing projects.
Here are common roofing construction projects that you should know of:
Removal of Existing Roofs – In instances where owners or developers request for new existing roof removal, roofing contractors are expected to either remove everything or remove portions of it according to instructions. Estimate invoice templates are perfect tools that could guide through the estimated costs for the roof removal project.
Replacement of Roofs – This type of roofing project needs a lot of work to be done and blank invoice templates are ideal for the input of materials used for the replacement of the roof.
Painting of Roofs – Obviously, the cost of paint and other materials used for painting should fill the roofing invoice for this type of roofing project. Some owners might demand for more colors or pattern for their roof paintings that's definitely subject to a higher cost of materials and labor charge that should all be clearly stated in a roofing invoice.
Every work done towards improvement and construction of roofs should be properly managed in an invoice for easy reference of both contractors and owners.