In all kinds of jobs and businesses, there is a corresponding tax that must be paid that depends on the income and salary generated in a fiscal year; this liability often appears in the balance sheet or pay slip of a person to notify him or her that a tax must be paid to avoid further penalties, this can be created easily in Excel sheet using a General Invoice Template that can establish the breakdown of the amount to be paid as tax. You may also see invoice samples.
Tax Invoice Template
Sales Tax Invoice Template
Simple VAT Invoice Template
Commercial Invoice Excel Template
Purchase Invoice Template in Word
Auto Sales Invoice Template
Sales Invoice Template
Commercial Sales Invoice Template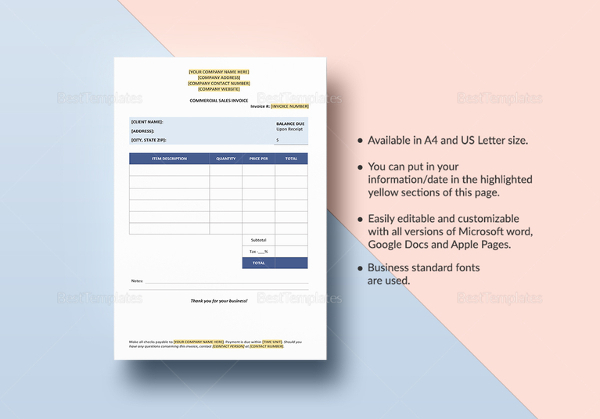 Service Invoice Template
Invoice Example Template
Free Commercial Tax Invoice Template
Excel Format Commercial Tax Invoice Template
The commercial invoice tax invoice template is a simple template that finds out the total price of the product purchased including the GST. It contains the GST number, the date of invoice, the invoice number and the description of the product.
Download Free Tax Invoice Template ATO
The tax invoice is a normal template that can be used by any company. Just add the details of the company and the customer, the quantity, the description of the salary, amount and the total sum, and the invoice is ready.
Simple Tax Invoice Template Download DOCX Format
This tax invoice template uses a generic standard with the use of solid color which makes it look better. It stores details on the company, customer, the products, price, discounts and the total.
Free Tax Invoice Template Australia Download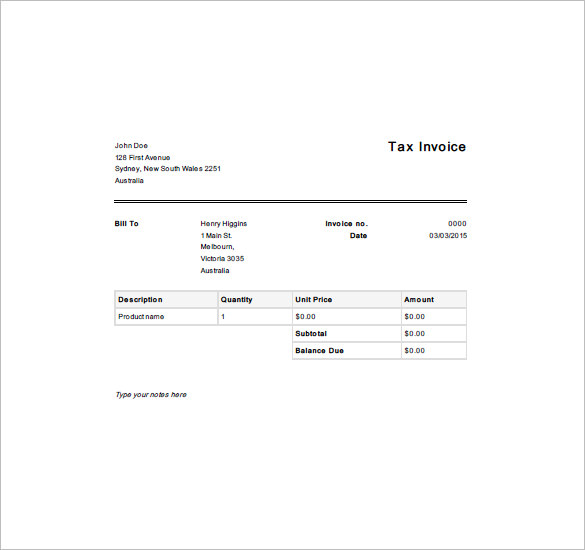 The tax invoice template is a very popular format of tax invoice in Australia. A simple invoice template that stores the important details of the product, price and the total amount of the bill.
Printable PDF Tax Invoice Template
The tax invoice template is a colourful tax invoice template in PDF that uses various colors to indicate the name of the company and its address in the template with other important details.
Free Comprehensive Tax Invoice Form
The tax invoice form is a comprehensive tax invoice template that stores all the important details on the company, the customer, the product, its price and the total amount of the bill.
Tax Invoice Template Download
Tax Invoice Template Word Doc
Tax Invoice Template Word
First of all, the amount and layout should be in accordance in the tax collecting body of the government which can be made with ease in this Invoice Template. The sample can be done quickly so the tax collection can be completed before the deadline.
If you have any DMCA issues on this post, please contact us!