A catering price list gives the price details of the various food items available on the menu. They play an important role in any catering business by helping the customers place their order. Therefore, it is essential to catering design them in an impressive manner using price sheet templates.
5 Essential Steps to Create a Price List
Step 1: Make a List of All Food Items
Before you come up with a price list, it is important for you to make a list of all the food items you are offering. These items can be split into different categories of veg, non-veg, beverages, desserts, buffets and so on. Once you have categorized them in order, you can proceed to the pricing.
Step 2: Decide on the Pricing
While deciding the price, consider the cost of the ingredients that went into the making of each dish and price it a bit higher than that. Do not overprice or underprice your dishes. They should be rightly priced. Talk to the managers and other supervisors before you finally decide on the price. Maintain a healthy competitive price on your dishes when compared to other catering services.
Step 3: Choose a Layout or Template
Once you are clear with the food items and their prices, you can select a template using free list templates. There are plenty of options available for you to select the perfect price list template. You may customize and edit the changes to make it your own.
Step 4: Add Background Images
Adding background images to your template can enhance the look of your price list. But, this step is totally optional. You can make it look simple or visually unique. It is totally up to you. Be sure to experiment a little before you finalize.
Step 5: Print and Publish
After all the steps are completed, conduct an overview and assess all the details. Go through it a couple of times and check for any errors. If it's perfect, you can go ahead and print it or publish it online.
10+ Catering Price List Templates
1. Catering Price List Template
elementsmedford.com
The catering price list splits the menu into various categories of food dishes and provides the cost of each specific dish per person. Apart from the prices, it also explains the contents of the dish underneath its name so people have an idea what they're paying for. It is available for download and is one of the detailed price list menus one can look at.
2. Simple Catering Price List
The simple catering list is more than just a simple price list. It carries in itself the necessary details and explanation you didn't know you needed. Starting right from a gist of what the catering service is all about, to let you know how to book an event along with detailed information about lunch and dinner items with their price list, it surely does have a lot of interesting and expressive elements to it.
3. Basic Catering Price List
marigoldandhoney.com
The basic catering price list allows you to have your logo placed at the very beginning of your menu. It gives information about the beverages, buffet, salads, and desserts offered on the menu. It gives clear policy details in relation to the bar service and it lets your customers write back to you in case you have any doubts with the catering service via email.
4. Professional Catering Price List
chardonnaygolfclub.com
If you're looking to bring an elegant and professional look for your price list, then you must get this catering price list template right away! It comes with the company logo at the front page with a graphic image which can be customized or edited as per your choice. The food menu is separated in a unique manner and looks very charming.
5. Sample Catering Price List
chennaiexpressrestaurant.com
The sample price list template gives the list of food items along with their prices in a tabular format. It classifies the number of servings in form of different sizes of trays such as extra small tray,small tray, medium tray and large tray. The prices are listed below for different tray sizes. It is simple and easy to understand.
6. Formal Catering Price list
bangkokchefexpress.com
The formal catering price list is simple and straight to the point. It gives a list of food items along with the prices and item number. Wherever necessary, the number of pieces that comes with a particular dish is mentioned. It looks neat and the contact information of the company is placed below making it easier to connect to them. Using price list in Word you can edit these details.
7. Wedding Catering price list
treeline-events.com
To specialize in wedding catering services, you can opt for this beautiful and attractive looking price list template. It is visually appealing and the contents are placed in the most appropriate style and font. It has the ability to charm your clients and they'll know they wont have to settle for anything less with your services. Download it now and youll see for yourself!
8. Catering Price List Example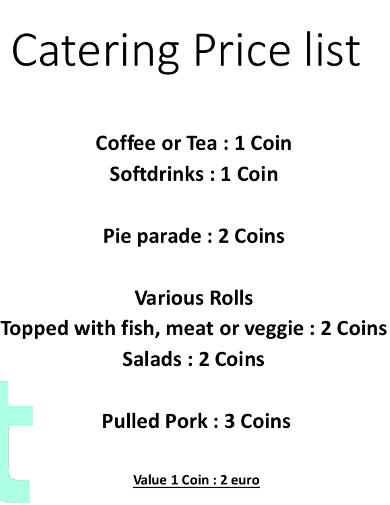 hightechcampus.com
There are many price list examples one can take a look at, for example, this catering price list template. It is minimalistic in its look and can be edited with your food items and price list. It can be used if you have a limited number of options in your menu and it'll look just perfect.
9. Catering Service Price List
camillericatering.com.mt
For a wide variety of food items to be incorporated along with the pricing details, you can download the catering service price list. It offers information that can help build trust between your client and your company by giving them an insight into your company background. All relevant information is covered without any flaws.
10. Catering Price List Sample
milliesbakery.com.au
The above template shows a list of different sasandwichesthat are available at a catering service. It also shows the quantity per person and the price for each sandwich with respect to different fillings. This description of the item is very important and helpful to people as it gives them an idea about the ingredients present making it easier for them to decide what to eat.
11. Standard Catering Price list
A standard catering price list should contain the name of the dish you are providing along with description of the ingredients and the price. The menu is effectively divided into different categories of veg and non veg. It also gives the price details in terms of per individual.