Infants and toddlers are fragile, little saplings who need the utmost care and affection. Being able to take care of them well positively affects their holistic growth and even their well-being when they grow up. Unfortunately, not all parents can give their children the attention they need. Some kids are left with nannies who may not have any genuine concern for them. You may also see plan samples.
Daycare Business Plan Template
Animal Day Care Business Plan Template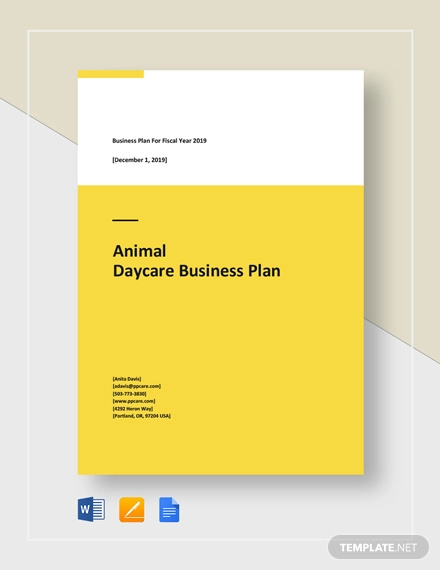 Pet Day Care Business Plan
Luckily, there are sample daycare centers that offer enriching activities catering to a child's need. If you want to establish your own daycare, you can download a Business Plan Template on this page and start planning for those terrific childcare services.
Child Day Care Services Business Plan
Day Care Center Business Plan
Starting a Daycare Center
The children are our future builders. They should all be well taken care of. Hence, an intensive and well-thought-out daycare business plan should be in mind. A Non Profit Business Plan Template is available on our website that can be a very helpful document for planning childcare services. On the other hand, here is a step-by-step guide on how to successfully start your own daycare center:
M

ake a needs analysis. Identify which children in your area particularly needs.
Observe the market. Do benchmarking and observe how competitors run their daycare centers.
Careful planning. Create a business plan and identify the type of daycare center you want to start. Also, include a

Marketing Business Plan

and other financial plans.

Name and place. Come up with a name and decide on the ideal location.
Secure all paperwork. Acquire the needed requirements mandated by the government.
Secure equipment and staff. Set up your childcare center and purcha

s

e all the equipment and furniture you need. Hire employees and conduct an orientation.

Comply with basic rules and regulation. Make sure

the

entire premises is well-monitored and ready for inspection.

Advertise. Promote your new business using your planned marketing strategy.

Start enrollment or registration.

Open your business with flare. You can offer goodies for both children and parents.

Check on different aspects of the business regularly.
Family Day Care Business Marketing Plan
Kids Day Care Business Plan
Home Day Care Business Plan
Senior Day Care Center Business Plan
Build and Maintain a Thriving Business
When you opt to start a business, you are sure to exert all efforts in its developing and establishing stage. However, in the succeeding months or years, your efforts may not be as much as what you had before. As a consequence, you lose clients, quality, and credibility. We definitely don't want this to happen.
To ensure that you can set up and retain a thriving business, check out the effective and comprehensive Startup Business Plan Templates we offer on our website. Besides that, you ought to consider the following tips we share for you:
Be creative. You are establishing a center for kids. Every day should be exciting for them. 
Be socially active. Engage in conversations with your employees, kids in their sessions, and even the parents. The more you build rapport, the more comfortable they are in your center.
Ask for feedback. The best way for the business to develop better is to ask for feedback survey and evaluate your business's performance.
Keep focused on the goal. Set your drive geared towards the purpose you built the center in the first place.
Great service for every client. Treat every kid and parent with great compassion. Give them more than they expected.