Internship Templates
10+ Internship Training Plan Templates in Doc | Excel | PDF
Internship programs are essentially monitored programs that usually students or freshers do to gain experience in a particular field. The student makes use of the learning goals and productivity to prepare for a better job. For such students, setting up successful internship programs is quite essential as it will help hone their skills and expertise. To set up a training plan, you need proper guidelines and format to follow. You will find plan templates online with the ready-made structure for your convenience!
Table of Content
How to Conduct an Internship Training Plan in your Organization?
Step 1: Set Your Goals
The first step that you need to get on board is to understand the goals of your organization. If you are a small company, you need to set apart additional projects aside. If growth is the main concern of your company, an internship program is a better idea to kickstart your operations since you can do away with much less expense.
Step 2: Analyse Your Workplace
When you have identified your company's goals, it's time to now analyze the work culture of your organization. It's important to first know why do you want to host an internship program in your company and move ahead accordingly. You will need to lay down the job description accordingly.
Step 3: Design an Internship Program
For an appropriate internship program, you need to design the business elements in the program. Like, make it a welcoming environment for new interns, encourage the social strategy of your company, including training opportunities and don't forget to introduce new perspectives in your organizational ideas using new interns.
Step 4: Assign Duties
In any internship program, the first thing to do is to assign duties and responsibilities to the interns. After you hire interns, you need to conduct an orientation program, collaborate with the group of interns in the organization and discuss the job of the interns.
Step 5: Evaluate Performance
The final step in any internship training plan is to evaluate the performance of the interns. Try to identify their skills, characteristics that can be utilized by the organization. You can get an alternative way to evaluate all the resumes of the interested candidates and then filter them for interviews.
10+ Internship Training Plan Templates in Doc | Excel | PDF
1. High School Internship Training Plan Template
mvsc.us
Most high schools set up an efficient training program for their students so that they can go out and gain some experience regarding their field of interest. Such internship programs can be easily planned using a handy High School Internship Training plan template in Docs format. It is quite compatible with any kind of portable device and allows you to make the changes as you want them to. Therefore, hurry and download now!
2. Internship Training Plan Template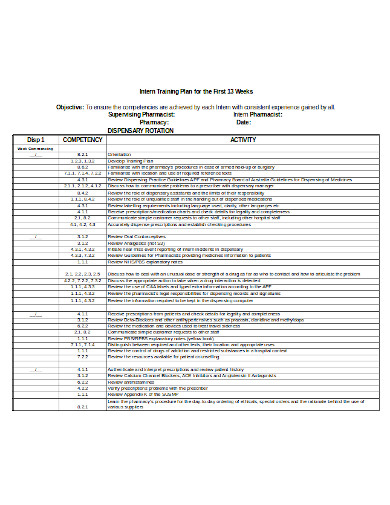 pharmacyboard.gov
This Internship Training Plan Template, available in Excel file format is one of a kind template that will assist you in bringing quite the ease of planning internship programs. You can try and also help your students to create experienced internship curriculum vitae so that they can easily get selected in their desired company or organization. Since this file is customizable, you will have no hassle editing it!
3. Internship Model Student Training Plan Template
nj.gov
Why are you wasting your time planning different training programs for individual students when you can take the assistance of our handy Internship Model Student Training plan template in PDF format. The most convenient part about this file is that you can easily make new and customized plan samples with this affordable list of templates which will be helpful for every student. 
4. Internship/Training Placement Plan Template
eforms.state.gov
Are you planning to organize a training program for the new batch of freshers in your company? Why don't you stop worrying and let us allow you to enjoy using ready-made templates such as this Internship/Training Placement Plan Template for your convenience? It reduces your time taken to9 create a solid base of a plan for your freshers and train them according to the needs of the job description.
5. Student Internship Training Plan Template
muskegoncc.edu
Are you wondering how to get a new and improved training report for your company's new joiners? Then stop wasting time and download this Student Internship Training Plan Template which has been specially made for the new students who joined your company for the experience. Just add the required details in the spaces given and your training plan is complete!
6. Internship Training Plan Agreement
dysart.org
With the expertise of a planning template such as this Internship Training Plan Agreement, you can easily add or change any details in the file and make it yours. Use it to add the student details, the purpose of the training period, and other information about the teacher coordinator. You can also use multiple other files like our plans in Pages which might assist you if you are comfortable with Apple devices.
7. Sample Internship Training Plan Template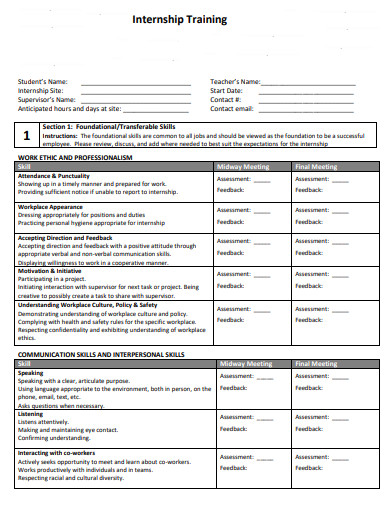 ewsd.org
If you are wondering how to effectively plan the internship program of your organization then you should consider using this Sample Internship Training Plan Template which provides you with a ready-to-use planning template with ease. All you need to do is add information about the fresher or student who joined your company. However, you can also try these sample plans in MS Word as well!
8. Internship Training Placement Plan Questionnaire
internationaloffice.berkeley.edu
Looking for the perfect alternative to draft internship plans manually? Let us help you with this Internship Training Placement Plan Questionnaire which has the main questions that might assist in getting to know the freshers well. Add the faculty signature and current date and you will get the draft down in no time! Hurry and check out our list of free plans in Docs if you want!
9. Sample Internship/Training Placement Plan Template
workuse.net
With quick professional layout and standard content, you can easily utilize the feasible features of this Sample Internship/Training Placement Plan Template. The template is an amazing editable file that assists you in maintaining a consistent internship plan in your organization. It has highlighted lines for your understanding so go grab it now!
10. Standard Internship Training Placement Plan Template
ayusa.rs
It's important to provide training to the new employees, especially if you want to progress your company operations. A better way to do it is to plan the training program with the help of our accessible Standard Internship Training Placement Plan Template. You can just download this template on your device, add your relevant information required and start using it. The file is also user-friendly so it's easy for the beginners as well. You might like to explore our free plan in pages from our website!
11. Professional Internship Training Plan Template
parenthese-paris.com
A convenient and easier way to get an efficient internship program is to plan it with ease. This Professional Internship Training Plan Template assists you in doing it and much more. You can readily change the font style and structure of the file as it is quite compatible with any editing device you use. So hurry and don't miss the opportunity of getting a free and versatile planning template right at your fingertips!
More in Internship Templates