A sales compensation plan acts as a driving force in keeping the sales representatives of a company motivated in working towards their specified targets and goals. It mainly comprises of incentive details, base pay, and commission. With the help of sales templates, you can now easily customize your sales compensation plan samples.
318+ Sales Templates in PDF, Word, Excel, PSD, Google Docs, PowerPoint, InDesign, Apple Pages, Google Sheets, Publisher, Apple Numbers, Illustrator, Apple Keynote, Google Slides, HTML5 - START DOWNLOADING
6+ Sales Compensation Plan Templates
1. Sales Compensation Plan Template
You can now keep your sales team inspired and motivated by giving out details regarding incentives and bonuses using this sales compensation plan template. You can place your company logo and enter your company phone number and address on the front page. Followed after that page, all essential details relating to the incentives and compensation are listed. It can be downloaded and edited instantly.
2. Sample Sales Compensation Plan Template
3. Simple Compensation Plan Template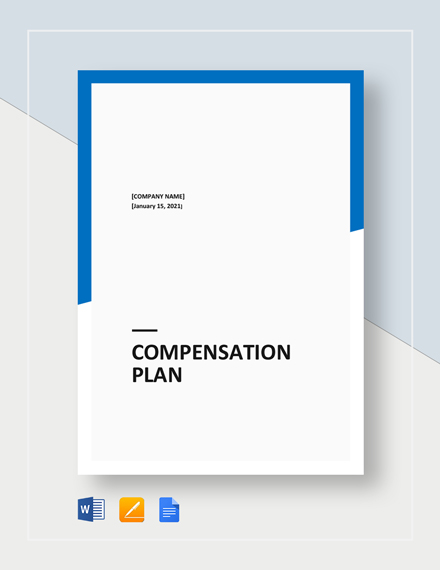 5 Effective Steps to Create a Sales Compensation Plan
Step 1: Make a List of Your Employee Positions
As there are various posts available in every business organization, you need to make a list of them before you decide on the compensation plan. Think about the various positions you would like to fill in your organization and you then you can work out on a strategy. The personal sales plan template will help you personalize your compensation plan.
Step 2: Decide on the Pay
The rate of pay is different for each employee of different posts. Therefore, it is important to look into your budget and figure out how much you are willing to allot. If you are not sure how to go about it, you can research from as many sources as possible. This will help you compare and contrast. Find out how much your competitors are paying their employees so you'll get a better idea in deciding their wages. If they work overtime by a certain duration, give them additional pay.
Step 3: Standard Benefits Offered
Most companies offer standard benefits to their employees. These benefits are a part of the compensation plan. Benefits like health insurance, life insurance, short-term disability insurance, sick leave, vacation leave and so on are provided. You can explore these insurance policy details with an agent to get a clear and better understanding of the cost and benefits. To create an ideal plan, there are a lot of compensation plan templates available for you to download and go through.
Step 4: Pay Commission on Time
When commissions are delivered instantly and consistently, good sales habits are more likely to be repeated. This motivates the sales representatives or your employees to keep reaching their targets with dedication. Lay instructions or give them a breakdown of how the commission is calculated. These commissions vary from one another in different companies. You should be able to pick the right percentage of commission by considering all the necessary factors. Sales strategy templates give you an idea of how you come with a great compensation plan. You can download them for free.
Step 5: Be Fair and Transparent
Maintaining transparency will help you communicate your plan with your employees easily. The compensation plan has to be seen as fair by all of them. Do not discriminate your employees on unlawful grounds. They should be able to understand the plan easily and work towards achieving the overall goal of the company. With a lot of plan templates offering sales compensation plans, it has become more convenient than ever to plan or create one.
4. Sales Compensation Plan Example
If you're looking for a detailed and elaborate compensation plan, then you can download this free sales plan template. It gives an example of a ready-made compensation plan that can be easily edited and customized. The various elements shown in this compensation plan such as base wage, incentives, commissions, and other such factors are given in perfect detail.
5. Winning Sales Compensation Plan
As there are a wide number of elements that are involved in the development of a plan, each organization has its own set of strategies that they would like to incorporate. Downloading this winning sales plan template helps you understand and identify certain key factors required in designing the perfect sales compensation plan. It is available to download for free.
6. Simple Sales Compensation Plan
A well-structured, results-oriented compensation plan is important in driving and motivating your sales team. This, in turn, helps your business grow and develop at a faster pace. By downloading this simple sales compensation plan, you will learn and understand more about the three stages of designing an effective sales compensation plan and how you can create your own. It is a free plan template.
7. Sample Sales Compensation Plan
The above sales plan template shows a sample compensation plan that looks well and put together. It is pleasantly structured in its layout and you can implement your ideas with this design. The plans are explained using examples that give a breakdown of all factors of the sales compensation. It also comes with a particular section on the right side of the sheet so you can highlight other relevant details.