Favor boxes are an elegant way of expressing gratitude and by all means, they should look heartwarming and impressive. The Favor Box template design offers a wide variety of Favor Box Templates and colorful packing ideas for every occasion, especially weddings. These are digitally made designs with printable art. These can also take the place of wallpapers and web elements. Choose your favorite one and customize it to your will with design software integration. You can also see Chocolate Box Templates.
Red Heart Shape Box
The vector image represents a glossy red favor box with a ribbon tied around it. The design is custom-made for wedding celebrations and looks beautiful in JPG and EPS formats. You can also see Text Box Templates.
Vintage Suitcase Favor Box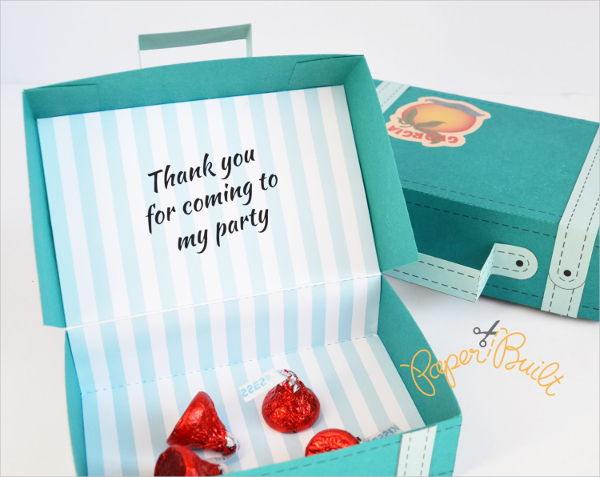 The box has a soap blue color and a suitcase design with a handle. It has a nostalgic vintage look to it with sewing detailing on edges; buyable from Etsy. You can also see Cookie Box Template.
Festive Favor Box
The template has an artistic design pattern with a mix of green, white, and red colors. The favor box is printable and can be folded for packing. It comes in JPG format. You can also see Gift Box Templates.
White Heart Shape Box
A realistic white a heart-shaped box with bow-knot tied around it. It has a gray background with a message card for text. The image file is downloadable in JPG format.
Princess Carriage Box
A princess carriage designed packing favor box embraced in beauty. The box has an overall pink color with white wheels. It is print ready with cut margins in DXF and SVG files.
Basketball Favor Box
It's a cute looking basketball design favor box with cross white line pattern made in red. The design can be used as a snack box with children party theme; comes from Etsy.
Princess Frozen Castle Box
This is a cool, all-blue castle inspired favor box with a dangly paper cut for a handle. This uber cute favor box can be downloaded and printed for craft work in PNG and SVG files.
Milk Carton Favor Box
This is a uniquely created milk carton favor box with all-white color domination. It has ribbon handles and paper hooks for safety. It can be instantly downloaded in PDF file.
New Year Gift Favor Box
A charismatic densely designed foldable favor box deign with clip-on for handles. This is easy to download and print ready. It is suitable for New Year occasions; in JPEG and TIFF.
Wedding Favour Box
It's a traditionally designed peach colored favor box design for wedding occasion. It has a beautiful ribbon bow-knot with creative art corners. Instantly downloads in JPG format.
Butterfly Favour Box
A creatively designed favor box with butterfly beautiful contrasting wings for handles. The rest of the box is foldable green with grass field graphics; from Shutterstock.
Party Favor Box
A Bombay styled favor box design with maroon domination and artistic patterns. This template is printable and available for instant download in JPG files. It's perfect for parties.
Halloween Party Favor Box
A crafty design inspiration for carry-around favor box for Halloween. The design has been made in Illustrator and features a cartoon face with ribbons for handles.
Cinderella Printable Favor Box
The printable box has Cinderella vector image on its cover with check blue and white background. It is available for instant download and can be folded into a box after print.
Toy Train Favor Box
The template features a toy train favor box crafted from pieces of vector art that are available for download. It has aesthetic colors and beautiful design elements. You can also see Wine Box Templates.
The tradition of favor boxes is very old and widespread. To make your own fabulous looking favor boxes, just download these templates and follow instructions. These can be easily printed and folded into the desired shape. The high-quality graphic art makes it possible to create beautiful vector art with an internal-linked anchor texts.