A fitness club flyer is used by fitness organizations, clubs, and businesses to promote the fitness services that they can offer to their customers. There are a lot of fitness activities that can be done in a fitness club, which is the reason why there are also a lot of fitness club flyer variations as they depend on the services to be promoted to create the overall design and layout of the flyer templates.
If you want to know more information about the items that are included in a fitness club flyer, you may look at the samples that are presented in this article. Aside from that, we can also provide you with various flyer templates, which you may use to promote particular events, programs, and any specific advocacy.
59+ Fitness Templates in Word, Excel, PSD, WordPress, Google Docs, HTML5, PowerPoint, InDesign, Apple Pages, Google Sheets, Publisher, Apple Numbers, Illustrator, Apple Keynote, Google Slides - START DOWNLOADING
Fitness Club Flyer Template
Fitness Health Club Flyer Template
Free Body Fitness Club Flyer
Gym & Fitness Club Flyer
Download
Body Fitness Club Flyer
Download
Fitness Health Club Flyer
Download
Summer Camp Fitness Club Flyer
Download
Yoga and Fitness Club Flyer
Download
Guidelines in Creating a Fitness Club Flyer
Here are a few guidelines that you may follow in creating the fitness club flyer that you will use for your business:
You may include quotations and other phrases that can give your prospective customers an idea about the services that you provide. A fitness club flyer may also use motivational words so that people will be more interested in taking care of the fitness.
Present the services that you are offering to the clients. You may include the collective services that you can provide or you can actually just write the fitness services where your fitness club is known for.
Aside from the fitness services of your club, you may also share a brief description of the business so that people will be aware of your beginnings and where you are currently in now.
Testimonies of people, especially celebrity clients of the club, may also be included in the fitness club flyer so that the attention of people may be caught because of the positive changes that the clients of the fitness club have experienced.
There are also fitness programs that may be acquired from a club which is a combination of the services that they provide or it can be a specialized program for a specific fitness need. Adding it to the fitness club flyer can help the club directly gather clients who would like to try these kinds of services.
Aside from our fitness club flyers, you may also be interested to browse through our downloadable samples and templates of fitness flyers.
Sports and Fitness Club Flyer
Download
Female Fitness Club Flyer
Download
Modern Fitness Club Flyer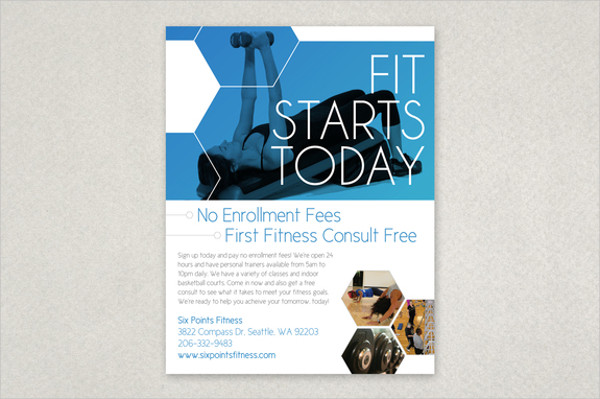 Download
Fitness Club Promotion Flyer
Download
How Can I Make a Fitness Club Flyer More Effective?
If you want your fitness club flyer to be more effective, here are a few suggestions that you can actually apply in the creation and usage of your fitness club flyer:
Assure that the location where you are to put your fitness club flyer is where your target market usually go to. Include limited-time offers in the content of your fitness club flyer.
As said, use photographs and or testimonies of A-list clients and other people who come to the fitness club so that their followings will know that your fitness club is where their celebrity idol is going to. This can possibly be transalated into actual sales, especially if the celebrity posts your fitness club flyer template in his or her online and social media pages.
You can provide information about your limited time offers for the prospective customer to know that they can get the same quality of your services at a lower price range.
Do not forget your contact information and be sure that the person to answer inquiries from people who have seen the fitness club flyer will provide great customer service.
Other than our fitness club flyer templates, you may also be interested to download our samples and templates of fitness center flyers for additional references.