Flyer
14+ Kindergarten Flyer Templates
Although a child's first teachers are their parents, they will eventually need to be formally educated to learn other things. Most children start with kindergarten and it is here that they initially learn independence and socialization skills. Here, we've got a collection of kindergarten flyer templates that you can use to promote your facility. Check out the templates below.
Table of Content
5 Steps to Make a Kindergarten Flyer
Step 1: Decide on the flyer size and theme.
While there aren't a lot of options to choose from, it is still best to start the process by deciding on the flyer size. Half-sheets (5.5 x 8.5 inches) are perfect for those who prefer compact while large formats (11 x 17 inches) are ideal for those who really want to make an impact.
Step 2: Write an outline of the flyer's content.
Since you're trying to promote your kindergarten facility, you will need to ensure that content is relevant and informative. For this to be achieved easily, it might be best to prepare an outline of your flyer's content to make sure that no information gets left behind.
Step 3: Download a kindergarten flyer template.
Below, there are over ten kindergarten flyer templates that are available for download, simply choose one that best matches your purpose and click on its corresponding download button. By using a template, you'll be able to save yourself a lot of time since the layout and a few elements are already provided for you.
Step 4: Customize the design and add the content.
As long as you're using an editing tool that's compatible with the template's file format, you'll be able to edit the template very easily. Here, you can start customizing the layout of the template by adding, removing, and rearranging the elements. Also, you can start adding the content based on the outline you've prepared in Step 2.
Step 5: Print copies of your kindergarten flyer.
If you plan on printing only a handful of copies, you might want to do it yourself since it won't require a lot of resources. However, if you're planning on printing a lot of flyers, we recommend that you let professionals do it. Printing companies also offer discounts for bulk orders, the more copies, the bigger the discount.
14+ Kindergarten Flyer Templates
1. Kindergarten Flyer Template
2. Little Einsteins Kindergarten Flyer Template
3. Kindergarten Promotion Flyer Template
4. Kindergarten Graduation Flyer Template
5. Kindergarten School Flyer Template
6. Catchy Editable Kindergarten Flyer Layout
Let's start the ball rolling with this flyer template that you can use to promote your kindergarten. Use this to create a positive impression on parents in order to convince them to have their children enrolled in your school. With its eye-catching theme, this template can definitely attract attention from both children and adults.
7. Colorful Rustic Kindergarten Flyer Layout
Ensure parents that their children will be in good hands when they enroll them in your facility. With this creative flyer template in PSD, you can mention the reasons why the children will love your kindergarten facility. Also, don't forget to leave some space on the bottom part of the layout for your contact number.
8. Flat Themed Kindergarten Flyer Format
If you're looking for a flyer template that you can easily customize, then this one would probably be the one for you. And if that wasn't enough, this template also comes with an Information and a Read Me file to provide you with references. Promote your kindergarten in the best possible way by using this template.
9. Editable Layered Kindergarten Flyer Example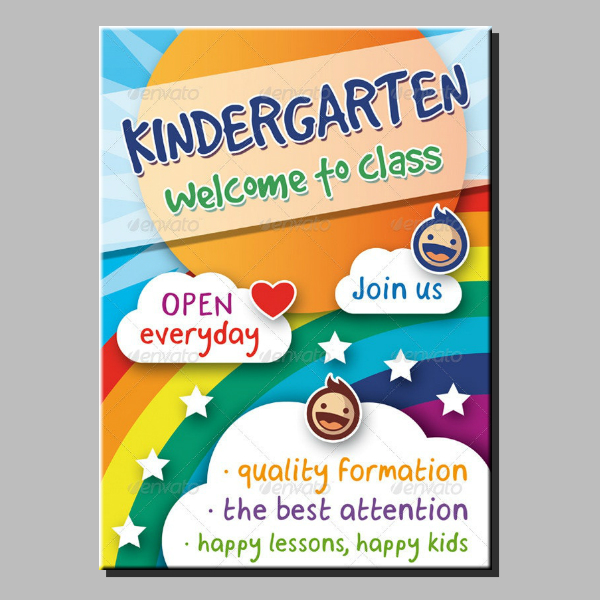 For a template that's simple yet colorful, this one is guaranteed to easily attract attention as long as it's placed in an area with heavy foot traffic. This template already comes with graphical elements and you're allowed to customize the colors and text by using Adobe Photoshop. What are you waiting for? Download this template now.
10. Colorful Modern Kindergarten Flyer Sample
Keep the look of your template exciting and fun in order to keep children motivated to go to school. By downloading this editable flyer template, you can convey your message in the most interesting way possible. Although this template doesn't come with images, links are provided for the fonts that look great with this layout.
11. Kindergarten Daycare Nursery Flyer Templates
If simple and modern are your preferences when it comes to flyer designs, then you probably should check this template out. This flyer template comes in not one or two layouts, but a total of three creative layouts and color schemes. We can assure you that whatever layout you're going for, your flyers will indeed draw in an audience.
12. Clean Minimal Kindergarten Flyer Format
Going for a minimal layout is great for a lot of reasons including easy editing and faster rendering. Aside from that, a clean layout can also help in putting more emphasis on the flyer's content while still keeping it look presentable. For photos and links that you can use with this, check out the separate instruction file.
13. Creative Printable Kindergarten Flyer Example
Whether you're inviting enrollees to your facility or you're promoting an event that's organized by your school, this would be the perfect flyer template simply because of how artistic it is. Other than that, this flyer template is also highly versatile and can easily adapt to its purpose. Lastly, this template comes with free fonts, icons, and unlimited colors.
14. Modern Kindergarten Invitation Flyer Design
Here's a flyer template that you can use to promote your kindergarten and gather enrollees. Everything about this template is fully editable including the logo, images, and text, and it's all because of its smart objects. If you like this flyer template, then you might also like its kindergarten brochure counterpart.
15. Open Admission Kindergarten Flyer Template
Make it known that you're kindergarten facility is already accepting enrollees and do it by using this flyer template. Aside from simply notifying them with that information, also provide them with reasons as to why they should choose your facility over others. Since this is a template in PSD, make sure to use Adobe Photoshop for editing.