Flyer
18+ Soccer Flyer Templates
Soccer is a physical and teamwork sport. What makes it so interesting is that you will have to kick the ball to the goal to earn points. But it's not that easy because you have to go through a team that defends it. That is why it takes teamwork to get to that goal. Aside from that, this sport is also cool because you can meet a lot of friends and learn the importance of working together as one team. This type of recreational activity is played all over the world. When promoting a soccer event, you will surely need marketing tools to advertise it. One of the tools that you will be needing is the flyer. This kind of strategy will help you disseminate the message. Below are the steps to make one.
Table of Content
5 Steps on How to Make a Soccer Flyer
Step 1: Determine the Type of Soccer Event
You need to decide what kind of soccer event you want to host. Is it a league, a championship cup, or a Bootcamp? Whatever it is, you need to provide the objectives and the purpose of your event.
Step 2: Book the Venue and Keep Your Details Complete
The venue must be booked first before you put it on your flyer. Then, finalize the date and time of the event. Don't forget to invite players so that they can prepare for the match. You should also put the ticket price.
Step 3: Edit Your Flyer
The next thing you need to do is to create the layout. It is where you put the pictures, text, and design of your flyer. Editing tools such as Adobe Photoshop, Illustrator, InDesign, and Publisher are commonly used by editors to make one flyer. Make sure that your layout is unique and your design should also be eye-catchy.
Step 4: Proofread Misspellings and Grammatical Errors
Before printing your flyer, you need to check if the spellings are correct. You also need to check if there are no grammatical errors. If none, you can proceed to step 5.
Step 5: Print and Publish Your Flyer
After steps 1 to 4, you can print your flyer. Post your flyer in public places such as parks, schools, malls, and hospitals. In the same way, you can post your flyer on social media such as Facebook, Instagram, and Twitter.
18+ Soccer Flyer Templates
1. Soccer Flyer Template
2. Soccer League Night Flyer Template
3. Soccer Sports Flyer Template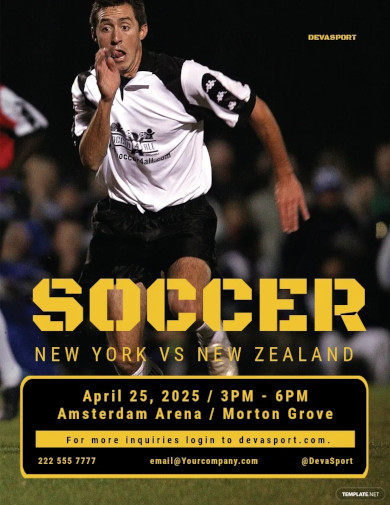 4. Best Soccer Cup Flyer Template
5. Soccer League Flyer Template
6. Soccer Mania Sports Flyer Template
7. Soccer Match Flyer Template
8. Euro Soccer Flyer Template
9. FIFA Tournament Flyer Template
The Fédération Internationale de Football Association, also known as FIFA, is a non-profit organization that describes itself as an international governing body of association football (according to Wikipedia). Its world cup series is the most prestigious football event in the world. Tough football teams from all over the world will compete for the championship cup. And if you are planning to promote this kind of event, you can use this flyer template here.
10. Soccer Madness Flyer Template
This template has a unique layout, and its design helps you put the information you need to invite the audience. You won't regret using this flyer template. Download the sample template now, and it's yours!
11. Soccer Tournament Flyer Template
Persuade crowds to watch the soccer tournament live by using this flyer template. Invite them to cheer for their favorite team as they watch this game. You can easily download the template here!
12. Soccer Cup Flyer Template
Use this flyer as a promotional tool to boost your soccer cup event.  Let the crowds witness one of the biggest competitions in soccer. Grab this flyer, and it's yours. Available formats are in Illustrator, MS Word, Pages, Photoshop, Publisher.
13. Colorful Soccer Flyer Template
Try this flashy type of flyer to promote your match. Sample details and information are provided on this template to serve as your guide. This flyer will surely entice the community to participate in this kind of event. You can download this template now!
14. Soccer Sports Campus Flyer Template
Don't hesitate to invite crowds to watch a live match. Let them cheer their favorite team as they witness the game. You can use this flyer to entice them to watch. This flyer template is available formats are in illustrator, MS Word, Pages, Photoshop, and Publisher.
15. Soccer Flyer Template
Soccer is one of the most popular sports in the entire world. It's a kind of recreational activity that helps you meet new friends and reduce the risk of getting illnesses. So, if you are planning to conduct an event like this, you can use this flyer to promote it. Grab the sample template here.
16. Soccer Tryout Template
Some people want to be a part of a soccer team but could not join. So, invite them for a tryout by using this flyer. It's an effective way to convince them to enter this kind of sport. You can download this flyer here!
17. Summer Soccer Camp Flyer Template
Soccer camps help you learn more about the strategic ways to play this kind of sport. It makes you focus on how to aim for a goal. If you are planning to have this kind of event, use this flyer to entice crowds to register. This template is easy to use. You can download it here.
18. Soccer Club Flyer Template
Increase the number of your members by using this template. This ready-made template is designed to help you create the kind of flyer you want. You can download this flyer template now!
19. Street Football Flyer Template
Street Football Tournaments are an informal type of soccer matches that do not require any soccer apparatus, big field, officials, and markings. It utilizes fences as goals and walls as markings. It encourages soccer enthusiasts to play this kind of game. So, if you are planning to have this kind of event, you can use this flyer to entice crowds to register on the game. Download now, and it's yours.
More in Flyer