Flyer
11+ Real Estate Promotion Flyer in Illustrator | InDesign | Word | Photoshop | Publisher | Pages | PDF
Running a business entails extensive efforts to promote a particular product or service to the target market. With the right marketing campaign, a company can persuade prospective customers or clients to avail of their business offers. Even in this digital age, print advertisement remains an effective promotional tool. In fact, 56% of individuals trust print advertising than any other marketing method. If you are a realtor, investing in cost-efficient print materials such as a flyer will be a good choice. Provided below are more than ten real estate flyer templates you can make use of to help you promote your business.
Table of Content
11+ Editable Real Estate Promotion Flyer Templates
1. Real Estate Broker Promotional Flyer Template
Grab the attention of your target market with the help of this real estate broker flyer template. It features high-quality images and original artworks you can make use of when designing your flyer. Moreover, you can edit the content of this file in several applications such as Illustrator, InDesign, MS Word, Photoshop, and Publisher.
2. Real Estate Company Promotional Flyer Template
This simple yet visually aesthetic flyer template is a sure way to entice the customers to do business with your company. It comes with suggestive content; thus, making the flyer-making process a whole lot easier for you. You can print this file in A4 and US paper sizes for your convenience.
3. Real Estate Agent Promotional Flyer
If you are a real estate agent and you're looking for a promotional material that will help boost your sales, then this Real Estate Promotional Flyer is for you. With this template, you won't have to worry about spending much of your time in creating a flyer. Get yours at an affordable price!
5 Steps to Design an Effective Real Estate Promotional Flyer
Step 1: Know the Importance of Fonts and Colors
The right selection of font style and color scheme to use in your design is the key to create a promotional flyer that will stand out. If your real estate company has a signature font and color, then it is best that you make use of it. However, you should restrain yourself from using more than three colors since it is most likely to defeat the purpose of your print material. For the fonts, avoid using decorative ones to ensure the readability of the flyer.
Step 2: Write a Catchy Headline
Catchy headlines spark up interest or curiosity; thus, persuading the recipients of your flyer to read its content from beginning to end. If you are offering a limited time discount or giveaway to the prospective customers, then be sure to highlight it in your flyer.
Step 3: Attach Photographs
A photograph is one of the most important elements a print advertisement should have, especially when you are selling a property. For a unique flyer design, attach high-quality photos of the property your company offers to the market. You should be able to provide a sneak peek of the life they're going to experience when they avail of the property. You may hire a professional photographer to do the picture taking for you. They usually have the talent to make an elegant home look more luxurious and appealing to the eyes of the viewers.
Step 4: Include a Call to Action
An effective call to action provokes an immediate response from the readers of your flyers. Aside from the details about your company and the property you are selling, you should also write a compelling call to action statement. Moreover, make it easy for the readers to reach out to you by providing contact details such as an email address and a contact number.
Step 5: Distribute in Strategic Locations
After finalizing your flyer layout, design, and content, print it on a high-quality paper to achieve a desirable printing outcome. Lastly, distribute the advertising material in areas that generate high foot traffic. You may also mail or distribute the flyers to your target market.
4. Real Estate Marketing Flyer Template
5. Stylish Real Estate Flyer Template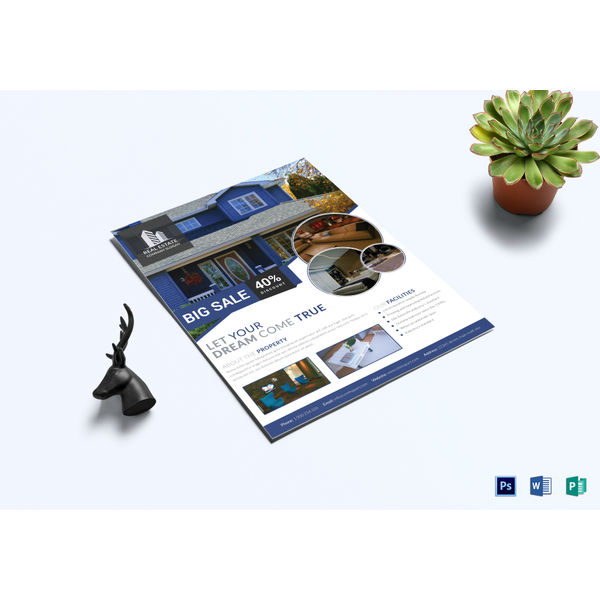 For your company to stand out, you need to have a creative marketing material. However, if you don't have the luxury of time to create one, feel free to download this Stylish Real Estate Flyer Template. All you have to do is to edit its content to best suit your needs, and you're good to go! Download now!
6. Downloadable Real Estate Flyer
Be a step ahead of the competition with the help of this Downloadable Real Estate Flyer Template. This document is fully customizable and professionally designed, which enables you to come up with an effective promotional material in a blink of an eye. You can download this file in all versions of MS Word, Photoshop, and Publisher. Get yours today!
7. Real Estate Open House Flyer Template
This Real Estate Open House Flyer Template helps you create a cost-efficient print advertisement for your business. We guarantee you that with this template, you don't have to exhaust your time and effort in designing a flyer. What are you waiting for? Click download now!
8. Free Real Estate Flyer Template
Be on top of your game with this minimalist yet classy real estate flyer template. This template comes with high-quality images and original artworks, guaranteed to give you a hassle-free flyer-making process. It is also downloadable in several file formats such as Illustrator, MS Word, Pages, Photoshop, and Publisher. Plus, it's free! What else could you ask for? Download now!
9. Editable Real Estate Flyer Template
Sometimes, you don't have to include lots of text, images, and graphic elements in your design for it to look appealing—a minimalist design style would be enough. If you're looking for ways to strip away all the unnecessary elements in your flyer layout, this minimalist real estate flyer template is for you! Get yours for free!
10. Real Estate Flyer in Publisher
Effectively market your real estate business with the use of this simple real estate flyer template. By downloading this file, you won't have to create a flyer from scratch. Moreover, this template is instantly downloadable in numerous file formats, including Microsoft Publisher. Hurry! Get your template today!
Promoting your real estate business will be easier when you make use of this well-crafted real estate marketing flyer template. This template allows you to modify the content, including the colors, text, and images. Make haste and download this template today!
11. Real Estate Modern Promotional Flyer Template
12. Real Estate Promotional Flyer
Entice new customers to avail of your business offers with this Real Estate Modern Promotional Flyer Template. With this template, you can feature photos of both the interior and exterior part of the house or apartment you are selling. Download now!
More in Flyer
| | |
| --- | --- |
| 13+ Real Estate Flyer Templates - Illustrator, MS Word, Photoshop ... | 19+ Real Estate Flyer Templates - PSD, PDF, Word, Google Docs ... |
| 13+ Real Estate Flyer Templates - Illustrator, Word, Photoshop ... | Real Estate Company Promotional Flyer Template: Download 898+ ... |
| 33+ FREE Real Estate Flyer Templates in Adobe InDesign ... | 36+ Real Estate Flyer Templates - PSD, AI, Word, InDesign Free ... |
| 63+ FREE Real Estate Flyer Templates in Microsoft Publisher ... | FREE Home Real Estate Flyer Template - Word PSD | Apple Pages ... |