Promoting and marketing your restaurant or eatery using flyers is one of the most effective tricks there is. A restaurant flyer can feature menus, special offers and discounts, new address etc. There is so much you can insert in a restaurant flyer. What's more, with HTML 5 and CSS3, your flyer design and content will shine even more, and win you more diners. Check out our lineup of sample restaurant flyers loaded with options and features! You can also see premium flyer templates.
663+ Restaurant Templates in PDF, Word, Excel, PSD, Google Docs, PowerPoint, InDesign, Apple Pages, Google Sheets, Publisher, Apple Numbers, Illustrator, Apple Keynote, Google Slides, HTML5 - START DOWNLOADING
Restaurant Flyer Template
Restaurant Fundraising Flyer Template
Restaurant Flyer Templates
Flyers are one of the useful tools for marketing in any business. Whether you are a yoga teacher or running a company on your own, flyers will always help market your products or services. They are important in marketing because of the following reasons.
Flyers will help you reach your audience in many ways such as door-to-door mail drop, newspaper insert, instore distribution, and street distribution.

You can get creative with your flyer(s). You can get creative in designing flyers to get readers' attention.

It is also a low-cost strategy to market your business.

It is something tangible. Your Flyers should have substantial, solid, and reliable contents. It is because in doing so, you will be able to get your message to your audience and help you establish trust. 

Incentives: If you are designing your flyer(s), make sure the incentives of your service such as vouchers, and offers are included. It is because this will allow you to engage your audience positively.

Impact your audience: Flyers can be used to impact your audience in many ways. 

Personal touch: Flyers add a personal touch to your content. It will help your audience connect with your service in a humanly way. 
Vintage Restaurant Flyer Template
Restaurant Menu Flyer Template
Restaurant Grand Opening Flyer Template
Red Wine Tasting Flyer Template
Burger House Flyer Template
Vintage Wine Festival Flyer Template
Grilled Barbecue Fest Flyer Template
Smokey Barbecue Dinner Sale Flyer Template
BBQ Cooking Contest Flyer Template
BBQ Contest Flyer Template
Annual BBQ Festival Flyer Template
Free Restaurant Flyer Template
Restaurant Mexican Pizza Flyer Template
Fast Food Restaurant Flyer Template
Delicious Fast food Flyer Template
> The Coolest Templates To Spice Up Your Restaurant Flyers
Anyone who has been in the restaurant business for a while will know about the importance of good marketing and advertising. After all, you need to give your diners a reason to come back again and again! But marketing can burn a hole in your pocket, especially if you're just starting out. A restaurant flyer, however, is a cheaper and more convenient method of advertising your restaurant. You may also see Sales Flyer Template
> Why Is A Restaurant Flyer Important?
Without adequate promotions and marketing, how will people come to know about your restaurant? And it must be remembered that most diners have a short attention span, which is why you must find effective means of advertising that really gets the message across. One such way is by using a restaurant flyer. If you hand out flyers to your target audience, it is sure to grab attention and attract more customers to your restaurant. If you have taken the smart decision of using flyers, then you need to look up special flyer templates online without further ado!
> Types of Restaurant Flyers
Now make no mistake, there are different kinds of restaurant flyers you can choose from. For example, you have the simple flyer, which just contains the name of the restaurant and the contact details. While this maintains some suspense and intrigues the customers, people usually prefer an informative and detailed flyer when it comes to restaurants. These will contain the menu you serve along with essential details. Accordingly, your customers will be able to make an informed decision. You may also see Free Flyer Templates
European Restaurant Flyer Template PSD Format
For an European themed restaurant, there could be nothing better than this free restaurant flyer template. It is elegant, sophisticated and well designed. It also has sufficient space for you to include any relevant details that you want.
Pizza Restaurant Advertising Flyer Template PSD
If you run a pizzeria, or are famous for your amazing collection of delicious pizzas, then you need to take a look at this great pizza flyer template. You can add your pizza menu on the template, along with details about your restaurant as well.
Free Mulligans Tuesday Special Restaurant Flyer
Fast food joints have recently gained in popularity and such joints require special flyers. You can take the help of this amazing fast food flyer template. All you have to do is download it, and edit the details and insert those of your own restaurant.
Free Online Editable Family Restaurants Event Flyer Template
Some restaurants organize special events like karaoke to attract more customers. But you need to advertise that, don't you? Use a restaurant advertising leaflet in order to do that. It will help you promote your business just the way you want it.
French Restaurant Flyer Template Photoshop PSD Download
French restaurants require flyers that are classy, well designed and elegant. You can opt for this food flyer psd, and make the most of it. Just hit the download button and watch how it does wonders for your business.
Download Food Menu Restaurant Flyer Template
Your flyer should include the menu of your restaurant. That gives the diners a glimpse into what you have in store for them. That is precisely why you need to take a look at this food catelogue template. So what are you waiting for? Download it today!
Delicious Breakfast Restaurant Flyer Online Editable
Who doesn't love a good breakfast joint? However, there is no point of having a breakfast joint if people don't know more about it. Spread your brand's name far and wide with the help of this restaurant leaflet. Croissants. Freshly bakes buns. Muffins. What more could you ask for?
Customizable Restaurant Flyer Template PSD Desgin
Talk about a big, classic American burger! Make sure your customers know about your amazing range of burgers with the help of this great flyer. Once you download this template, you will be able to edit the details on it.
Flyer of Restaurant Bundle 10 Templates Download
The most important aspect of a flyer is its appearance. And this red and black template doesn't fail to impress. It looks really attractive and smart. Also, you can download it and print in in bulk. If you run a takeout counter, you can use this as a takeaway leaflet template; it will reduce the costs and give you the promotion that you require!
Editable Sunday Morning Restaurant Flyer Template for Free
Tired of the same old boring flyer designs? Then you need to try out these restaurant flyer examples. They boast of an unconventional design, and are really colourful. Also, what could be better than a template which is easily editable and customizable?
Download Best Steak Restaurant Flyer PSD Format
People love a restaurant which sells a good steak. If you are one of them, you  need to take a look at this food banner design. It is attractive, and yet has a formal tone. One look at this banner is sure to leave a lasting impression on the minds of the diners.
Burger Promotion Restaurant Flyer Template Premium
Introducing a new burger at your restaurant? Then you need to ensure that maximum people know about it. You can do so with the help of a restaurant pamphlet. You can add a large picture of the burger itself, along with mouth watering details about it.
Seafood Restaurant Flyer Template PSD Premium Download
Are you looking for restaurant flyer ideas for a seafood restaurant? Then you cannot afford to miss out on this template. It comes with amazing images of some of the best seafood dishes, which will surely grab the attention of your diners.
Winery Restaurant Flyer Template Download
Are you organizing a wine tasting event at your restaurant? That would be great for publicity! But in order to make sure that a large number of people turn up, you need to hone your marketing skills. Use this restaurant flyer download to create a great flyer for your event.
Restaurant Flyer PSD Format Download
Serve the best dishes with exciting designs and color schemes on the platter. Customizable layouts are supported whereas the downloadable option provides the professionals with the needed flexibility besides the multiple logos!
Restaurant Opening Flyer PSD Template
Stock photos are included which can be well teamed up with certain vibrant colors and featured font sets. With a minimalistic interface and certain scalable features, this option comes in real handy for any shaping up any given business.
Pizza pizzeria Flyer Design PSD Format
This flyer has in store several stock photos, enlisted within the extensive image gallery. Other features include essential PDFs and a fully customizable interface for the users besides the option for image uploads.
Restaurant Flyer PSD Design for $6
Take the event planning constraint by the scruff of the neck with this exciting yet utilitarian template. Extreme flexibility and a customizable interface are present whereas the vibrant colors provide the needed boost.
Flyer Template for Coffee store
Get some captivating images and fonts with this useful template featuring multiple template designs and custom posts! Other features include a star studded layout besides customizable files and a print ready interface.
Vintage Style Restaurant PSD Flyer Design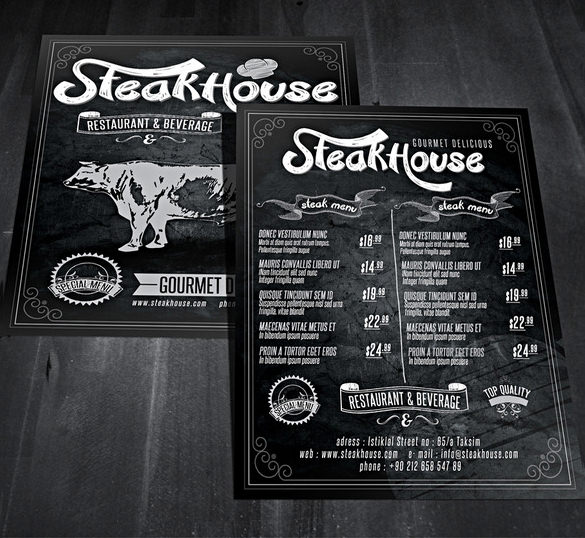 This template makes the best use of corporate designs and a classy interface. With a user friendly layout and multiple color selections this one ranks higher than most followed by the additional flexibility rendered.
Multicolour Restaurant Flyers PSD
This template has 3 templates in addition to the multiple color selections and customizable files. PSDs are supported whereas changeable fonts do cover up for the lack of images thus providing added flexibility.
Typographic Restaurant Promo Flyer
Restaurant Tri-Fold Template Download
This theme is best suited for event based sites, as it includes a built in booking app and events calendar. Easy to set up, the theme looks very beautiful.
Beautifully Designed PSD Restaurant Flyer
Make the dishes look more appealing with this awesome template featuring extreme innovation. Cutesy pictures and a print ready interface make the pages come to life whereas the customizable layout comes in handy.
Print ready pizza Flyer Template
This flyer provides a modern outlook based on a cleaner and simplistic interface whereas the print ready interface projects a viable option. Vibrant colors are included in addition to certain Adobe illustrators and editable layouts.
Cafe Amore Flyer Template
This template provides additional flexibility to the professionals in the form of text and color based modifications. Fancy typographic options can be included whereas the configurable interface renders high end support.
Indian Restaurant Flyer Template
This template showcases some flexible options like vibrant colors and typographic support. Some of the other features included are multiple formats supported besides the print ready interface and customizable menus.
PSd Advertising Flyer for Pizza Restaurant
With deep colors and a captivating design, this template ranks highly among its contemporaries. Matte based hues and an editable layout render additional support whereas CMYK compatibility comes in handy.
PSD Restaurant Flyer Black Template
This template supports crispier colors in addition to certain vibrant and picturesque elements. Changeable background and scalable layouts make this option hugely popular in addition to the print ready interface.
Amazing Flyer Template for Bistro
A fully editable interface is sported besides the CMYK color compatibility for the professionals. Original PSDs are included in addition to the highly organized layers and a print ready interface.
Delicious Moments PSD Flyer Template
Varying bleeds and a help file is included with this template in addition to the editable layouts. Two color options come in handy whereas the layered PSD files and multiple map versions certainly pack a punch.
Catering menu Flyer Template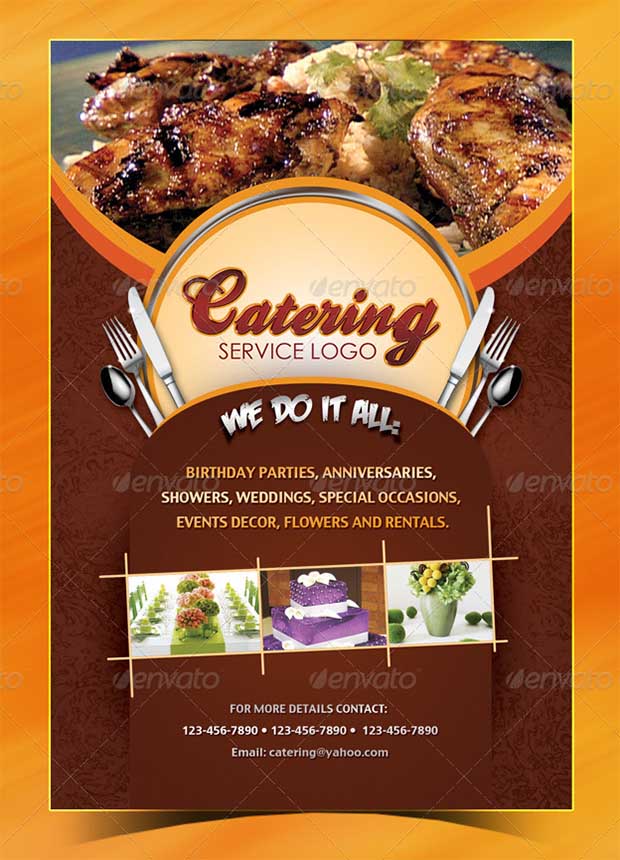 A fully editable interface is provided by this template which also features a print ready and configurable interface. PSD files and multiple color schemes are included in addition to the CMYK compatibility.
Mexican Styled Restaurant Flyer Design
This is one essential template which provides CorelDraw support in addition to the multiple color selections. Customizable layout files are included in addition to the stock photos and innovative artwork.
Free Restaurant Flyer Template
This template is an exciting one which features multiple color schemes and varied stock photos. Fancy text additions are allowed whereas changeable backgrounds are also supported for the designers with preferences.
Chinese Restaurant Flyer Design
This template features stylish designs which can be well teamed up with innovative hues and traditional motifs. Some of the other features include header texts and a highly resoueceful layout for the designers.
Fast food Restaurant Flyer Design
A flyer with several useful templates and extremely vibrant color schemes come in handy for the professionals! Photo replacements are supported whereas the PSD files are well organized besides the free font availability.
Fine Dining Free Flyer Template
A template which supports multiple formats in addition to the customizable interface and a print ready interface! Several templates are supported whereas the essential color schemes make the designs come to life.
Lunch & Dinner Flyer Menu Design
Replaceable placeholders and elegant designs are supported whereas the varying bleeds come in handy for the designers. The print ready interface can be well teamed up with the innovative layout thus making the pages look awesome.
Dark Colour Restaurant Menu Flyer Template
This template comes with multilingual support which provides flexibility to the professionals besides a design oriented layout. Personalizing the templates has never been this easy before with the print ready interface.
Pizza Restaurant Flyer Template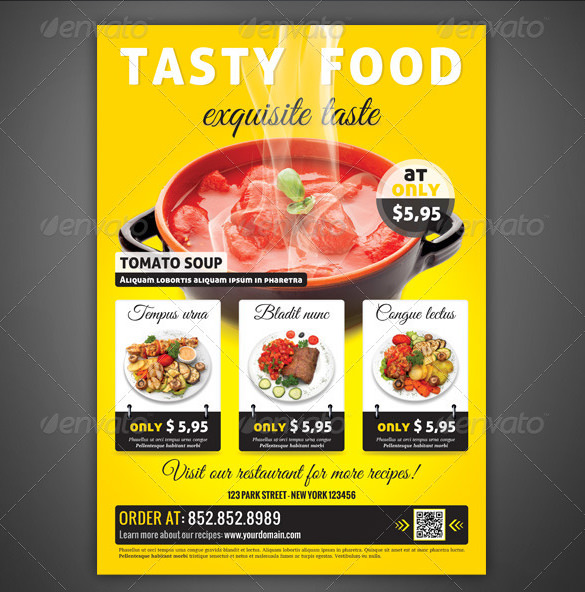 This template projects the true essence of any restaurant with multiple fonts and color schemes. Extensive customization is an option besides an extended image gallery and a print ready interface.
Best PSD Bistro Flyer Template
An affordable rate and user-friendly approach make this template an instant hit among the professionals. Better colors and a print ready interface render additional support besides the stock images and a customizable layout.
PSd Flyer Template for Restaurant, Cafe
Get access to the best restaurant deals with this innovative template featuring multiple designs and a configurable layout. Additional options include an extended admin panel besides the print ready interface.
Spicy Mexican Menu PSD Flyer
Being a classy option, this template features a wide range of resourceful features like labeled texts and customized menus. Vibrant hues make it highly useful whereas the conventional designs come in handy for the professionals.
Food Restaurant Flyer Bundle
This template projects some high-end techniques associated with cleaner imagery and coding schemes. Cloud support and scalable page viewing options are also available for the customers to make use of.
Lounge Restaurant PSD Flyer
Come closer to your loved ones with this exceptional template featuring romantic colors and a configurable interface. Essential brochures and an extended admin panel are included whereas the scalable framework works like charm.
Thanksgiving Restaurant Flyer Design
Enjoy the Japanese delicacy with this extremely vibrant template showcasing stock images and essential PDFs. The print ready interface comes in handy whereas image uploads are well supported besides a customizable layout.
PSD Flyer for Cafe, Bakeries
This is one exciting template which features certain customizable files and color selections. Other features include scalable layouts and a print ready interface which come in handy for the professionals and designers alike.
Italian Restaurant PSD Flyer Template
This template sports a dark palette of colors and exciting features besides a contrasting background. Other features include authentic shades and featured font sets in addition to the print ready interface.
Food Promotion Flyer Template
Get the most advanced features with this resourceful template which includes multiple color schemes and a minimalistic layout. Textual support is provided in addition to the print ready interface for the professionals.
Burger house
This template comes with a functional layout which also includes a print ready interface and multiple color schemes. Other essential features include customizable menus and an extended admin panel.
Steakhouse – Free Restaurant Flyer Template
Matching word and publisher templates are featured in addition to a highly configurable interface. Multiple pictures and useful graphics are included besides varying page sizes and a completely customizable layout.
Moreover, you get a world of choices in terms of the themes of these flyers. Here's a list of the most impressive and best suited restaurant flyer templates of the modern times.
> Customization of Restaurant Flyers
If you're new to the restaurant business, creating a flyer might be a tough challenge for you. If you still haven't come across good flyers, then you can take the help of amazing flyer templates online. The best part about these templates is that they can be customized easily. That means, once you download the template, you will be able to incorporate any information you want, any way you want. What moe could you ask for, really? You may also see Party Flyer Templates
> Tips While Making A Restaurant Flyer
Making a restaurant flyer is no child's play; you have to pay a lot of attention to the details. You can keep these tips in mind while creating it-
Use a good colour scheme while making the flyer. Make sure the colour scheme you choose goes with the theme of your restaurant
Pay attention to the little details. Include the name of your restaurant and other contact details on the top.
Include a catchy headline which grabs attention. A humorous headline will be the best way to promote your business.
Include attractive images on the cover. After all, that is the first thing people notice!
Design your menu in an appealing way. Mention all the food items you offer in an organized fashion inside the flyer.
> We Are Here to Help!
We know that marketing and advertising is the key to a successful restaurant. That is why we have come up with some of the best restaurant flyer templates at template.net. Each template has been specifically designed to suit your needs; take a look, and we assure you that you won't be disappointed.