The future is a dreamy and a heart-stopping thing to think of. Even if its years and years ahead of us, we can't stop wondering how life at that time will look like. People might be riding in flying cars and can travel easier from one place to another in just a blink of an eye. Space travel is also a common trend by that time, and society might be more chaotic than it is now.
As of now, we only have our creative minds in using the future as a theme for parties, gatherings, and other artistic endeavors. The futuristic theme can also be used in designing flyers for disco parties and the likes. It is an attractive option compared to the tried and tested ones that we usually see being passed around. You may also see flyer samples.
Electro Futuristic Flyer Template
Futuristic Club Flyer Template
There is so much creative freedom in using futuristic themes for design. Flyers are a sure fire way of promoting your flyer as it is quickly read by people who receive it. To get you started in designing, go over our collection and pick what suits your taste.
There is this uneven mix of fear and fascination when we visualize in the future. It has been portrayed in different ways for thousands of times on television, movies, and books.
Futuristic Club Flyer
3in1 SPACE Flyer Template
Futuristic Minimal Flyer Template
Futuristic Flyer Template
How To Make A Futuristic Flyer
There is so much work to be done when it comes to futuristic flyers. Some elements have to be added in and colors have to be experimented. Here are ways to design a futuristic flyer.
1. Use futuristic elements.
Spaceships, robots, and space monsters are some of the elements used in making a futuristic flyer. You can scratch this out if you plan on going minimal using only colors and shapes. For a more convincing appeal, include these elements, but keep them at a minimum. It's still good to have a little symbolism on the flyer but don't go overboard.
2. Play with colors.
Mix dark and bright colors for this kind of flyer. Have an eye in creating the perfect mix of colors that look attractive. You can go for an all bright or all dark color depending on the idea of your design.
3. Experiment with shapes.
Shapes in futuristic flyers can be tweaked a little. It can break from its usual form to create another form that does not annoy the eyes. Try going a bit extra and see where the design goes.
4. Use simple fonts.
The fonts should still be readable no matter how simple or flashy the design is. Use simple fonts to make the flyer catch more attention. These fonts matter as much as your design does. No one likes to read a flyer that has incomprehensible letters, right?
Futuristic Flyer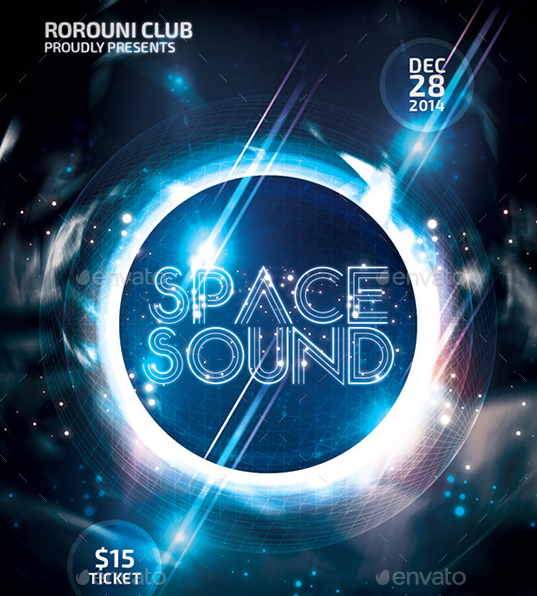 Futuristic Flyers
Futuristic Flyer
Futuristic – Flyer
Why use a futuristic flyer?
A futuristic flyer looks flashy and steely at first sight. It is attention-grabbing and won't allow you to only take a look. The use of colors and shapes is an integral part of a futuristic flyer. These contribute heavily to the overall charm of the flyer. Here are other reasons why you should use one.
1. It attracts attention.
Futuristic flyers grab attention because of its mixture of bright and dark colors, and the asymmetrical arrangements of shapes which make it seem otherwordly. It is a feast on the eyes to see something that seems cluttered but artistically done. Another good thing with futuristic flyers is you can save it as a keepsake and make it an inspiration for your own design.
2. Being unique.
These kind of flyers are unique in their own way. How every detail is arranged is an art that needs to be mastered. It gives off that "into the future" vibe commonly seen on movies and television series.
3. Standing out.
A futuristic flyer for an event is a stand out among the rest. It offers a different kind of feel than the usual flyers with a simple template. Futuristic flyers are a crossover of simple and flash design with a bang.
4. Connect with people with the same hobbies.
You may meet people who share the same hobbies with you using your flyer. In science fiction, the future is a major plot device that calls for an extensive buildup of another world. There are so many possibilities for it.
Futuristic Flyer
Futuristic Flyer Vol. 7
Space Futuristic Flyer Design
Futuristic Flyer/Poster
Portrayal of the Future In Pop Culture
The creative minds behind our favorite movies and television shows have created another dimension filled with beautiful and haunting visions of the future. The shows follow themes of how the future looks like and how our heroes wiggle their way out of terrible situations. It is often interwoven with romance, melodrama, tragedy, and thriller themes. These kinds of content have successfully kept people on the edge of their seats. Production value of these shows are topnotch and high calibre. The shows have become an eye-opener of how our future may look like years and years from now.
We have broken down some of the best futuristic themes in pop culture. The list is made randomly as all are equally popular in their own right.
1. Extraterrestrial creatures.
Creatures from another planet are perhaps the most common plot devices on screen. These creatures look very differently from us. From the skin to the eyes, nose and language, you would fear them as they are. These creatures exist from a far away galaxy and their stories are either set in the present or future. Some of them have been endeared to the masses for their quirky qualities despite how they look.
2. Intergalactic and space wars.
War between galaxies is a familiar trope using futuristic elements. Most of these movies begin with a back story on how the war began and develops into a love story between two people from different worlds. The setting may exist in the future or in a parallel universe. It is heavily edited with special effects to keep up with the visual satisfaction of the people. These kinds of movies often ends in a larger than life battle, and a close examination of good and evil.
3. Effects of technology.
Have you ever wondered how the technology we're using now can affect the future generations? Some shows have been dealing with this kind of topic now. The stories shown are the effects of social media on people and how it endangers a person's privacy, and other unexpected consequences brought by technology. The British television series Black Mirror is a show that explores this kind of theme.
4. Dystopian societies.
To start, a dystopian society is one that is filled with poverty, oppression, abuse of the government, and corruption. Movies set in the dystopian future often have a theme and a pressing situation that propels the development of the whole story. Most of these kinds of movies revolve around a teenage protagonist who want to change the abusive system. He will do whatever it takes to make his goals come true, no matter what the cost. Examples of these are The Hunger Games, Divergent and Maze Runner. Often, dystopian societies reflect the current situation of our society. It gives the looming possibility that our society will most likely go there in the future.
5. Global disasters.
Flash flood, landslides, an asteroid hitting the earth, and global warming are some of the things used by writers and show creators to make a story about the future of the world. These global disasters can also happen in the timeline of the story to provide a twist or a conflict.
6. Artificial intelligence.
We have seen enough robots on screen in our lifetimes. But another thing showrunners have tackled on is the theme of artificial intelligence. This means seeing robots who think on their own via a system made by their creators. Stories about this have captivated the audiences and sparked the endless wondering on how it could potentially help and destroy humans.
The future will always give us a haunting vision, but in our lives, it's hard not to look forward to whatever it might bring. Fortune, good health, and a whole lot of possibilities await. And as for this world, let's just wait in our lifetime and see what it will become.