Among all the things you can do to advertise or promote, a sales flyer should be among the first of your choices. This is a tactic that has been around for a long time and continues to be effective even amongst new technological advancements, and it is easy to see why. It is easy to produce, cheap to make as well and is timeless enough to still be used to this day and for the foreseeable future.
Those who are interested in creating their own sales flyer template for the first time will still need all the help they can get, though. Fortunately, there is ample information around and enough templates to get anybody through this task, which does not need to be overly complex or difficult to pull off. Below are all the necessary details and examples that you may want to look into:
Elements of a Good Sales Flyer
Welcome to the first step of creating a sales flyer. Designing a sales flyer may not seem like much, but the reality is that there is a lot of things to take into consideration. Keeping in mind certain elements will go a long way in making sure that your output is up to the task that you are intending it for. What are those elements, you may be asking? Take a look below and see for yourself.
A clear, concise purpose: First you need to ask yourself what you are trying to do with the flyer. Focus on a single aspect to promote; whether it is the selling of specific products, inviting customers to certain events, or inviting them to use a particular service.
An eye-catching headline: In order to catch the attention of your audience, you need to have a headline that will catch their eye. The reason for this is that a headline will be the most likely thing they will see first, so it would be in your best interest to make it as interesting for them as possible.
A motivating message: Your message would be your CTA, or call to action line. This should be something that would make your readers or audience decide to take action. Words like "call today" or "buy now" are all worthy of a CTA, as they let your audience know that they are free to act on what they have just read.
Excellent graphics: Vivid images will just make your flyer all the more attractive. Utilizing words alone would be pointless; take advantage of the space you've got me using popping pictures and powerful imagery. The company logo would also be a must-have for your flyer.
Your contact information: Among all the things to include, your contact information is one of the most crucial yet overlooked aspects of a flyer. People who become interested in what you have to say will want to contact you and how would they be able to do that if they don't have any of your details?
10+ Sales Flyer Templates
Sales Market Flyer Template
Yard Sale Flyer Template
Garage Sale Flyer Template
Pizza Sale Flyer Template
Product Sale Flyer Template
Real Estate House Sale Flyer Template
Open House Sale Flyer Template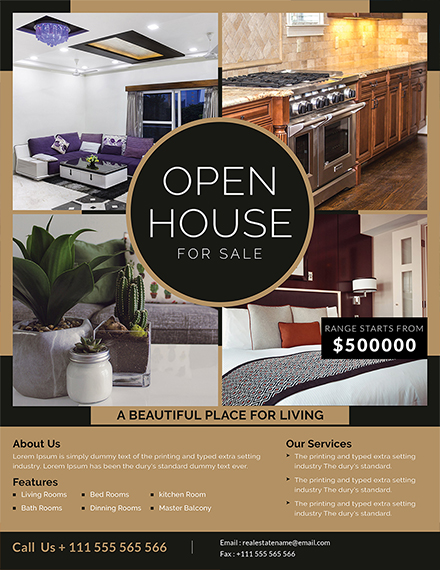 Details
Size: (US) 8.5 x 11 Inches
House for Sale Flyer Template
Sale Flyer PSD Template
Fashion Sales Flyer Template
Fashion Retail Sales Flyer
Steps to Make a Great Sales Flyer
Now that you have gotten the elements and examples out of the way, what you may want to focus on now would be the actual steps you can take towards creating your own sales flyer. Although there will be some of you that will, at some point, discover their own preferred methods for creating flyers, the ones stated below are easy enough for any beginner to follow to a tee.
Select a good image: The main image must be chosen to sell your message. This can be your logo, or the specific products or services. Due to the limited space available to you, the images you consider must have enough impact for your flyer to be effective regardless of your final choice.
Craft the message: A flyer isn't just a smaller poster you can put in someone's hand. It needs more text than that, but far less than brochures. Come up with a message that is brief enough yet powerful, so that you can entice others towards your product or service.
Incorporate color: Should you get the opportunity to print in color, it is advisable to take it. There are important psychological implications to the use of color, which can influence how your customers react to your flyer.
Pick your size and print: For many flyers, it is standard procedure to have a size of 8.5 x 11 inches, making this an excellent starting point. When it comes to printing out your flyer, professional services are certainly attractive options although you may also print on your own if you have the equipment.
Tips for a Great Sales Flyer
Although the steps mentioned above should be enough, there are also some extra tips that can help you with your sales flyer. After all, everybody needs a little extra boost every now and again, so kindly take heed of the following tips:
Function before form: This particular prioritizing is to help you in getting your mindset right. Although design plays a great role in flyers, it cannot be at the expense of its function. Information must be concise and easy to read.
Keep it simple, but not boring: Few will appreciate anything complex when it comes to flyers. If you want to reach a broad audience, you need to keep it at a level that doesn't require too much effort on the reader's part. With that said, simplicity is not synonymous with boring and you should still strive to appeal as much as possible to the audience.
Utilize tech appeal: Although most people reading this would be preparing flyers for print, it must also be said that neglecting online opportunities would be a huge mistake. Advertise what you can on websites and apps too. Take what you've got on your flyer and put it online for your audience's benefit.
Being approachable works: Never underestimate what a smiling face can do. It is a simple yet powerful statement that works even on print. Make a good visual impact with the positivity of a friendly face. Doing so will lower people's guard and make them more receptive to you and what you've got to say to them.
Types of Sales Flyer
There is no single sales flyer type that is universally used in all circumstances. As a matter of fact, entrepreneurs and organizations have at least three types in their arsenals. Below are said three types and what differentiates them from one another:
Mailers: This would be the popular flyer variant that is meant to promote certain products of services and can be sent directly to customers via mail. The ones most likely to employ this would be small to medium-sized businesses.
Catalogue: This would be the robust flyer that allows business owners the chance to provide customers with details regarding their brand new products or services.
Gift certificates: These are the flyers that also double as coupons or gift certificates for your business. Talk about killing two birds with one stone!
Sales Flyer Template Sizes
When it comes to flyer sizes, you can count on three primary choices. These would be the half-sheet, the standard, and the large format. For specifics, half-sheet is around 5.5 x 8.5 inches and is chosen for its minimal printing costs. The standard size is 8.5 x 11 inches and is considered an industry standard. Lastly, there is the large-format which is around 11 x 17 inches and is best for those documents that must be folded like broadsheet inserts, leaflets, and restaurant menus.
Sales Flyers FAQ
Is there a single specific method to create your own flyer?
No, although you can find useful steps and tips like the ones written above. As successful as you may be with those, you are also free to develop your own methods as you go along.
Is it always necessary for you to keep your customers in mind when making flyers?
Absolutely. The needs and wants of your targeted customers must always come first, since doing so is what will dictate the success of your flyers and your business in general.
What comes after the designing of your flyers?
After you have successfully used flyers to communicate your main message, the next step from there would be making sure that you engage your interested customers and sell your brand's products and services to the best of your ability.
What are the format file types when downloading flyers?
The supported file format types for each sales flyer template are bound to differ, but you can count on the following file formats to generally be available: MS Word, Adobe Photoshop, Mac Pages, Publisher, and Illustrator.
Template.net is the place to be if you are in need of assistance when it comes to the standardization of your business, the creation of your brand's identity, and of course, finding exemplary examples of sales flyers. Through these, you can develop business processes that are faster, bigger, and simply greater than ever before.