People love coupons and vouchers so much like who wouldn't, right? What could be better than enjoying an entire meal for free or for a discounted price? Promote your business by downloading one of our Meal Voucher Templates for you to offer to your beloved employees! You can make use of our printable, high-quality, beautifully designed, and easily editable Meal Voucher Templates in formats like Illustrator, MS Word, Apple Pages, Photoshop, and Publisher. Our 100% customizable products come in various layouts and high-quality images with a good combination of colors. It is easy to customize according to a different restaurant and hotel business. What are you waiting for? Use any of these voucher templates for you to satisfy your needs!
What is a Meal Voucher?
A meal voucher, or also known as the luncheon voucher, is a meal ticket or a coupon for a meal that is given to the employees as one of the employee benefits in the company. It is a small piece of paper that offers the holder the right to avail of any discount that can be exchanged for goods or services. Meal vouchers allow the employees to eat lunch and dinner at outside restaurants, hotels, cafes, and fast-food chains. According to a certain website, in many countries, meal vouchers have had favorable tax treatment. Vouchers are in the form of paper tickets that are replaced by electronic vouchers in the form of a special payment card. In other terms, meal vouchers are also considered as a gift card for a free buffet lunch, festival lunch, expensive food, and even cheap meals.
How to Create a Meal Voucher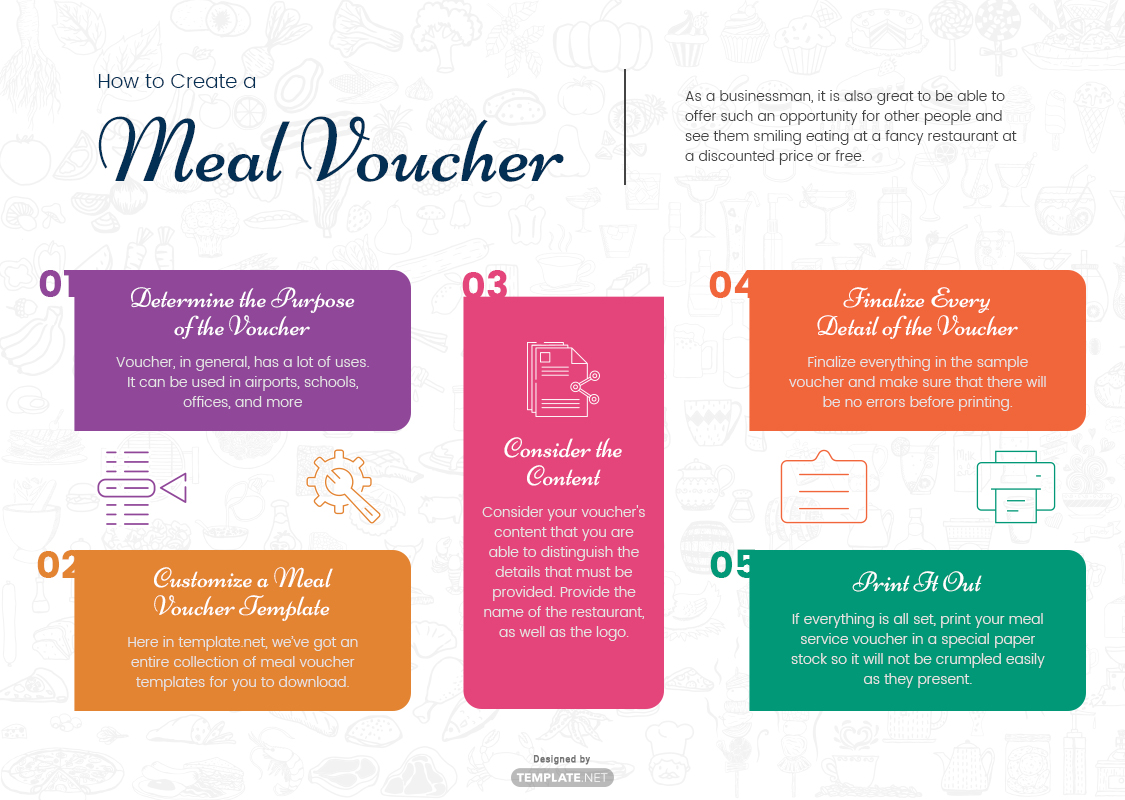 As a businessman, it is also great to be able to offer such an opportunity for other people and see them smiling eating at a fancy restaurant at a discounted price or free. Based on Statistics, 75% of consumers expect discounts or offers. If you're in the food industry, here are the following steps for you to be guided on how to make a meal voucher.
1. Determine the Purpose of the Voucher
Ask yourself what is your main purpose of the food voucher. Voucher, in general, has a lot of uses. It can be used in airports, schools, offices, and more. As you make a meal voucher, it is necessary for you to determine your main purpose, how the employees can use it, and what they can get from it.
2. Customize a Meal Voucher Template
Here in template.net, we've got an entire collection of meal voucher templates for you to download and to use so you will not have to start from a blank scratch meal voucher. Choose any of our printable voucher templates and you can open them on a suitable editing tool like Illustrator, MS Word, Pages, Photoshop, and Publisher. As you open your chosen template, customize the design by adding the graphical elements to your meal voucher to make it appealing to the eyes of the beholder. Add some images of the meals, or some icons of the restaurant. Technically, the templates here are already printable and you can just customize the captions and you are good to go.
3. Consider the Content
Consider your voucher's content that you are able to distinguish the details that must be provided. Provide the name of the restaurant, as well as the logo. Your details will not only stop there, but you also need to provide some terms and conditions for the employees to be guided with the voucher and you may also include other different perks that they can avail.
4. Finalize Every Detail of the Voucher
Finalize everything in the sample voucher and make sure that there will be no errors before printing the copies. It is also important to evaluate the designs to see if everything in the meal voucher is presentable, decent, and eye-catching. After that, you can start making the final touches on the design and content.
5. Print It Out
If everything is all set, print your meal service voucher in a special paper stock so it will not be crumpled easily as they present it to the establishments.
Read More
Earn 20% commission on every sale from your Share
Bloggers: Publish/Mention Template.net products on your website, blog, Social Media or Via Email & Earn affiliate commission of 20% for every sale