Graphic Design
Ad Sizes
Ads, whether they're printed or in digital form, come in various shapes, sizes, and formats, intending to target diverse audience populations. Read through our post to find out more about different ad sizes that you can use as a marketer or as a part of a marketing agency for digital or print media channels.
Table of Content
Ad Sizes Standard
Leaderboard
Leaderboards or super banners are a common selection for advertisers, placing them above the main content of a landing page with the size of 728 x 90 pixels to immediately catch the viewer's attention.
Large Rectangle
The large rectangle ad measures 336 x 280 pixels on web pages between paragraphs or at the end of text content.
Wide Skyscraper
A wide skyscraper is a website ad with a measurement of 160 x 600 pixels that stays within a reader's line of sight when scrolling through a webpage because of its tall state.
Medium Rectangle
The medium rectangle has dimensions of 300 x 250 pixels, also known as the square ad, appearing at the top of a webpage.
Skyscraper
The skyscraper ad fits more narrow spaces with dimensions falling at 120 x 90 pixels.
Half-Page or Large Skyscraper
The large skyscraper ads on web pages measure 300 x 600 pixels, covering more space on the screen to promote products, services, or events.
Mobile Leaderboard
Mobile leaderboards are the perfect dimension for mobile viewing, with measurement optimization of 320 x 50 pixels.
Ad Sizes for Digital – Social Media
Ad Size for Facebook
Facebook feed, Carousel, marketplace, and right column ads have resolutions for pictures of 1080 x 1080 pixels and a maximum display size of 600 x 600 pixels.
Ad Size for Instagram
The ad size for the Instagram feed measures 1080 x 1080 pixels, with the image file type being JPG or PNG.
Ad Size for LinkedIn
The recommended resolution for single and Carousel ad posts measures 1080 x 1080 with a 1:1 ratio, while video ads display with a 16:9 ratio, measuring at a maximum resolution of 1920 x 1080 pixels.
Ad Size for Twitter
Image ads for the Twitter website measure at 800 x 418 pixels or 800 x 800 pixels, videos ads display best at the quality of 1200 x 1200 pixels or 1920 x 1080 pixels, and Carousel ads have a standard size of 800 x 418 pixels for images and 800 x 450 pixels for videos.
Ad Size for Youtube
When setting up Youtube Ads, remember to set up a Google Ads, and video ads must have an aspect ratio of 16:9 with recommended video dimensions ranging from 426 x 240, 640 x 360, 854 x 480, 1280 x 720, 1920 x 1080, 2560 x 1440, and 3840 x 2160 pixels.
Ad Sizes for Print
Print ads are still prevalent and visible in newspapers and magazines, and marketing agencies still take advantage of using these print materials. Ad specs vary with two-page spreads measuring 15.25 x 10 inches, full-page at 7.5 x 10 inches, half-page verticals measuring 3.5 x 10 inches while half-page horizontal measures 7.5 x 4.75 inches, quarter page horizontal measures 3.5 x 4.75 inches and vertical print measures 2.125 x 7.5 inches, eighth-page measurements has a limited dimension of 3.5 x 2.125 or 2.125 x 3.5 inches for horizontal and vertical print respectively.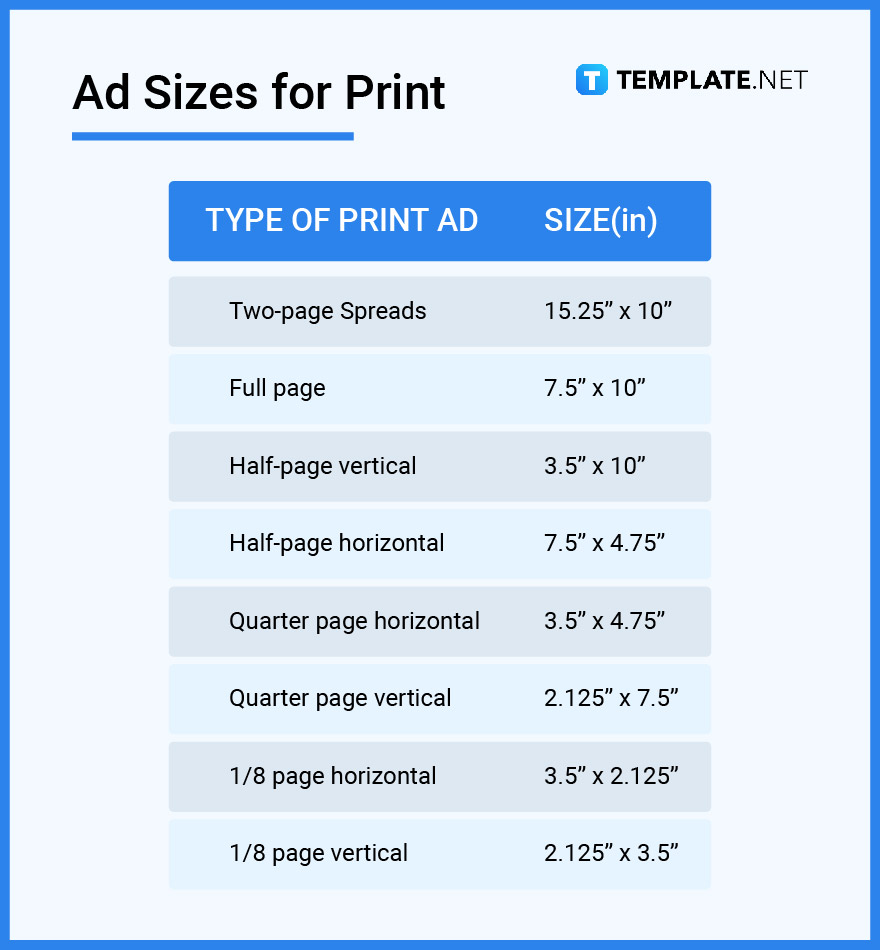 Ad Sizes for Email
Email ads have different varieties including email headers, banners, footers, and newsletters, with a maximum width size of 650 pixels and a standard width of 600 pixels.
Ad Sizes for Business
Businesses can utilize digital or print ads to reach their marketing objectives, starting with leaderboard ads measuring 728 x 90 pixels and print magazine ads for full-page measuring 7.5 x 10 inches.
Ad Sizes for Adobe Photoshop
Complete various ads, including banners, in Adobe Photoshop with the dimension of 300 x 250 pixels with a DPI of 72 pixels per inch in RGB color.
Ad Sizes for Adobe Illustrator
Create Google Adwords and Adsense ads using Adobe Illustrator, setting up the dimension following standard digital banners for the leaderboard measuring 728 x 90 pixels.
Ad Sizes FAQs
What Is the Size of Display Ads?
When designing display ads, it is recommended to go with 200 x 200 pixels for square ads, 120 x 600 pixels for skyscraper ads, 728 x 90 for leaderboards, and 320 x 50 pixels for mobile banners.
What Are the Most Common Banner Ad Sizes?
The most common banner ad sizes include 468 x 60 pixels for standard banner ads, 200 x 200 pixels for square banner ads, 728 x 90 pixels for leaderboard banner ads, 120 x 600 pixels for skyscrapers banner ads, and 300 x 600 pixels for half-page banner ads.
How to Reduce the File Size of My Ads?
To reduce or customize the file size of ads, reduce the dimension size of the image through image adjustments or save the file format to PNG instead of JPG using an image editing application like Adobe Photoshop.
What's the Image Size Needed for Ads?
The ideal image size needed for ads depends on the website, social media channel, or print ad the company uses to promote its products or services.
What Size Are Instagram Ads?
Instagram newsfeed ads measure 1200 x 628 pixels or 1080 x 1080 pixels.
What Image Size Should Be for a Facebook Ad?
Facebook ad measures at a resolution of 1080 x 1080 for feed, Carousel, and marketplace ads.
What Are the Dimensions of Ads?
The dimensions of ads vary depending on where the marketer plans to display these materials with 728 x 90 pixels for leaderboard displays.
What Is the Size of Newspaper Ads?
Newspaper ads have varying measurements of 7.5 x 10 inches for a full-page ad.
What Are Standard Google Ads Display Ad Sizes in Pixels?
Google ads through Adwords and Adsense have very similar dimensions of sizes, measuring 728 x 90 pixels for leaderboards, 200 x 200 pixels for small square ads, skyscraper ads have measurements of 120 x 600, and 320 x 50 for mobile banners.
What Is the Best Font Size for Ads?
The best font size for ads on a screen display measures 16 pixels.