Graphic Design
Vision Board Sizes
Vision boards are visual and graphic design tools representing an individual's or organization's dreams, goals, and aspirations, developing a systematic and organized document that leads to success. Varying vision board sizes accommodate a person's ambitions and objectives over a specific period, and picking the proper size helps an individual express their goals effectively.
Table of Content
Vision Board Sizes Standard
A3
An A3 vision board size follows the international standard size set by the ISO 216 standard paper sizes, with measurements of 11.7 x 16.5 inches or 297 x 420 mm. An A3-sized paper or board is the ideal size for creating presentations, charts, tables, diagrams, and drawings, with some using them for printing materials like brochures, leaflets, flyers, or pamphlets. Vision boards of A3 size provide individuals enough room to develop and incorporate all their dreams and aspirations for inspiration to boost their career, family, and love relationships.
A4
The A4 size paper is part of the ISO 216 standard paper sizes together with the A3 size paper, with dimensions of 8.3 x 11.7 inches or 210 x 297 mm. Boards and papers of A4 size are the classic paper size for printers that lets people print their bulletin announcements, wedding materials, travel workshop conferences, and any other personal, work, or business document. A4 size vision boards are more for short-term goals, including monthly spiritual and health progress or a positive student motivation plan.
Legal
The legal paper size follows the North American loose paper sizes series that the United States use for their legal documents and pads with measurements of 8.5 x 14 inches or 216 x 356 mm. Aside from legal documents, they are commonly for accounting and business documents, including office action plans, price lists, journal entries, or picture activity books for children. Legal-sized vision boards are perfect to display specific goals and objectives and create a travel, party, or project vision board.
US Letter
The US letter size paper has the dimensions of 8.5 x 11 inches or 216 x 279 mm, that North American countries follow from the North American paper sizes by the ANSI format. Many businesses and organizations use the US letter paper size for their company documents or marketing and sales materials, bearing the company logo to distribute information. The US letter size vision board is perfect for setting personal goals and aspirations, creating cute collages with texts of affirmation to manifest the law of attraction for future endeavors.
Vision Board Sizes for Digital
Vision Board Size for Facebook
Facebook is a social media channel that allows users to share their thoughts, feelings, and experiences with several people, including friends, family, colleagues, and distant relatives. Be creative with posting a vision board on Facebook, and ensure that the digital quality of images does not falter due to the constraints set by the application for image sizes. It is advisable to have 1080 x 1350 pixels for the vision board dimensions to preserve the image or picture quality of the digital art form.
Vision Board Size for Twitter
Twitter is another social media platform that allows users to share and display photos and images privately to a set of followers or publicly to any individual who views the specific post. Upload an electronic or digital vision board consisting of beautiful and intricate designs to represent goals and aspirations, with an option to pin it on their profile as a tip. Twitter allows users to upload images of 1600 x 900 pixels with a file size of 5MB for mobile and 15MB for web browsers.
Vision Board Size for Instagram
Instagram has been a growing social media platform for audiences of all ages, focusing on posting photographs, images, and videos to update their profiles with experiences and events. Instagram is also a viable platform to publish a vision board to remind individuals of their goals and dreams for different matters, including money, travel, wedding, and other personal aspirations. Instagram allows its users to publish and post images following the dimensions of 1080 x 1080 pixels.
Vision Board Size for Pinterest
Pinterest has been a big social media channel player, all thanks to its convenient design and the variety of photo and image content it presents to its audiences. Pinterest also has an option of using pins to have more people view an individual's work by displaying it on top of search results. Create a vision board with a creative title with some tips and ideas by uploading an example image with measurements of 1000 x 1500 pixels.
Vision Board Sizes for Print
Vision boards are a form of art that most individuals craft and create using DIY materials and elements to express their goals, dreams, and aspirations in an artistic format to generate the law of attraction. Since people have various plans and goals they want to accomplish, people can choose to print their vision boards in sizes that are much bigger than the standard sizes. For printing, individuals can select the tabloid size of 11 x 17 inches, a half-sheet size of 22 x 18 inches, or a standard poster board with measurements of 24 x 36 inches.
Vision Board Sizes for Business
Several businesses and organizations like Amazon, Apple, Microsoft, and IBM use vision boards to construct a visual representation of their goals for different departments or their objectives for the entire year. These vision boards vary from one department to another, depending on their personal and shared goals with the organization, thus, having smaller or large vision board sizes. Vision board sizes for businesses can be as large as a standard poster board of 24 x 36 inches or the A3 of 11.7 x 16.5 inches.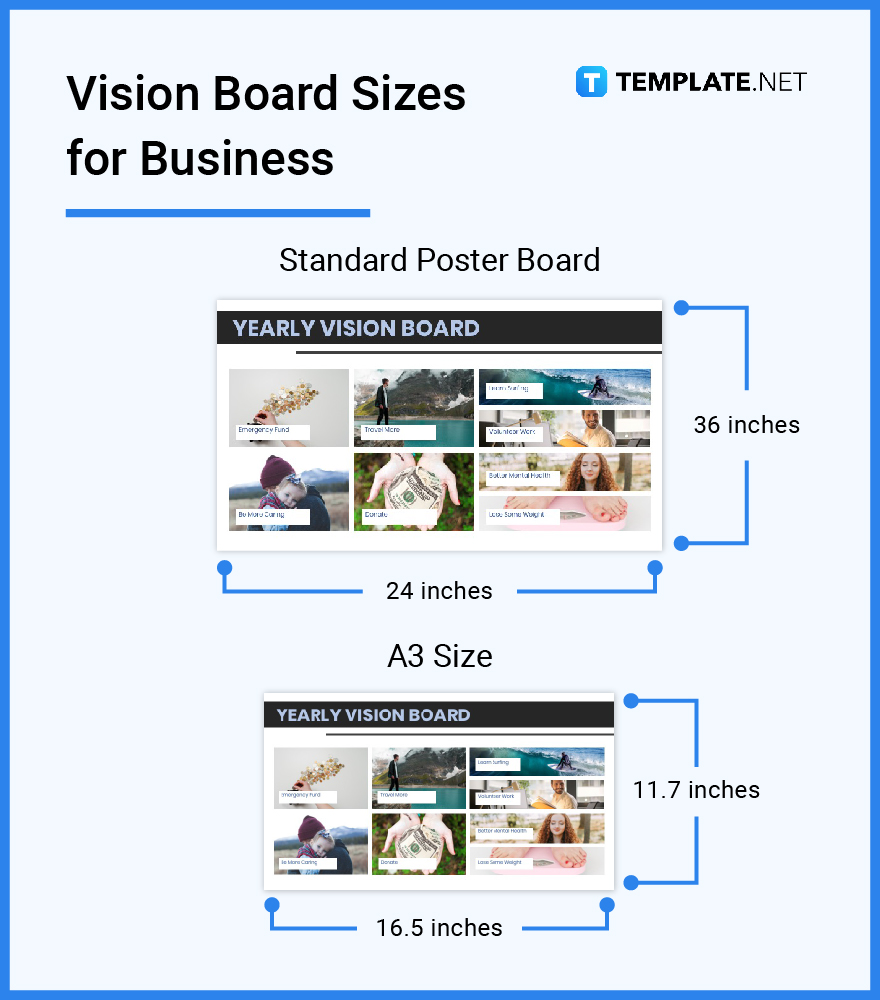 Vision Board Sizes for Adobe Photoshop
Adobe Photoshop is a photo editor tool that allows individuals to develop and create various artworks digitally through the application by inserting different images, design elements, and art forms. The application also enables users to design a vision board of any size and shape that will fit their needs, focusing on various topics and aspirations. Adobe Photoshop is flexible in its photo dimensions and allows users to construct customized canvas settings for A3 paper or half-sheet size.
Vision Board Sizes for Adobe Illustrator
Adobe Illustrator allows users to edit on a blank canvas with default measurements of 8.5 x 11 inches, equivalent to the US letter size paper. Adobe Illustrator also helps individuals to edit and customize pre-structured templates or create their own by incorporating different images, text, and design elements to complete a vision board.
Vision Board Sizes FAQs
What is a good size for a vision board?
A good size for a vision board equates to an A3 paper size with measurements of 11.7 x 16.5 inches.
How do you edit a vision board?
An individual can edit a digital vision board design or template using photo editing software like Adobe Photoshop and Illustrator.
What is a mini vision board?
A mini vision board is a vision board that focuses on short-term goals.
Why does advertising need a vision board?
Advertising is a field that requires a team to build a vision board to visualize and lay out the feelings and emotions the brand wants to convey to its audiences.
What are the elements of a vision board?
A vision board consists of a list of goals and aspirations, words, quotes, self-affirmations, doodles, art, photographs, and souvenirs.
What is a vision board size in inches?
A standard vision board size has measurements of 11.7 x 16.5 inches following the A3 size.
How do you divide a vision board?
Using a photo editing application like Adobe Photoshop or Illustrator, incorporate margins and rules into a canvas to divide the vision board according to how many sections an individual needs to create.
Why do vision boards matter?
Vision boards help individuals to visualize their goals and aspirations, using them as a motivational tool to acquire and achieve success.
What is the connection of vision boards to the law of attraction?
Vision boards reverberate the law of attraction through the idea that the mode of thinking influences what people receive in the future.
Why is it important to have a vision board?
It is necessary to have a vision board to remind individuals of the goals and dreams they want to achieve.
What are some goals for a vision board?
There are various goals that a vision board carries, including relationships, travel, wedding, party, interior design, and marketing, to name a few.
How do you structure vision boards?
Individuals can divide the vision board into sections, each for a specific goal, indicate the goals or intentions for each part, and incorporate design elements and materials.
Are vision boards effective?
Vision boards are effective because they are visually constant reminders of the dreams and objectives a person wants to achieve at a given point in time.
Is there an application to create vision boards?
Individuals can craft their vision boards using photo editing software like Adobe Photoshop and Illustrator.
Can a vision board be digital?
Individuals can craft digital or electronic vision boards they can print, set as wallpapers, or pin on their home pages.