Holidays
Cyber Monday
Cyber Monday is a great time for e-commerce sites and online retailers to offer special discounts, product promotions, and big sales to their customers, and for people to grab exclusive deals on their products and services. This movement happens to be the biggest day for online sales and has largely influenced numerous online consumers around the world. 
Download the Free Cyber Monday ​Article in PDF

Download
Table of Content
Cyber Monday Definition & Meaning
Cyber Monday is a popular online shopping event established to encourage consumers to shop online as businesses offer large discounts, promotions, and other special deals.
Cyber Monday is the biggest day for online sales because most people prefer to shop and cash in on some great promos and deals in a convenient and hassle-free way.
When is Cyber Monday?
Cyber Monday happens for four days after Thanksgiving weekend, usually between November 26 and December 2 based on the year in the United States, and for 2022, Cyber Monday falls on  November 28. It was first used within the e-commerce community during the holiday season in 2005. Other countries and regions also celebrate this internet shopping event on the Monday after Thanksgiving such as Australia, Brazil, Canada, Chile, Egypt, Finland, Germany, Iceland, Ireland, Israel, Italy, Japan, Mexico, New Zealand, Portugal, Russia, South Korea, United Kingdom, and many others.
Cyber Monday Purpose, Importance
Why is Cyber Monday celebrated in the US and many countries around the world? Although this holiday does not have any historical or religious significance, it is a famous international marketing event used by many businesses and online retailers to drive huge online discounts and promotions. Below are the common advantages and purposes why Cyber Monday is relevant in our society: 
Time to Enjoy Affordable Promos and Discounted Deals
By browsing the internet and visiting e-commerce apps and websites, many people can enjoy affordable product promos, discounted deals, and bargains without breaking the bank. Consumers can get some Cyber Monday discount codes and coupons online, ranging from 25% to 70% off codes and coupons, buy one take one promo, and free gifts. That's why many people buy electronic products, clothes, and other items during this event to minimize their spending. 
Convenient and Hassle-Free Shopping Experience
As this event usually takes place during the holiday season, many people prefer to buy goods on the internet. In this way, they can spend ample time with their family and friends while getting bargains online. Nowadays, most people don't want to wait in long lines in various physical stores, that's why they want to shop during Cyber Monday to acquire some great deals including free shipping incentives.
Increased Online Sales for E-Commerce Businesses
Many published reports have shown that most e-commerce businesses have greatly benefited during Cyber Monday as they gained enormous profits. For example, around $10.8 billion are spent online on Cyber Monday upon the arrival of COVID-19 in 2020. Some popular e-commerce sites that commonly participate in this event across October and November are Amazon, Walmart, Target, Best Buy, Apple, eBay, and Home Depot. 
What's in a Cyber Monday?
Cyber Monday is an e-commerce event celebrated worldwide in shopping malls and stores and it is created by many business firms to invite people to shop online and receive special discounts, promos, gifts, and rewards. Many electronic devices or tech goods are heavily discounted on this particular day. That's why businesses and online retailers display their banner ads to inform people about their special offers on their brands for their multiple items such as desktop computers, laptops, android cellphones, tablets, refrigerators, and furniture. 
How to Create a Cyber Monday Social Media Post
Want to post an advertisement or notice for Cyber Monday? Design compelling discount sale banners, flyers, and social media posts for Cyber Monday. We suggest that you follow the steps below to make a Cyber Monday social media post
Facebook
1. Download a customizable Cyber Monday Discount Sale Facebook Post Template.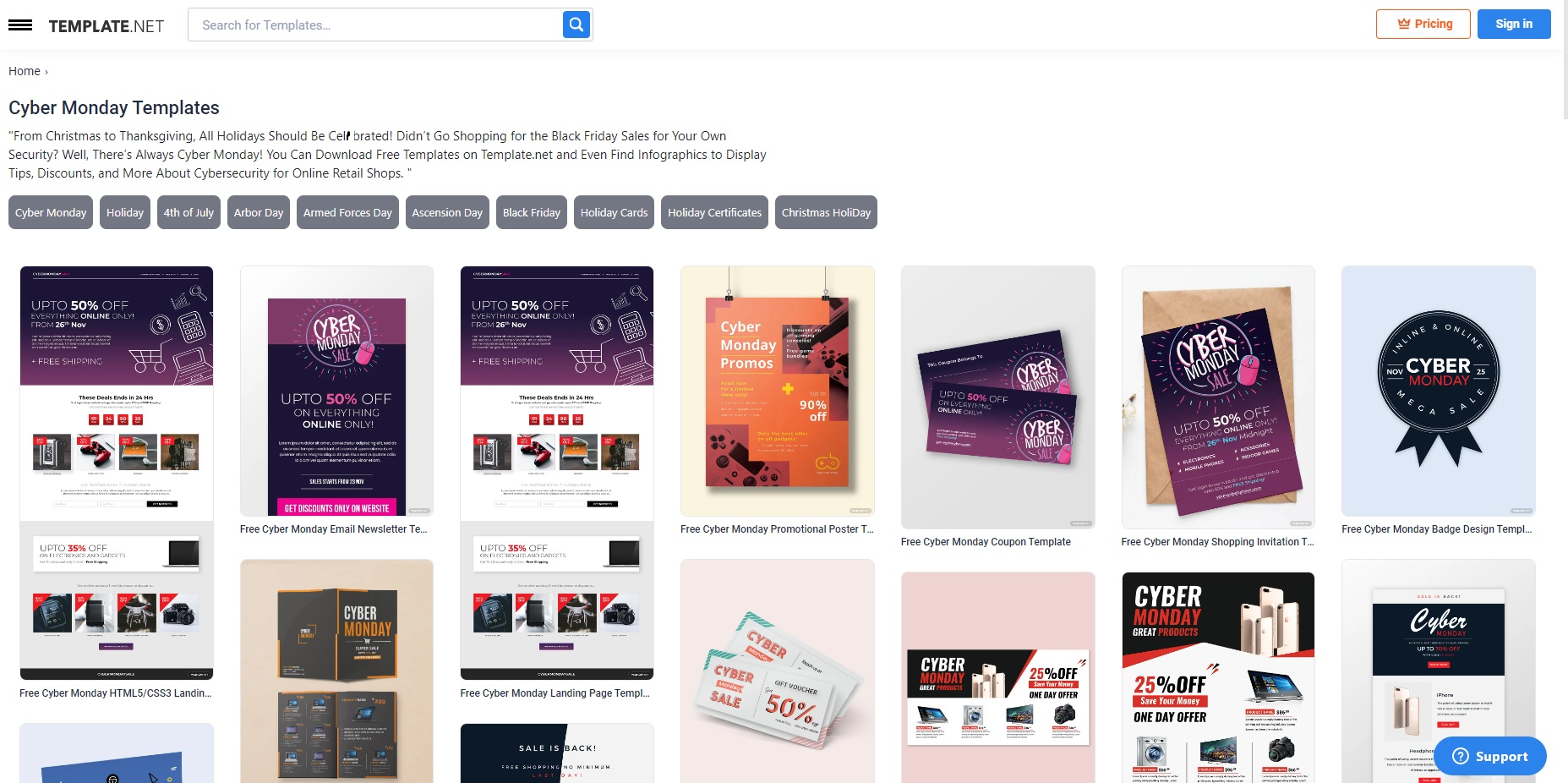 Visit Template.net as we provide our eclectic collection of free Cyber Monday templates. Select the Facebook to post template format and access the Editor tool by clicking the Edit This Template FREE button. Then, you can now access the editor tool and personalize your template.
2. Write an enticing slogan or quote.
Choose the "Fill" option from the menu of the Editor tool. Use the text box to write an enticing slogan or quote for the Cyber Monday Sale post on social media. This will attract your target consumers to be interested in your special offers.
3. Add relevant graphics.
Incorporate some graphics related to the Cyber Monday sale of your business. Select "Graphics" from the menu, and look for the images, or stickers you want to put in your template. For example, insert a simple Big Sale! tag in your Facebook post template.
4. Change the background color.
If you want to change the background color of your template, you can pick the specific color you preferred for your post. Select "Background" on the side menu and change the color that you want. You can adjust the hue or tone of your color as well.
5. Edit, save, and upload your design.
After you placed all the components in your post, edit some parts of your design. Save your entire work by pressing "…" beside the Download button at the top right corner of the screen and clicking "Save." Lastly, upload it to your Facebook page.
Instagram
1. Select an editable Cyber Monday Discount Sale Instagram Post Template.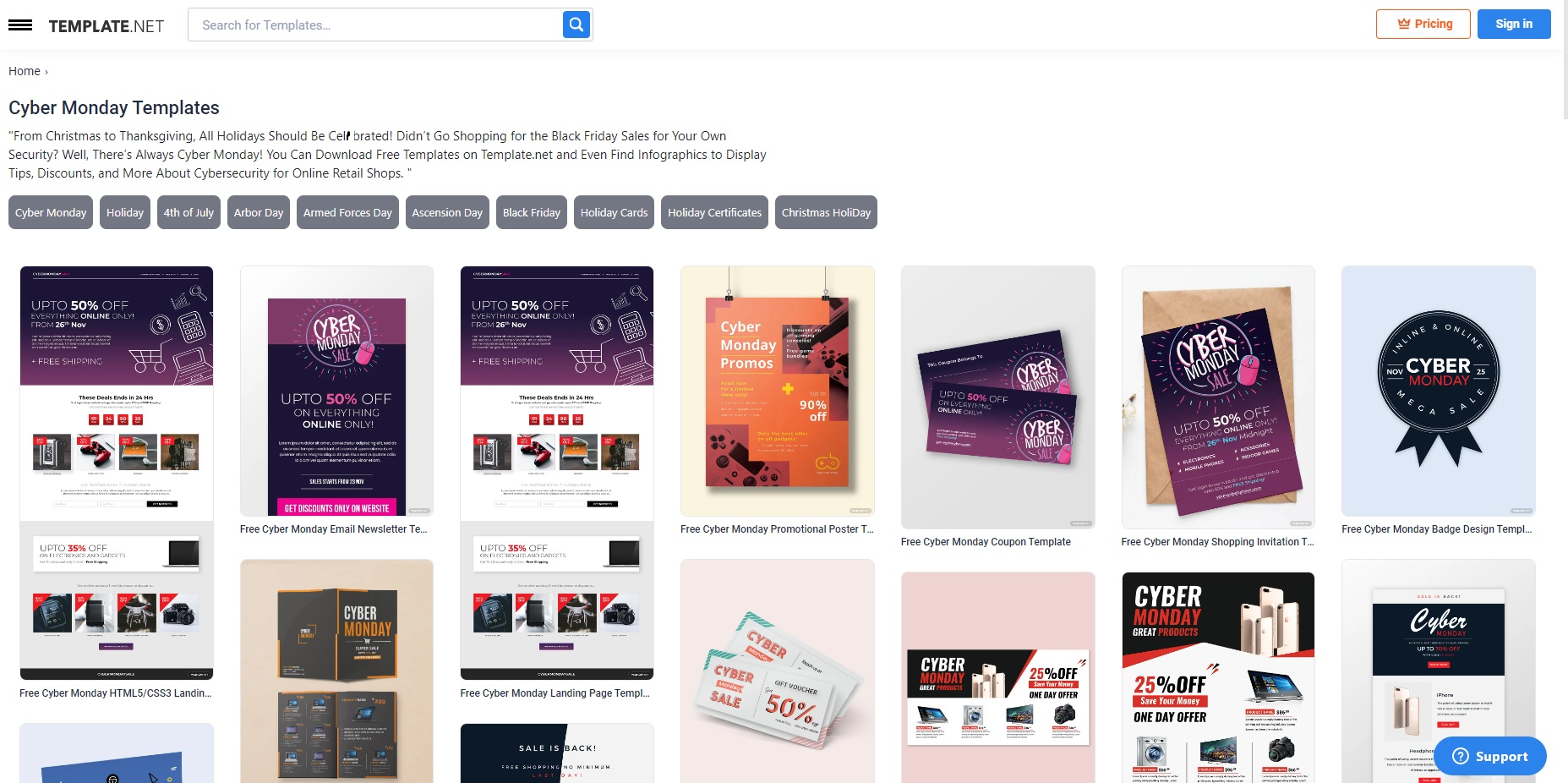 Search for a Cyber Monday Discount Sale Instagram post template at Template.net. Click the template and hit "Edit This Template FREE." You will be directed to the Editor tool so you can fully customize the template according to your needs and preferences.
2. Insert a special discount offer.
Go to"Fill" in the side menu and insert a special discount offer in the post. Type the offer inside the text box. After that, you may add another note for your customers in a text box.
3. Apply different visual elements.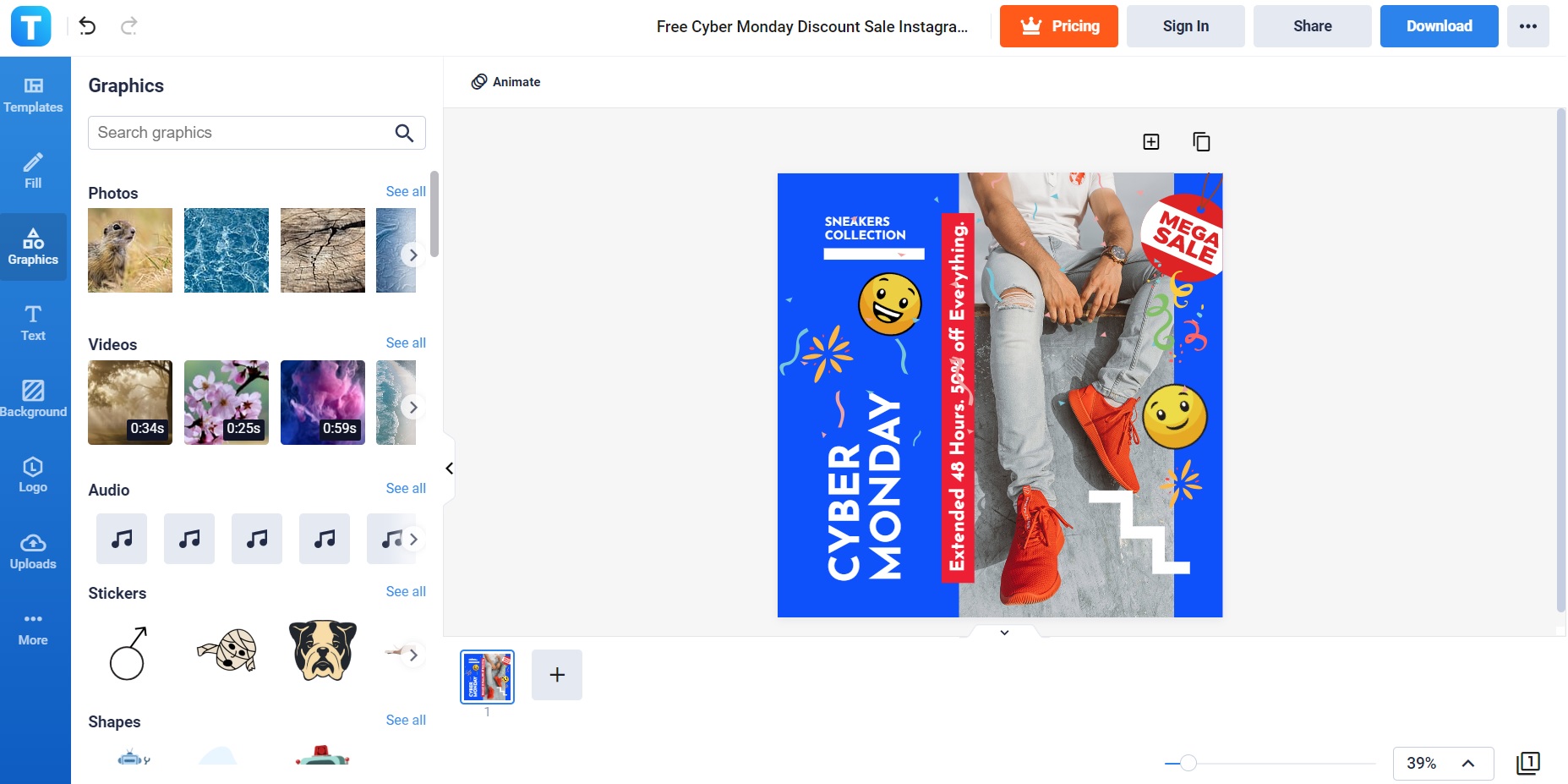 Choose the "Graphics" option in the side menu to apply different visual elements to your Instagram post template. Insert some colorful graphics such as happy emoticons and confetti in your post. Be creative while designing your post. 
4. Modify the colors.
If you need to modify the colors of your post, click the elements you want to change colors and look for the Colors panel in the "Background" option on the side menu. Select your preferred colors for the elements of your post. Arrange and align the objects so that they are eye-catching to the viewers. 
5. Finalize, save, and upload your post to Instagram.
Check your Instagram post and finalize the overall design. When you are finished with the colors and other elements of your post, click "…" and press Save. Then, you can now upload your post on your Instagram before and during Cyber Monday.
WhatsApp
1. Pick a free Cyber Monday Promotion WhatsApp Post Template.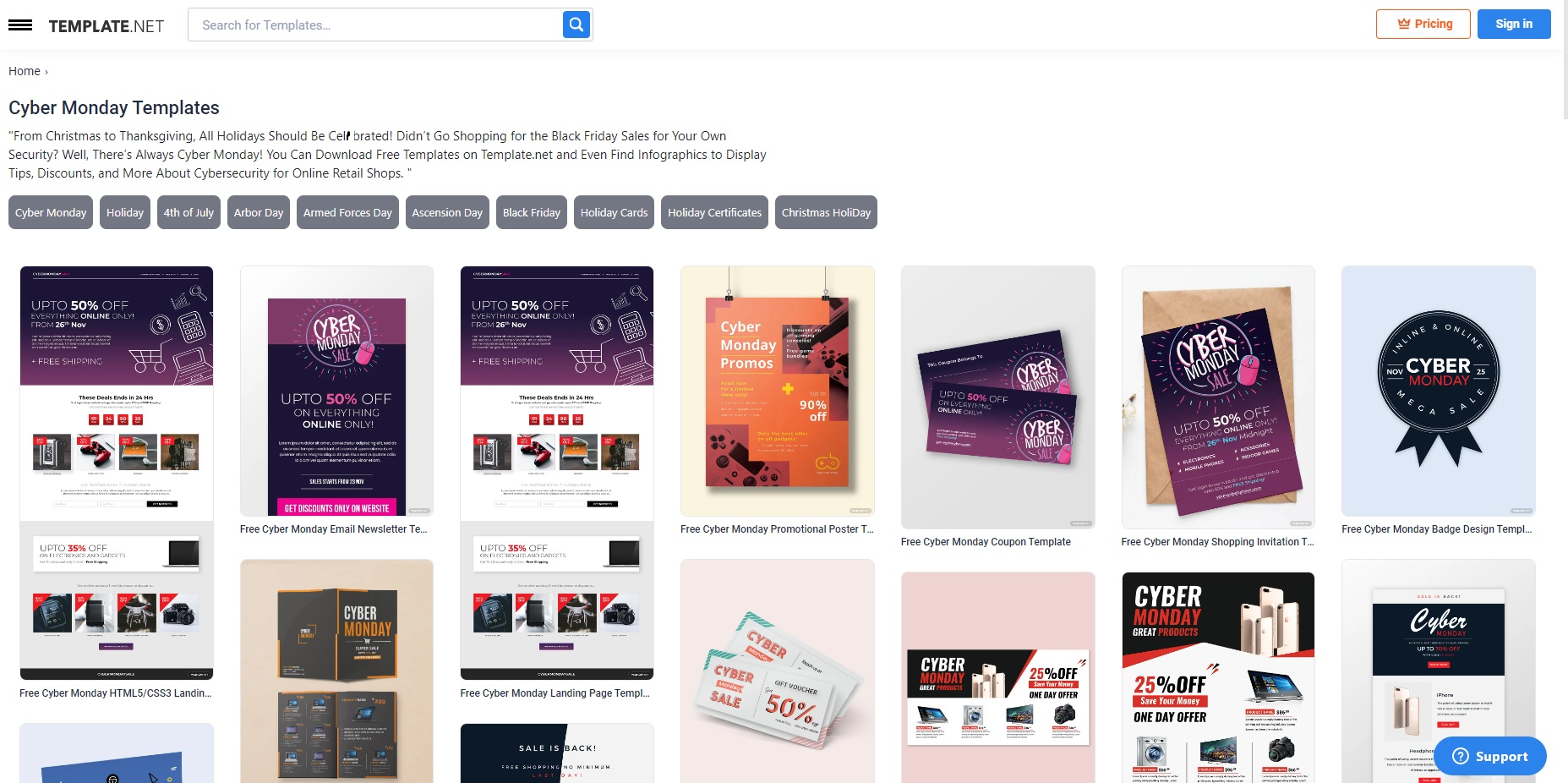 Go to Template.net and check out our unique library of premade Cyber Monday Templates. Select the specific template for your WhatsApp post. Then, hit "Edit This Template FREE."
2. Type the dates of your sale.
Click "Fill" to add text to your WhatsApp post template. Type the exact dates of your Cyber Monday sale in your post. Keep the words clear and cohesive as you inform the dates directly to the audience.
3. Add visually-appealing graphics.
Tap "Graphics" to insert the images you want for your Cyber Monday WhatsApp post template. Select from the plethora of images available there. Add images that represent tech gadgets such as a camera, computer, mouse, game console controller, etc. 
4. Use new colors.
Change all the colors in your WhatsApp post template. Use your brand colors in your post. Make a color scheme using the Document Colors and New Color options to select the colors you preferred.
5. Edit, download, and upload your new design on WhatsApp.
Check your post if you need to edit some other elements. If you are fine with all the elements, click the three-dotted icon at the top right corner of your screen. Then, hit "Save" and upload your new design to your WhatsApp a week before and during Cyber Monday.
Cyber Monday Facts
Cyber Monday is one of the most anticipated shopping events in the US and in other countries. Here are some fun facts about this annual event:
The Cyber Monday term was created by Shop.org in 2005.

Cyber Monday began in the United States in 2005 but it has since become a worldwide marketing event in 28 countries such as the United Kingdom, Germany, Spain, Italy, Netherlands, Sweden, and Denmark.

Based on conducted polls across diverse people, both the 25-34-year-olds, and the 65 and up age demographics made up for a total of 40% of all Cyber Monday transactions.

The majority of e-commerce businesses worldwide use this event to market promotions to heighten their sales for the year. 

The sales in 2005 during Cyber Monday were $484 million, and it hit the $1 billion mark in 2010.

Many major retailers like Amazon, and Kohl's had transferred from Cyber Monday to Cyber Monday Week so that they can offer a diverse collection of product deals over several days.

According to Adobe Analytics, the total online sales on Cyber Monday 2020 in the U.S. were $10.8 billion, being the biggest online e-commerce day of all time.

Statista reported that the peak buying hour on Cyber Monday 2020 was 8 p.m. to 9 p.m. as the buying rate reached $12 million per minute.

The top online retailers in 2020 were Amazon, Walmart, Target, Best Buy, Apple, Instacart, eBay, Home Depot, Etsy, and Costco.

A data analysis report has shown that the average spend of a single shopper has been slowly decreasing since its $140 peak in 2014 and it is now estimated that the average shopper spends less than $100 on Cyber Monday as of 2019.
Cyber Monday vs. Black Friday
Cyber Monday is an international sales event that happens after Black Friday as it focuses on online sales of various discounted products, and the majority of them are tech goods such as TVs, computers, game consoles, android phones, tablets, etc.
Black Friday is an annual sales event before Cyber Monday in the U.S. hosted by numerous shopping malls, and online stores during the busiest holiday season after Thanksgiving.
Cyber Monday Ideas & Examples
Many retail stores and e-commerce sites use online and offline marketing strategies to drive sales by using promotional discount offers and special deals. If you are currently planning for the Cyber Monday sale, you and your sales and marketing team need to prepare for a whole month to work on the essential materials to entice the public with your products.
Cyber Monday Ideas 
Are you having a difficult time thinking about what you and your team will do to make your Cyber Monday sale successful? Don't worry because we will help you in this matter as we provide Cyber Monday ideas that you can do with your team:
Create a promotional video to promote your Cyber Monday sale.

Set up your special offers and deals on Facebook Shops, Instagram Shops, or Pinterest Shopping Ads.

Make aesthetically pleasing ads such as Facebook and Instagram Ad Banners.

Design an accessible and functional landing page for your Cyber Monday Sales event.

Construct different mockups of your products on clothing, flyers, or stationery to show off your goods in your online shop.

Promote your sales in your Facebook and Instagram feeds, Instagram Stories, email newsletters, and many other online platforms.

Personalize your social media ads by segmenting and integrating your product lines into your email.

Create engaging Cyber Monday emails to convert your customers.

Provide customers with a wide array of gifts for under a specific price.

Get endorsements and recommendations from influencers to increase your sales during Cyber Monday and build brand awareness.
Cyber Monday Examples
There is a wide array of Cyber Monday templates that you can use apart from the three social media post examples aforementioned in this article. Use these professionally-made Cyber Monday examples when you design posts for your social media pages:
1. Cyber Monday Discount Sale Instagram Story Template
2. Animated Cyber Monday LinkedIn Post Template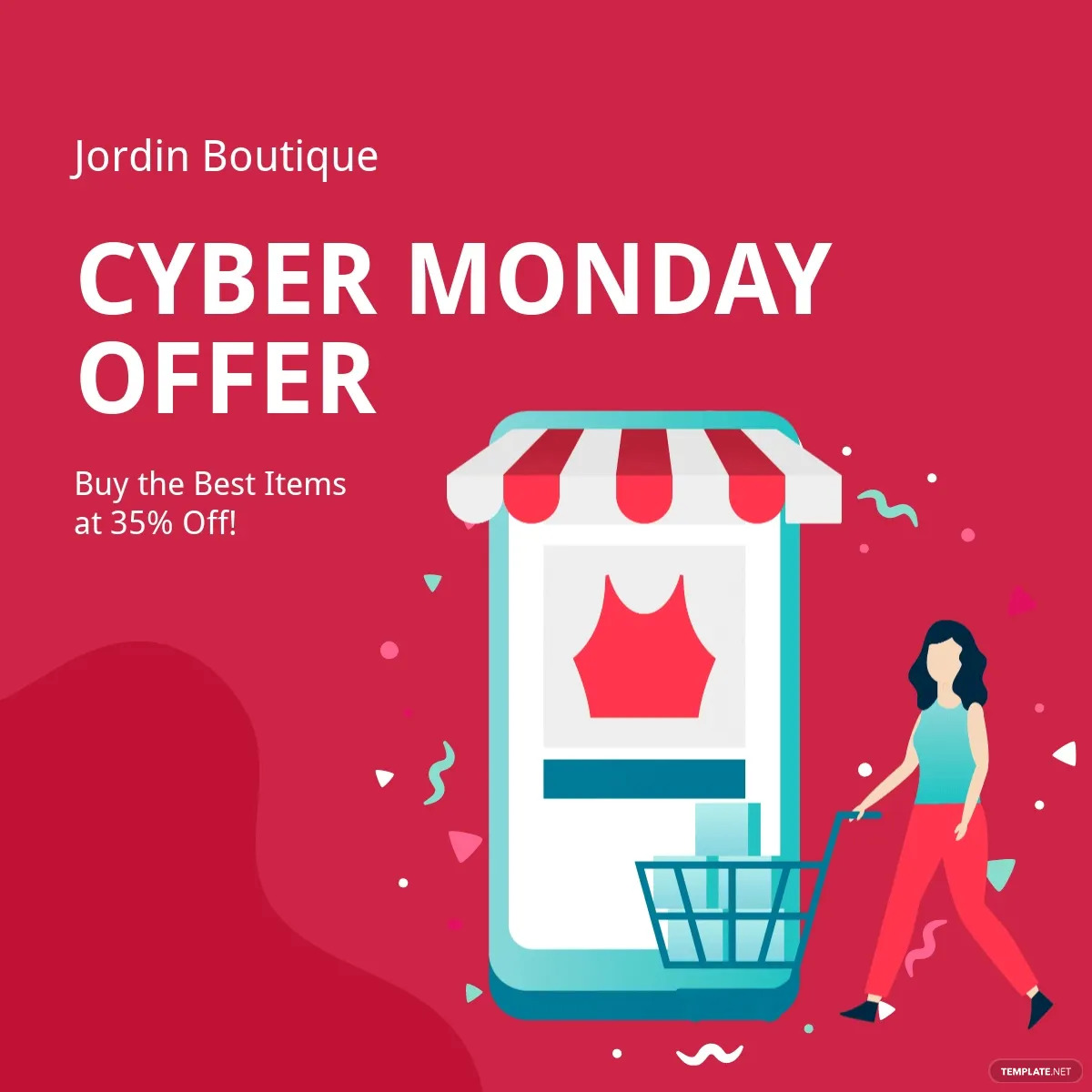 3. Cyber Monday Sale Tumblr Post Template
4. Cyber Monday Ad Snapchat Geofilter Template
5. Cyber Monday Online Deals YouTube Banner Template
6. Cyber Monday Coupon Template
7. Cyber Monday Promotional Poster Template
8. Cyber Monday Sales Flyer Template
9. Cyber Monday Brochure Template
10. Cyber Monday Web Ads Template
FAQs
Who created Cyber Monday?
Cyber Monday is created by Ellen Davis of the National Retail Federation and Scott Silverman.
Why do they call it Cyber Monday?
Scott Silverman explained that the term "Cyber Monday" is based on 2004 research which shows that the Monday after Thanksgiving is "one of the biggest online shopping days of the year" as online retailers offer large discounts to their customers.
What does Cyber Monday stand for?
Cyber Monday is an e-commerce term that refers to the Monday following the Thanksgiving weekend and is the second-biggest shopping day and the biggest day for online sales.
What is Cyber Monday Deal?
Cyber Monday Deal is an event when retailers offer various deals, promos, and price discounts such as buy 1 take 1 promo, free shipping vouchers, and free gifts with purchase.
How good are Cyber Monday deals?
Cyber Monday deals are good deals as they offer discounted prices and promos for smaller tech gadgets, appliances, and clothes.
What are the benefits of Cyber Monday?
The benefits of Cyber Monday are it generates excitement for your customers, it boosts customer loyalty, it offers deals that make retailers and their customers happy, and it encourages customers to join in grabbing one-day deals through online shops.
What is special about Cyber Monday?
Cyber Monday is a big special 24-hour online shopping event to entice people to do their shopping online as most retailers offer special product promotions, discounts, and sales.
Do prices go down on Cyber Monday?
During Cyber Monday, customers will see slightly lower prices of products on online shopping apps and websites.
What comes after Cyber Monday?
After Cyber Monday, a special event called Giving Tuesday is promoted to consumers to provide charitable donations during the holiday season.
How long does Cyber Monday last?
Cyber Monday typically lasts for 24 hours or one day.
What do people do on Cyber Monday?
E-Commerce sites offer special discounts, promotions, and sales to their customers as many people go to online shopping apps and websites to buy low-priced yet good-quality items.
Why is Cyber Monday so popular?
Cyber Monday is very popular all over the world because it raised overall consumer awareness regarding increased sales, discounts, and product promos.
How big are the sales on Cyber Monday?
The sales on Cyber Monday in the US are at $10.8 billion which attracted around 186 million shoppers.
What is the Tuesday after Cyber Monday called?
The Tuesday after Cyber Monday is called Giving Tuesday.
Why is Cyber Monday after Black Friday?
Cyber Monday lets shoppers begin their Christmas shopping ahead of time so that they can have the last chance to snatch up a bargain offer from various stores committed to Black Friday.