Holidays
Lohri
Lohri is a Punjabi festival that is very popular and celebrated mainly by those who live in Northern India. Discover more about this holiday and the reasons why it is celebrated.
Table of Content
Lohri Definition & Meaning
Lohri is a winter Punjab folk festival that is celebrated by those who live in North India and it commemorates the passing of the winter solstice, marking the end of the season.
The end of winter marks the beginning of longer days, and Lohri is primarily celebrated by eating festive food, dancing, lighting bonfires, and collecting gifts.
When is Lohri?
In terms of the Gregorian calendar, Lohri tends to fall on January 13, although the exact date can vary every year. The Lohri is linked to the Vikrami calendar, so those who observe this festival refer to this calendar to determine when exactly it falls every year.
Lohri Purpose, Importance
The Passing of Winter Solstice
As winter used to be a harsh season back in the old days, the passing of it was cause for celebration. That is why the Punjab region makes it a point to celebrate the end of the winter season, as it is a tradition started by their forefathers.
The Beginning of Harvest Season
With the region's climate, harvest season begins as winter ends allowing for long sunny days to start. Lohri also commemorates the beginning of the harvest and people celebrate this day with wishes for it to be bountiful.
Celebration of the Punjabi community
Lohri is one of the festivals that bring the Punjabi community together. According to its origins, Lohri is a way for the Punjabi people to strengthen their bonds with neighbors and to celebrate together once the winter passes. Now Lohri is a way for the modern Punjabi community to celebrate together and look forward to a more prosperous future.
Strengthening Spirituality
Celebrating Lohri also allows the Punjabi community to strengthen their spirituality. During the day of celebration, they would light bonfires and according to the folklore of Punjab, it is said that the flames carry prayers of the people for a bountiful harvest. This lets them strengthen their connection with their faith and hold onto customs.
What's In An Lohri?
A Lohri festival is a fun place to be as families gather around a bonfire while they sing songs, play music, and dance. The party also has sweets, and other foods served to those participating. Collecting gifts is also a part of the celebrations. It is traditional for North Indians to have private celebrations within their houses.
How to Create a Lohri Social Media Post
Social media is a great tool to use for spreading the festive mood and celebrations. If you want to take part in spreading the joy of Lohri through Social media by making full HD wallpaper banners, cartoon drawings, and beautifully animated posters, then check out what you can do with these basic steps.
Facebook
1. Select a Lohri Facebook Post Template.
We have a selection of attention-grabbing Lohri templates with designs perfect for your Facebook timeline. Choose any of them and click the image to open your template in the Editor tool.
2. Write your unique Lohri message.
In the Editor tool, you write your custom Lohri status or quote on the template. Just click the Fill panel and change the content placed on the Fill Text boxes.
3. Insert Lohri images.
You are able to place photos of Lohri images to fit your template's aesthetics. Head to the Photos panel and type "Lohri" on the search bar. You can find Lohri-related photography as shown in the image above. Click and drag the photo that you know suits your template.
4. Alter the background color of your preferences.
If the default background color isn't to your liking, you can change it as well. Click the Background panel and look at the Colors section. There, you can choose any background color and the changes will reflect immediately. Just click the color you prefer.
5. Save your Lohri Facebook post.
Save your Lohri post when you are finished. Select the three-dotted icon in the upper right corner of the Editor page and press Save. You get to keep your creative Facebook post and upload it the day when Lohri arrives.
LinkedIn
1. Choose a Lohri LinkedIn Post Template.
Check out our Lohri LinkedIn post templates. Browse and click on the template that suits your needs. Click on the image so you can start editing it with our Editor tool for free.
2. Head to Fill Text to write your Lohri lines.
Click the Fill panel and type your Lohri greeting/message inside the Fill Text boxes. Keep it short and meaningful.
3. Add the background color of your choice.
You can alter the background color to whatever you prefer. Click the Background panel, then to Colors, and choose the color you want. Choose colors that complement your color scheme.
4. Attach your company logo.
To enhance your brand, you can add your company logo to the post. Click on the Logo panel to upload an image file of the logo. After uploading, you can add it anywhere along with the name of your company.
5. Save your Lohri LinkedIn post and upload it.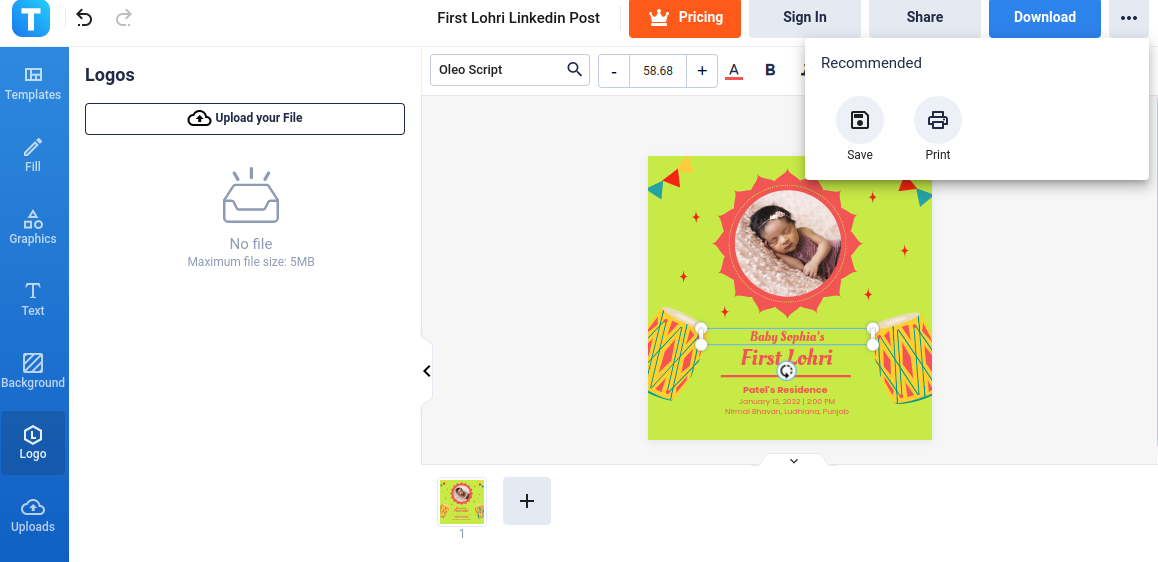 Lastly, click on the three-dotted icon in the upper right corner of the screen and choose the Save option. This will save your 4th of July Lohri template and you can upload it to LinkedIn.
Instagram
1. Click on a Lohri Instagram post template.
We have a great selection of Instagrammable Lohri post templates. They sport unique designs that catch the eyes of people scrolling through their Instagram feed.
2. Change the template's text.
You can change the default text of the template by clicking on the Fill panel. The boxes under Fill Text are where you can add your custom Lohri greetings, messages, or announcements.
3. Insert your official company logo.
You can represent your company/organization on the post by adding the logo to the template. Just click the Logo panel and upload your company logo's image file.
4. Add Lohri graphics and photos.
Instagram is all about showing amazing visuals. To add Lohri images to your template, just go to the Graphics panel. You can click on photos to look further or just type on the search bar right away. Once you've chosen a ClipArt or a photo, you can add it to your template by clicking and dragging.
5. Save your Instagram Lohri post.
Once you are satisfied with your edits, press the three-dotted icon on the upper right corner and choose Save. Your template is ready for upload once it's Lohri.
Lohri Facts
Here are some fun and interesting facts you should know about Lohri.
In some places, people pray to the sun god for his continued protection and for his gifts of longer days now that the winter season has ended.
Lohri is said to have the longest night and the shortest day, however after that, the days get longer.
Lohri also marks a new financial year, as it is known that the revenue of winter crops is collected on this day.
It is a winter solstice festival making it the equivalent of Christmas and Yuletide in other cultures. However, due to the differences in climate, it takes place much later and focuses on winter's end.
The origins of the name Lohri may refer to the regional word 'loh' which refers to warmth and fire, referencing the bonfire that is lit during this festival.
Lohri Traditions
There are plenty of traditions observed during Lohri. The most common one is the lighting of a bonfire during sunset. There, many people gather and toss things like sesame seeds, popcorn, and other small treats into the fire. This often tends to be symbolic of throwing away the old year and welcoming the new one. During the day it is custom for children to go door to door singing songs in exchange for sweets and other treats, quite similar to the trick or treat activity done on Halloween. Special dances and performances are also done in observance of Lohri. but the most awaited part of this festival is the food. As a celebration of the start of the harvest season, it is quite appropriate that everyone celebrates with a bounty of food.
Lohri vs Makar Sankranti
Lohri is a popular Punjab folk festival that celebrates the end of the winter season and is observed in Northern India.
Maar Sankranti is a religious festival that lasts for several days and is celebrated all around India.
Lohri Ideas & Examples
Lohri Ideas
Lohri is a day of celebration and festivities. It is similar to a lot of spring season-based festivals with lots of activities for both adults and children alike. Here are some ideas on how you can spend Lohri.
Go shopping for decorations, ingredients, props, and other party needs for your private party.
Invite friends and family to join you in your celebration.
Send cards and share greetings to those far away.
Read and share stories about the history of Lohri.
Share some tales from mythology about the sun god.
Play music and sing songs specifically about Lohri. Nowadays people make use of speakers and a playlist.
Light a bonfire and have the family gather together around it.
As the fire burns, have everyone throw food like puffed rice, popcorn, and gajak as a form of tribute to the gods in exchange for their blessings.
Offer up prayers for a prosperous time as the fire burns, as it is believed that the flames carry messages and prayers to the gods.
Once the fire dies out, everyone can have dinner with foods such as ground nuts, Sarson da saag, buttermilk, puffed rice, etc.
Lohri Examples
Feast your eyes on our Lohri examples! Here we have multiple examples of 4th of July graphic designs for memes, quotes, posters, flyers, and other materials. Scroll down to check them out.
1. Free Lohri Celebration Snapchat Geofilter Template
3. Free First Lohri Whatsapp Post Template
4. Free Lohri Greeting Facebook Post Template
5. Free Happy Lohri Snapchat Geofilter Template
6. Free Lohri Event Linkedin Post Template
7. Free Lohri Party Flyer Template
8. Free Lohri Celebration Facebook Post Template
9. Free Lohri Wishes Instagram Story Template
10. Free Lohri Greeting Linkedin Post Template
FAQs
Why do we celebrate Lohri in Punjabi?
Lohri is celebrated by the Punjabi community as the festival marks the passing of the winter solstice and the beginning of the harvest season.
Which god is Worshiped on Lohri?
The festival of Lohri is marked by the worship of Surya the god of the sun.
Why do we celebrate Lohri on 13th January?
Lohri is celebrated on the 13th of January as it is usually the time when the winter solstice ends which is the marker of the festival.
What should we do on Lohri?
On Lohri, people do festive things like dance, attend parties, gather around a bonfire and play music, as well as have dinner together after.
What do children do on Lohri?
On Lohri, children would go door-to-door and to an activity similar to trick or treat where they ask people for sweets and treats.
Which crop is harvested on Lohri?
The crop that is harvested on Lohri is corn, and it is eaten during the festival as it is roasted in preparation.
What do you put on a Lohri fire?
Stuff that is placed in a Lohri fire is jaggery, black sesame seeds, gajak, peanuts, and popcorn which is a part of the harvest ritual where they are all considered tributes in exchange for blessings.
What is the history of Lohri?
Lohri is historically celebrated as the end of the winter season which allowed the people to enjoy long sunny days.
What do people say about Lohri?
While English speakers would give a greeting of 'Happy Lohri', the usual chant is "Aadar aye dilather jaye" which translates to "may honor come and poverty vanish".
Why is Lohri a harvest festival?
Lohri is considered a harvest festival because in the region it is celebrated, and the climate conditions are ideal for harvesting crops after winter ends.
What is the message of Lohri?
The message of Lohri is letting old bygones be bygones and hoping for a prosperous New Year.
Why do we burn fire on Lohri?
A bonfire is made on Lohri because it was a part of the old beliefs that burning a fire serves as a sign to reignite the return of longer day times.
What are the rituals of Lohri?
Some of the rituals of Lohri include dancing, trick or treating, lighting a bonfire, and gathering together for dinner.
What is the difference between Lohri and Makar Sankranti?
Lohri is a festival that marks the end of winter and is celebrated in Northern India, while Makar Sankranti is a festival that takes place days after Lohri and is celebrated in a lot of places in India.