A behavior checklist is generally any document that contains relevant behavior information that should or should not be ticked, depending on given mechanics. Organizing a checklist is barely something to begin a certain project with. However, organizing details from the start is is essential and is made possible with checklists—even one that deals with behavior.
It is indeed safe to say that any checklist sample would allow for better organization. This page showcases behavior checklist templates that are versatile in terms of use. Each behavior checklist format and design helps one figure out what needs to be done to efficiently monitor behavioral concerns.
Behavior Checklist Template
Child Behavior Checklist Template
Pre-School Behavior
Child Behavior
Daily Behavior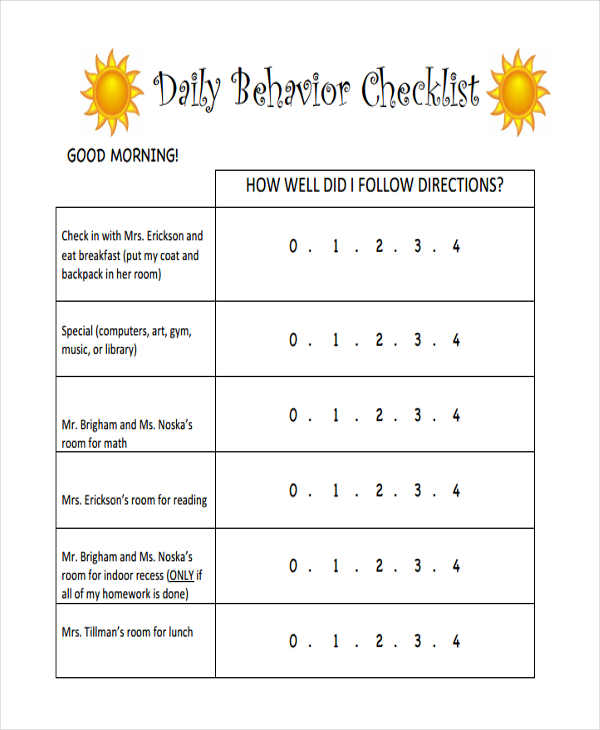 How to Create an Employee Behavior Checklist
An employee behavior checklist could serve two purposes at once. Whether you're filling up a checklist to monitor well-behaved employees or you're keeping an eye on an employee for misconduct, an employee behavior checklist would be able to deliver both.
Follow these steps on how to create an employee behavior checklist:
Checklist Format – Choose a checklist format that is able to cater to all the information you need to take note of. If you want a document akin to that of a training checklist template, your content and purpose must be relevant to employee training information.
Employee Identification – You might be writing a checklist for a number of employees so make sure you provide space for employee information for the purposes of identification.
Checklist Factors – The factors to be included in a checklist may differ depending the results you would want to obtain. In new employee checklist templates, factors may include whether the employee is of legal age, a college level graduate, among others.
Checklist Scale – A checklist scale should be used to determine the interpretation of a certain checklist to determine the differing levels of behavior or misconduct. Free checklist templates in this page are more effective with a checklist scale.
A checklist template in PDF or DOC file format could easily be generated after the list above is observed.
Employee Behavior Checklist in PDF
Classroom Behavior
Checklist of Parent Behavior
Challenging Behavior Checklist in DOC
Do's and Don'ts When Writing a Behavior Checklist
It may seem like one has always the freedom to write a behavior checklist. This type of checklist is undeniably easy to write but as one progresses with writing, there are still guidelines to be observed for to accurately serve its purpose.
Know the do's and don'ts when writing behavior checklists:
Don't limit your factors. Include as many relevant factors as you can. With the correct input of factors in a behavior checklist, the more efficient it will be for interpretation and report.
Do use a writing style you are comfortable with. When writing is factored into the creation of a checklist, you need to feel comfortable with the writing style you choose. You could write using only keywords, phrases, or entire sentences, depending on which of these methods would allow for better comprehension.
Don't overload information. Stick with the relevant information. If you opt to track behavior incorporated in workout checklist templates, include behavior that's directly relevant to workout alone.
These are a few simple reminders that could guarantee a great impact on the efficiency of your behavior checklists.