What You Should Know About Our Checklist Templates on Word?
Due to limited memory and attention, we humans often forget to do tasks which we were supposed to perform. Our Checklist Templates created in Microsoft Word, is an informational task support which is capable of eliminating such failure. These Checklist Templates available in Word 2010, ensures regularity and accomplishment of any kind of chores. Download and use these sample templates to perform tasks more efficiently and avoid damages. The customized templates in Word format can be used for simple purposes or for complex procedures by students, housewives, working professionals, engineers and even doctors.
Checklist Template
Blank Checklist Template
Daily Checklist Template in Excel
Audit Checklist Template in Google Docs
Equipment Checklist Template MS Word File
Cleaning Service Checklist Template in Excel
Event Planning Checklist Template in Google Docs
Restaurant Checklist Template in Word
Simple Training Checklist Template
Construction Checklist Template in Excel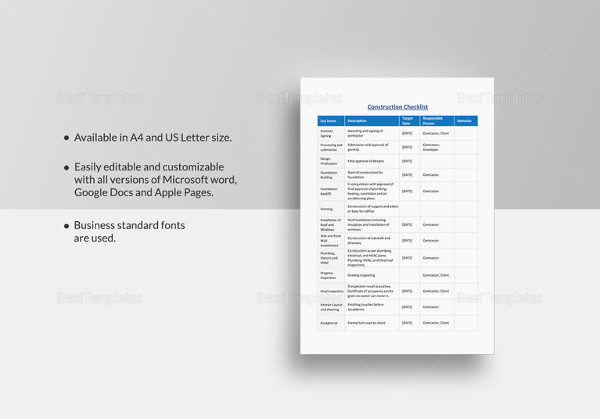 Vehicle Inspection Checklist Template in Google Docs
Sample Camping Checklist Template in Pages for Mac
Simple Wedding Checklist Template
Project Checklist Template in iPages
Effective Meeting Checklist Template
Printable Moving Checklist Template
Project Checklist Template Word Format
mais.umich.edu
Travel Checklist Template Word File
Assignment Checklist Template in Word Format
ipfw.edu
Editable Employee Checklist Template Word Format
marsdd.com
Kitchen Checklist Template Word Doc
nonprofitrisk.org
Retirement Checklist Template Word Format Free Download
ucl.ac.uk
Income Checklist for Senior Citizen in Word
dor.wa.gov
Blank Daily Vehicle Checklist DOC
drivingforbetterbusiness.com
Workshop Planning Checklist Template
cpedinfo.tamu.edu
Printable Restaurant Checklist in Word
northamptonma.gov
Example of Item Survey Checklist
elsmar.com
Inspector Check off List Template
dep.wv.gov
Environmental Checklist Form
ucop.edu
Vehicle Weekly Checklist Template
web.eskom.co.za
Microsoft Word in Procedure Checklist
wallacestate.edu
Sample Word Weekly Workout Plan Checklist
cpsk12.org
Simple Party Checklist in Word
vanderbilt.edu
Free Project Evaluation Checklist
myesi.esi-intl.com
Teacher Intern Checklist MS Word Download
csc.edu
> Variety of Our Checklist Templates for Word
Task Checklist Templates: have each step written in details which need to be followed in chronological order.
To-do Checklist Templates: include a list of personal things that need to be done one after the other or simultaneously over a fixed time period.
Troubleshooting Checklist Templates: include step by step instructions that need to be followed in case of emergencies like a fire breakout.
Coordination Checklist Templates: help maintain coordination in situations where different departments or teams are required to collectively perform a task.
Discipline Checklist Templates: comprise guidelines following which will prevent taking wrong decisions.
> How Our Checklist Templates in Word be Useful to You
Our free Moving Checklist Templates ensure that you don't forget to carry out a task or miss out steps of tasks which involve multiple stages.
Instead of taxing your brains by trying to recall the tasks or steps required to be performed, our downloadable templates enables you to focus on the task with undivided attention.
The onboarding checklist templates in MS Word contain the details about a task and the steps required to perform it. Therefore, if the task is delegated or outsourced, the Project Checklist Templates will clearly convey to the concerned person what needs to be done.
> Steps to Create Checklist Templates Available for Free Download
First step is to create a table by clicking on the table option in the Tables group. Enter the number of rows and columns required.
To insert the check boxes in one column, click Check Box Form Field on the Developer tab. Insert text in the other column.
Format the layout by adjusting the column sizes and border lines in the table for visual appeal.
The form needs to be locked in order to check off the items by clicking in the check boxes.
> Basic Tips Which Can Enhance Checklist Templates in Word Doc
Word document includes border lines with the table. To ensure that the table column containing the check boxes is not too broad and the text is aligned near the check boxes, adjust the spacing. After eliminating the border lines, the table gridlines may still appear. These can be hidden by clicking View Gridlines under Table Tools. It is advisable to check the spelling of Sample Checklist Templates in Word file. The spell check must be carried out before form is locked.