A mechanic attending to a vehicle is just like a nurse attending to a patient. There has to be a process on how to perform this task properly. It should always start with interviewing the owner of the vehicle as to why they brought their vehicle to the shop and then proceed by making observations and further assessing the vehicle for problems.
Once it has all been determined, the mechanic then takes the necessary actions to find solutions and repairs to these problems. And one way to be able to make a thorough run through of this process is to make use of checklists. Here on our website, we have entire collections of Checklist Templates that you can use for whatever purpose you have in mind.
Vehicle Inspection Checklist Template in Excel
Download
Vehicle Maintenance Checklist Template in Google Docs
Download
Truck Inspection Checklist Template in Pages for Mac
Download
Car Maintenance Checklist Template in Excel
Download
Blank Checklist Template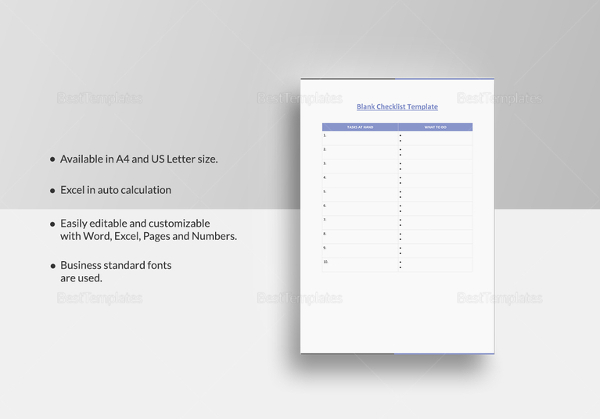 Download
Daily Vehicle Checklist Template in Word
Weekly Vehicle Inspection Checklist Template in Word
Generic Vehicle Checklist Template in Word
Free Vehicle Checklist Template in Word
New Vehicle Checklist Template in Word
Advantages of Checklists
Certain tasks may be more important than others and may need immediate action. And with checklists, we can prioritize the tasks between those that need to be done immediately and those that can be done at a later time.
It saves you the time from trying to remember what else to do. It also lessens your effort in trying to remember your tasks.
If you want to get a lot of things done in a short amount of time, this can be done by delegating some of those tasks. And with checklists, delegation is much easier.
Checklists are simple to make and are most of the time free to download (on our website, they are).
For other templates to choose from, check out our collection of Maintenance Checklist Template and Daily Checklist Template.
Vehicle Safety Checklist Template in Word
Vehicle Cleaning Checklist Template in Word
With our checklists, you will never lose track on the tasks that you need to check or take action on the vehicle. These templates can be downloaded easily and for free, and these can be saved in Microsoft Word formats for compatibility with Microsoft Word and Apache OpenOffice and other word processors. These templates are also fully editable to provide you with enough freedom to make the necessary changes that fit your preferences.
How to Use Our Templates
Using our checklist templates is very easy. The first thing you need to do is access our website and search for the set of templates that you are looking for. Once you've found it, go through the different templates, pick out the best one, and download it by clicking on the green Download button that accompanies the template. Save the file on your personal computer and make sure to remember where you saved it. Next, open the file on your computer using your preferred word processor and make the necessary changes. Once finalized, have it printed on paper so you can already use it.
If you prefer a more personalized checklist, you may also check out our collection of Blank Checklist Template. With this, you'll have even more freedom in putting in your preferred tasks and other details which you can't do in other templates.