An event quotation is used by event suppliers to provide information about the products and/or services that they can offer to the organizers or hosts of an event. Even quotation samples may or may not include discount and sponsorship deals depending on the transaction that are initially agreed upon before the creation of the event quotation.
254+ Event Templates in PDF | Word | Excel | PSD | HTML5 | WordPress | Google Docs | PowerPoint | InDesign | Apple Pages | Google Sheets | Publisher | Apple Numbers | Illustrator | Apple Keynote | Google Slides - START DOWNLOADING
Event Quotation Template
Event Photography Quotation Template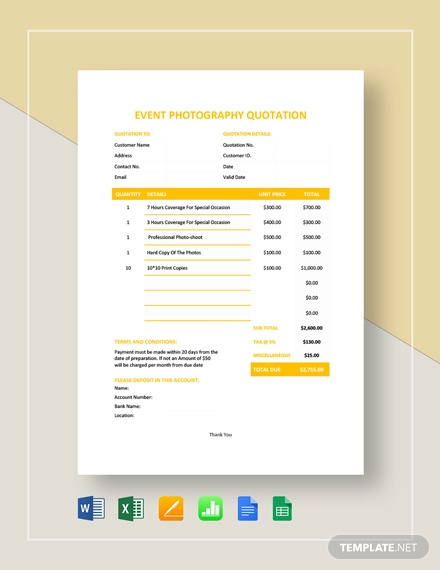 Event Planner Quotation Template
This post is a collection of event quotation templates and samples that you may use as references in creating the document that you can send to your clients for their approval. Make sure that the Quotation Template and Quotation Format that you will use is appropriate for the event needs of your client.
Music Event Quote Template
Event Management
Request Event
Wedding Quotation in PDF
Kinds of Event Quotations
There are different kinds of event quotations that are used in different events, programs, and functions.
An event management quotation provides the details of an event planner or organizer's services and their corresponding prices. Most event management quotations are already pre-arranged and serves as service packages for clients to easily select the option that they would like to have. However, some clients still tend to request for a customized event management quotation especially if they have special requests.
A wedding event quotation primarily focuses on the services and materials that need to be acquired by soon-to-be-wed couples for the completion of their wedding ceremonies and reception implementation. Some wedding quotations are from different suppliers like caterers and set-up designers. However, many wedding organizers collate specific suppliers data before presentation.
A corporate event quotation is used to provide information about the budget that the company should provide for the planning and execution of a corporate event. A corporate event quotation includes the details about the suppliers of the business and all the items that are needed to be present during a corporate event.
If you want to have samples of Price Quotations and other kinds of Quotation Templates, kindly browse through the provided links.
Simple Corporate Event
Event Quotation Format
Sports Event
Essential Things in an Event Quotation
For your event quotation to be effective and comprehensive, these important items should be present in the document:
The date that the event quotation was made
The validity of the event quotation
The list of the items and services needed for the event
The exact price per item
The number of pieces of specific items needed by the client
The individual description of the purchases
The total amount of the transaction
The terms and conditions of the event quotation
Guidelines in Creating Event Quotations
En event quotation is very important as it can be the document that can close the deal and allow the specific business transactions to push through. Follow these guidelines to create different kinds of event quotations:
Identify the needs of your client and assess whether you can provide it or not.
Make sure that you can deliver all the things that you have presented in your event quotation.
Your prices in the event quotation should be accurately computed and must be based on your business' updated price list.
Use an event quotation template to guide you in creating the quotation content and Quotation Format.
Other than our samples of event quotation templates, our Formal Quotation Templates are also available for download.