If you are looking for a summary template that will help you create outlines and abridged guides of a lengthy source material, you have come to the right corner of the internet. In this article, we introduce to you different kinds of summary templates that any student, office worker, or member of the academia may use to make their working life easier. You will also learn how to quickly create comprehensive summaries of any case studies, articles, business proposals, and a lot more.
Take a Look at these Free Summary Templates
This article is also filled with dozens of free summary templates. All of them are available in PDF format so that you can easily download, edit, and print them out. Make sure to scroll down and read the rest of the article so that you can learn more about different kinds of summary templates, how to use them, and the advantages of using these free templates.
Clinical Discharge Free Summary Template

tfhd.com
Contract Bid Free Summary Template

denvergov.org
Formatted Investment Free Summary Template

cnp.benfranklin.org
Different Kinds of Summary Templates
As we have mentioned earlier, there are different kinds of summary templates depending on the kind of material you wish to summarize. For example, if you are tasked to create a business proposal, you would most likely need to read multiple pages of the business reports and background information before you can write an accurate business summary.
We have listed below the main types of summary templates and how they work. Read them well so that you will know how and when to use them when the right time comes. You may also see summary report templates.
1. Article Summary Templates
As its name implies, article summary templates are pre-made templates that allow you to better outline or abridge any kind of article. When we say any kind, we mean any kind. There can be summary templates for newspaper articles, research articles, journal articles, science articles, literary articles, and a lot more.
Article summary templates mainly contain a list of guide questions or writing prompts that allow the template users to quickly and efficiently create a rundown of what was the source article all about. They are especially used in schools and universities where students are given various materials to read and analyze. They work just like book reports but tend to be much shorter and they also have a less formal format.
When used in the academe, article summary templates are often customized to include the school or university names, logo designs, and other identifying marks of the college department that required the use of such form. You may also see executive summary.
Free Academic Article Sample Summary Template

southeastern.edu
Free Annual Board Minutes Meeting Summary Template

colorado.gov
2. Discharge Summary Templates
Another kind of summary template mentioned in this article is discharge summary templates. These pre-made templates are used in the healthcare setting and will contain notes that an attending physician (or anyone in the healthcare team) leaves before a patient leaves a hospital or clinic.
Discharge summaries will include information about a patient's treatment plans, list of medications, rehabilitation needs, and other post-admission therapies the patient may still need to undergo. They serve as a tool to ensure that a patient receives continuous health care even if he or she has already left the hospital. Discharge summaries are also used during outpatient treatments as a tool to look into the patient's medical history.
So if you are a hospital or clinic administrator tasked with revamping your organization's hospital notes and forms, make sure that you design the best discharge summary by following any of the different downloadable templates we have included in this article. You may also see project summary templates.
3. Investment Summary Templates
An investment summary template is another pre-made document guide that allows end-users to create an easy to understand an asset's suitability as an investment. And as its name implies, an investment summary is usually used in business and financial circles. This type of summary template is used by entrepreneurs and business people who want to get funding for their business idea, property, or asset. You may also see sample project summary templates.
In a way, investment summary templates are just like business proposals. However, since an investment summary is a summary, it will be shorter and will contain a more relatable and easy to understand explanations. For instance, if a business owner wants more funds for his or her restaurant chain, the investment summary that he or she needs to create should let any potential investor better understand the nature of his or her business. To do this, the business owner may use graphs and charts showing potential profits, return on investment timelines, and even results of market research.
The best investment summary template tends to be the simplest one – the one that investors are able to understand right away.
4. Contract Summary Templates
Another kind of summary template included in this comprehensive list is a contract summary template. As its name implies, a contract summary is a document that contains a brief and accurate abridgment of an agreement between two or more parties. And since most written agreements are legally binding in nature, contract summaries may also be considered legal and binding as long as they are witnessed and signed by a lawyer.
To easily and quickly create contract agreement summaries, lawyers and paralegals may use contract summary templates. A contract summary template is a pre-made digital document that allows end-users to create a contract summary just by answering and filling out the core questions or prompts listed in the summary template. Some printable contract summary template may also be pre-formatted so that the end-user will not have to assign layouts and formatting for their contract summaries.
When creating a contract summary, it is essential to include a section where a lawyer or attorney can sign or notarize the document. This is important because contract summaries may be used in court or for official government transactions. You may easily add this section to the document while you are customizing the summary template.
In addition, also make sure to add your own organization or business logo or letterhead design to the contract summary template. By doing this, you help create a more credible looking document. It will also help increase your business' recognizability since users of the summary form will readily recognize your brand when they see the matching brand or business logo design.
Free Blank Article Summary Template

goldcoastscience.net
Free Blank Bid Summary Template

epa.state.il.us
Free Blank Discharge Summary Template

caltcm.org
Free Budget Development Summary Template

gov.im
Free Budget Summary Template

hfuw.org
5. Budget Summary Templates
In this article, we will also feature budget summary templates. These are pre-made digital files that allow its end-users to create quickly create better budget plans for their organizations or companies. Budget summaries are usually used to keep track of money or funds. They may also be used as a way to adhere to different governmental audits and evaluations.
Note that budget summaries are different from a budget plan. The former is created from the latter. You need to have a budget plan first before you can create a budget summary. Usually, budget plans will include detailed costing analysis and a list of all the expenses while budget summaries tend to be more concise and will only include the key pieces of information found in the budget plan.
Effective budget summary templates are those that incorporate tables, charts, and text in the template design. These visual tools help make it easier for anyone reviewing or reading the budget summary understand it better. In some cases, budget summaries may also be incorporated in a bid summary so you may also check how to use bid summary templates in the next few paragraphs. You may also see summary report samples.
6. Bid Summary Templates
Next on the list are bid summary templates. Bids are often needed before a project or task can be completed in government offices and in some private companies. A pre-made bid template then allows end-users to create a summary of their bid proposals.
For example, if your local town's engineering department requires dump trucks to support the town's ongoing land reclamation projects, they would first ask for business owners or truck manufacturers to bid for the position of selling your town some heavy equipment. Most government offices will have rules and regulations for how this kind of transaction goes on. But to simplify the matter, the suppliers or manufacturers of these trucks will need to submit a bid summary (in addition to other requirements) of how their offer or bid is better than others. Most often, the manufacturer or seller that prices their equipment the lowest without compromising the equipment's quality are the ones who will win the bid. You may also see free executive summary templates.
The different examples of bid summary templates included in this article show that there are many ways to create a bid summary. But most often, the bid summary that allows its intended reader to easily and quickly glean information from it are the most effective. You may also see marketing plan executive summary.
7. Meeting Summary Templates
Another type of summary template included in this article is a meeting summary template. These pre-made digital documents often contain a rundown of the what went on during a meeting. The different examples of meeting summary templates embedded in this article are often for formal and corporate meetings since they often need to be recorded for documentation purposes. Meeting summaries may also be created to provide the members or attendees of the meeting a record of what was discussed, approved, or tabled during meetings.
A tip: Always make sure to add your organization's branding identity designs on the meeting summary template before printing them out. This is an important step to follow if you want your meeting summary to retain the same level of authenticity and professionalism that your other official company stationery designs have.
8. Business Summary Templates
Business summary templates are summary templates that allow end-users to create a short guide to the things that the intended reader should know about a business venture. Business summaries may function like a business proposal but they slightly differ in the slant or angle that their contents are written.
To illustrate, business proposals tend to be very persuasive in nature. These documents will use words, sentences, images, and presentations that will entice an investor to help fund a specific business idea. A business summary, on the other hand, is more informational in nature. They will contain walls of text, pictures, and illustrations but they are only meant to inform the reader about a business. Sometimes, business summaries are also called executive summaries.
So those are the different kinds of free summary templates that we have curated in this article. We hope that you have learned a lot about summary templates through this short guide and that you will use this knowledge when looking for ways to make your life as a student, office worker, researcher, or business person easier. Continue browsing through this article until you find the right kind of summary template for whatever writing project you are working. You may also see sample marketing plan executive summary.
Free Contract Summary Form Template

boarddocs.com
Free Detailed Budget Summary Template

mlbcommunity.org
Free Dictation Discharge Summary Template

schulich.uwo.ca
Free Investment Summary Template

kw.com/
Free Journal Article Summary Template

web.cortland.edu
Free Minimal Contract Summary Template

hfma-nca.org
Free Newspaper Article Summary Template

readwritethink.org
Advantages of Using Pre-made Free Summary Templates
The first part of this article focused on the different kinds of free sample summary templates we have embedded in this article. In the second of this article, we will provide you with a list of advantages associated with using free summary templates. Read through this short guide so that you will be made more aware of the many benefits that you can get when you use free summary templates.
1. They are free.
The most obvious advantage of using summary templates is that they are free. You do not have to pay for them and they are available in an easy to download and print formats. Not having to pay for these printable templates can be very useful for those who are still studying and may not have the necessary funds to buy premium summary templates.
In addition, summary templates tend to vary depending on the company or organization that the end-user is in. It makes no sense ordering and paying for a summary template that may not work with the standards of your own organization. Also, if your organization is working on a limited budget, buying pre-made summary templates may not be a cost-efficient option. You may also see create an executive summary.
2. They are easy to customize.
Another advantage associated with using pre-made free summary templates is their easy customizability. As you may have known, summary templates (especially the ones embedded in this article) are available as PDF template files. This means that if you have a compatible PDF editing software tool installed on your computer, it will be relatively easy for you to personalize a summary template. You may also see differences between summary and synopsis.
Customizing a pre-made summary template allows you to add various touches to the summary template that will make it a more remarkable document once it has been printed. To illustrate, you can add your business logo design and some photos or images into the template to make it appear in line with your company's branding designs.
Another example that teachers and professors may do when creating summary templates for their classes is to make sure that the template includes your school logo and a conspicuous set of instructions to ensure that the summary form is standardized throughout all your classes and/or college department.
Scroll down for the continuation of this list of benefits. We further discuss other positive aspects of using summary templates and provide more examples of these downloadable free templates.
Free Nursing Literature Article Summary Review

augusta.edu
Free One Page Investment Summary Template

hban.org
Free Project Meeting Summary Template

web.csulb.edu
General Format Discharge Free Summary Template

idph.iowa.gov
Hospital Discharge Free Summary Template

uhnmodules.ca
Informal Bids Free Summary Sheet

etsu.edu
Investment Property Free Summary Template

homefixers.com
The next few paragraphs are a continuation of the different advantages of using free summary templates. Continue reading them so that you will be enlightened of the usefulness of these templates.
3. They can be used again.
Another top benefit associated with using pre-made summary templates is that they can be used again and again and again. You get the drift, right? Since these templates are digital files, they will be available and stored on your computer or other storage devices unless you delete the file or if the storage device gets corrupted. You may also see free executive summary templates.
By having a reusable summary template, you can repurpose the template for other kinds of summaries that you may need to create in your lifetime. Another great thing is that you do not need to pay for the template again since it was available for free from the beginning? You may also see executive summary business plans.
4. They help you save time.
As with all other kinds of printable templates, free summary templates will undoubtedly help you save time when it comes to completing any kind of paperwork required for school or for work. These summary templates will already include all the key questions or prompt that you need to answer in order to create a comprehensive summary.
For some people or industries, creating a well-written summary is so essential to their small business that they should do everything in their power to deliver good writing. One way to do this is by using summary templates and save yourself all the additional brainpower and effort that may be required if opted to create a business summary from scratch.
5. They allow you to freely create content.
Another positive side of using pre-made summary templates is that they allow you to freely focus on writing that summary. We all know that a summary template will only contain a list of questions or prompts about your article, bid, investment, budget, business, etc but these templates will not tell you how to specifically write that summary.
What a summary template instead gives you is a sense of focus. All the other design and formatting aspects of a summary have already been taken care of with the template. What is left for you to do is just to write and string together those words that will help convince or inform its intended readers? You may also see best executive summary samples.
There are more benefits associated with using pre-made summary templates aside from the ones we have mentioned in this article. These benefits may vary depending on your situation and the type of summary you need to create. We hope that you are thrilled into using some of the free summary templates that we have listed here. You may also see contract summary templates.
Meeting Minutes Free Summary Template

hhs.gov
Simple Bid Free Summary Template

agriculture.ny.gov
Simple Contract Brief Free Summary Template

boeingsuppliers.com
Simple Investment Free Summary Template

velocity.uwaterloo.ca
Tabular Budget Free Summary Template

portseattle.org
University Free Bid Summary Template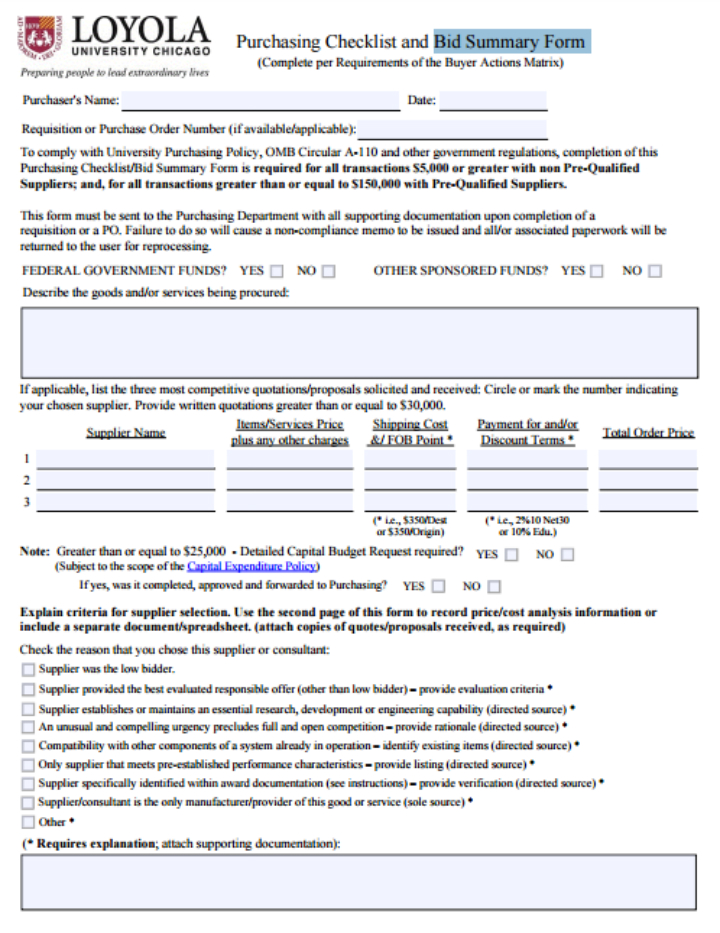 luc.edu
Write That Summary Now!
This article is filled to the brim with ready to print and free summary templates. We have included sample templates that can be used for whatever kind of summary you are going to create. This way you do not have to go to another website just find the right kind of template to use for whatever task you are assigned to do. Be enriched with all the knowledge that you may obtain from this article and apply all the knowledge that you have learned here into your summary creation process. You may also see sample executive report formats.
Also, if you found this article useful, make sure to share it with your email list and with your followers on social media so that they too can create accurate and comprehensive summaries, outlines, and guides.